I'm a Proud Jewish DSA Member. Here's Why I'm Not Quitting.
Maurice Isserman's scurrilous piece—written at a time when Gaza is under horrific assault—does not reflect the organization I know.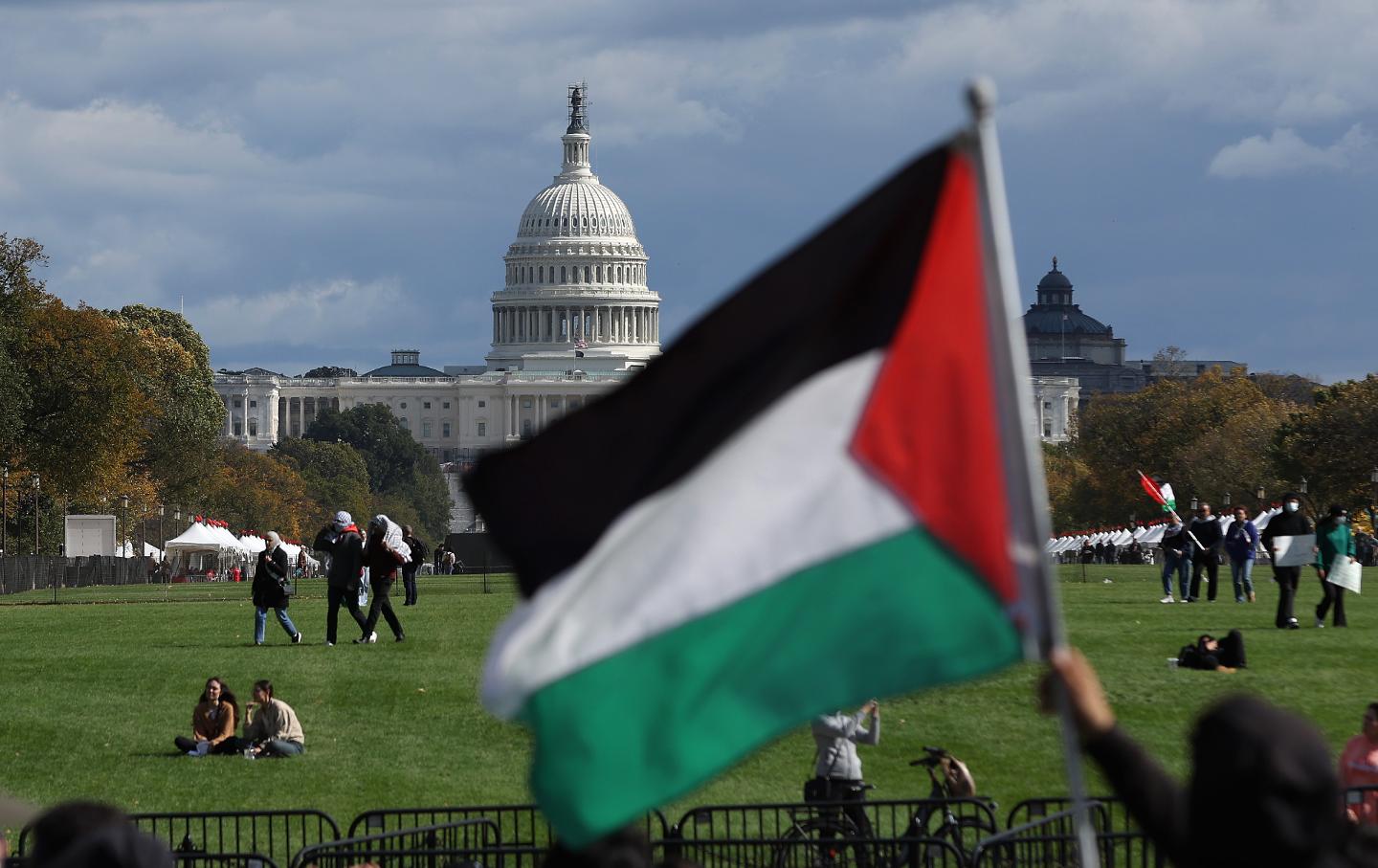 I was deeply disappointed to read Maurice Isserman's essay, "Why I Just Quit DSA," on Monday, and stunned that The Nation would publish such a scurrilous piece on the country's largest socialist organization–just at the moment when Gaza is being hit with thousands of bombs, and US leftists are coming under fire for their opposition to Israeli war crimes.
I'm an Israeli-born, Jewish member of the Democratic Socialists of America, and the daughter of a Holocaust survivor. The last few weeks have been horrifying and heartbreaking, as pain over the tragic loss of innocent lives in Israel has given way to horror at the ensuing bloodbath in Gaza.
Current Issue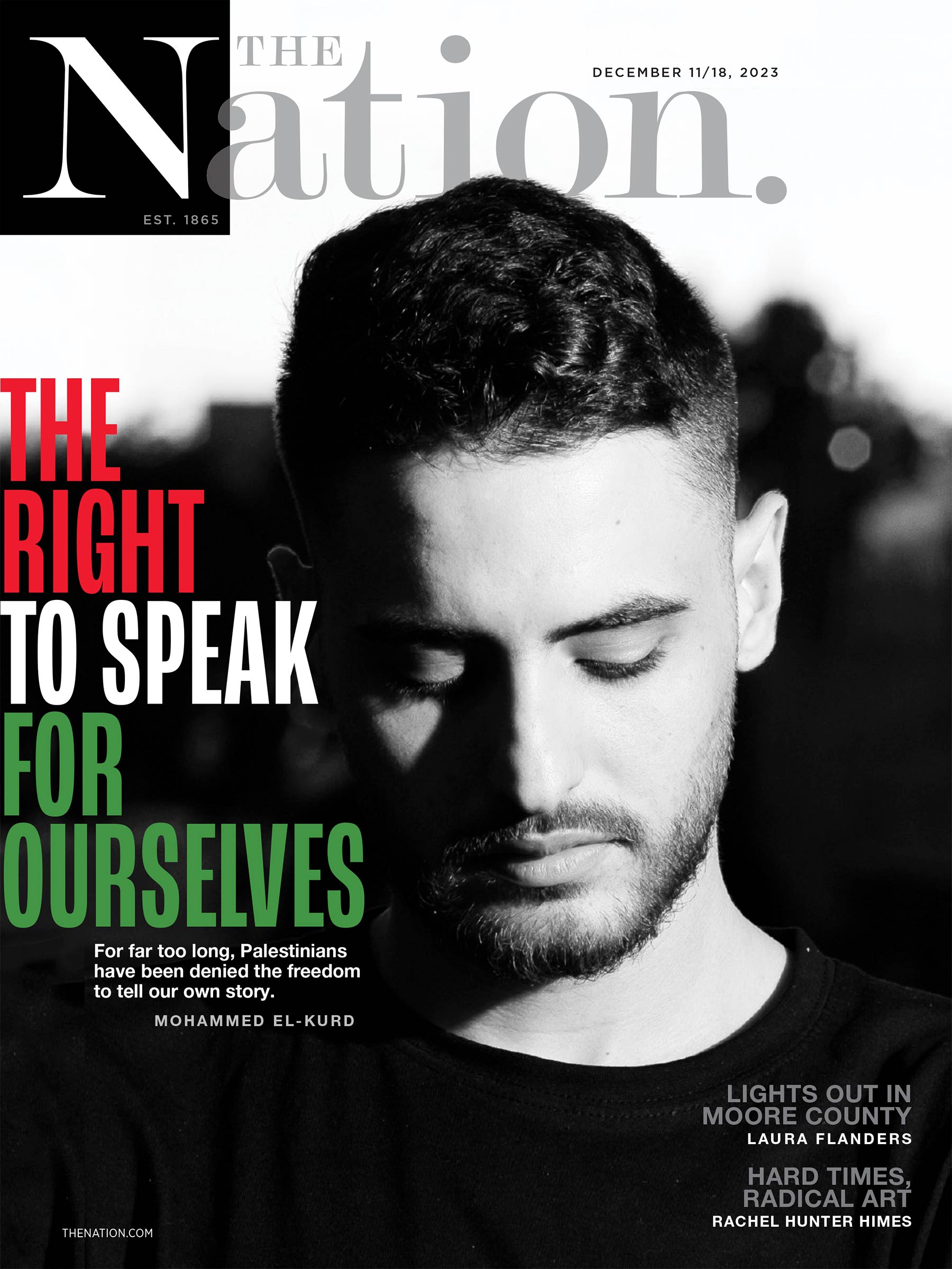 I have shared the heartache of my family in Israel. It's a painful reminder that safety can never come through the oppression and colonization of another people. Wanting safety for my family could never justify raining down bombs and white phosphorus on other families. Nor is my family's safety strengthened by such actions. Now, like so many others, I am trying to grieve for the dead while simultaneously working to prevent more people from dying.
Given this context, Isserman's attack on DSA—couched within over a thousand words about the history of what he dubbed "entryism" on the left—felt jarringly disconnected from the real world. Cities in Gaza are being reduced to rubble; civilians attempting to flee are killed by Israeli airstrikes; Palestinians are described by the Israeli defense minister as "human animals"; security officials promise to turn Gaza "into a city of tents"; US politicians line up to provide a blank check in support of collective punishment; and amid all this horror, Isserman chooses to relitigate nearly a century's worth of leftist infighting.
The intensity of the drive to war has reminded many of us who are old enough to remember the aftermath of the 9/11 attacks, when anyone who opposed the wars on Afghanistan and later Iraq was spat on and called a sympathizer and tool of Al Qaeda. Now, as then, anyone who bucks the beat of the war drum is denounced. Today, Jewish leftists like me are smeared as supporting Hamas's unjustifiable atrocities, as Nazi sympathizers, and as self-hating Jews.
Organizers calling for a cease-fire and opposing the attack on Gaza have faced bomb threats, university censures, canceled events, and job retaliation. Socialist elected officials, like Representative Rashida Tlaib, the sole Palestinian-American member of Congress, have been met with the usual backlash for calling for a cease-fire in order to, in her words, "save Palestinian, Israeli, and American civilian lives."
In New York City, where I live, Mayor Eric Adams baselessly claimed that "you had the DSA and others carrying swastikas and calling for the extermination of Jewish people" following Hamas's attack on Israel.
It was disturbing—but not completely surprising—to hear such lies coming from Adams. It was quite a bit more surprising to see the DSA smeared within The Nation, a publication that I have written for and deeply respect.
In fact, far from endorsing mass slaughter as Isserman implies, DSA, and other organizations on the left, have played a critical and inspiring role in calling for a cease-fire and an end to the violence, in the face of open and unrelenting calls for revenge and genocide.
DSA members made over 100,000 calls to members of Congress to make the case for a cease-fire and put forward a "No Money for Massacres" campaign. Many DSA members also participated in direct actions led by Jewish activists in IfNotNow and Jewish Voice for Peace, including a peaceful sit-in at the United States Capitol last week.
There's plenty of reason to conclude that these positions are in sync with what most people in the United States believe. Indeed, a Data for Progress poll shows that 66 percent of voters agree that the "U.S. should call for a ceasefire and a de-escalation of violence in Gaza" and further that the "U.S. should leverage its close diplomatic relationship with Israel to prevent further violence and civilian deaths."
Jewish socialists within DSA meanwhile launched a statement to say, "Not in our name." Over 350 Jewish academics, activists, writers, and artists have so far signed on. "We grieve over lives lost in Palestine and Israel and we remain firmly committed to the end of the Israeli occupation and apartheid," the letter proclaims. It adds, "We are proud to be Jewish, socialist, and pro-Palestine. As Israel carries out the same crimes once committed against our ancestors, we declare not in our name!"
Popular
"swipe left below to view more authors"

Swipe →
Oren Schweitzer, one of the organizers of the letter, tells me: "We initially drafted this letter in response to the mass outrage directed at DSA [because of] its pro-Palestine positions and the smears of DSA calling us an anti-Semitic organization. In fact, what is happening today to Palestinians reminds us of what was done to our families. It's painful for us to see it happening once again. Worse still, it's being done in our name."
As the letter argues: "When we see an Israeli general describe Palestinians as 'human animals' we can't help but see the images of Nazi propaganda that portrayed our grandparents and great grandparents as rats and cockroaches, vermin to be exterminated."
But in Monday's article, Maurice Isserman takes DSA to task for what he calls its "politically and morally bankrupt response" to Hamas's attack on civilians. Many words follow about the history of sectarian entryism before Isserman arrives at the crux of his complaint: a shift within DSA toward more full-throated support of Palestine over the last few years. Isserman complains of the "singularly important role of Palestine in DSA's rather short list of international concerns," of hearing more pro-Palestine chants at DSA gatherings, and of debates with DSA about whether to hold elected officials accountable for failing to uphold the call to boycott, divest, and sanction Israel.
Isserman concludes with a series of accusations about DSA's response to the current crisis. He pulls out a few selective quotes from a couple of local chapters and a toolkit that was released independently by the BDS Working Group, without the approval of the elected national DSA leadership. He also cites a part of DSA's national statement as evidence of the group's tacit justification of Hamas's atrocities but puzzlingly excludes the part of the statement that "unequivocally" condemned the killing of all civilians.
Isserman then begrudges the New York City DSA for telling its members to go to a rally in support of Palestine because one of the rally's speakers referred to Hamas's attack as justifiable "resistance" to occupation. Even this attempt at guilt by association falls flat; as Isserman himself admits, "There probably weren't a lot of DSAers in the audience, and no DSAers spoke from the podium." DSA also neither organized nor sponsored the rally.
These are loose strands. But they add up, in Isserman's mind, to political and moral bankruptcy, and an implication that the organization condones the killing of Jewish civilians.
For what it's worth, I don't disagree with Isserman about the perils of entryism and sectarianism. They just have nothing to do with his point.
Sam Heft-Luthy, a Jewish member of DSA's National Political Committee (NPC) tells me: "The shift in opinion on Palestine and the shift in commitment to the liberation of the Palestinian people is portrayed in the article as a targeted plan of sectarian entryists. I think it much more clearly represents an overall shift in the American public, particularly the younger American public on these questions." Looking at recent polls, Heft-Luthy argues, "When you look at those broken down generationally, there's an incredible amount of support for Palestinian Liberation. I think these internal contradictions in DSA are one manifestation of that."
Heft-Luthy, who was 23 when he joined DSA and is 29 now, takes offense at Isserman's portrayal of activists like himself: "Personally as a Jewish socialist, and as somebody who came to leadership in DSA not through a planned entryist program but through my process of hearing about DSA while I was walking to get coffee and getting canvassed for a [tenants' rights] campaign, to be portrayed as sectarian and seeking to hijack DSA for my personal whims is a pretty frustrating thing to see."
Rather than entryism, the varied (and sometimes regrettable) messages coming from different quarters of DSA are the result of having a "big tent," multi-tendency organization. Part of developing a vibrant internal democracy, says Heft-Luthy, is allowing chapters to discuss and democratically make decisions about how they represent themselves.
"Over the last couple of weeks," he reports, "chapters [have engaged in] a really vibrant internal process, trying to understand what's happening in Palestine, and how to have a clear socialist response to it." While the NPC is working on ways to coordinate information across different chapters and groups, and to give chapters guidance, "it's really important for us to be able to have the freedom of response and freedom of criticisms within DSA because it makes the organization stronger. It's important, for the good of the socialist movement, that the debate is visible and understandable to members."
Ultimately, Palestinian liberation plays a more central role within DSA, and within the left more broadly, because the political terrain has shifted considerably over the last several years. This is particularly so among young people.
Israel's 2008 "Operation Cast Lead" assault on Gaza was a turning point for many young Americans in how they saw the actions of the Israeli government. Since that time, the death toll has steadily risen. Before this month's casualties, at least 6,407 Palestinians and 308 Israelis had been killed in the conflict since Cast Lead, according to UN statistics. As Branko Marcetic argues in Jacobin: "That's a staggering 21:1, a reflection not just of the vast gulf in military resources and support between the two, but the Israeli military's indiscriminate bombardment of residential areas in Gaza, one of the world's most densely populated areas."
In the years following Cast Lead, Israeli governments have only turned further toward the extreme right, emboldening Israeli settlers and the military to carry out brutal attacks against Palestinians in Gaza and the occupied West Bank. Among young American Jews, previously a constituency that strongly supported Israel, the actions of the state and military have gotten harder to stomach. Polls show a generational shift on Israel and Palestine, a shift that is reflected in DSA.
If Isserman wants to understand why more DSA members are turning towards solidarity with Palestine, he should talk to members like Oren Schweitzer. Oren is 22. His father was a rabbi; his mother founded their synagogue; his grandfather was a refugee from Nazi Germany. After Oren's Bar Mitzvah, he became a teaching assistant at his Jewish Sunday school for five years. He also joined DSA at the age of 16. And he was among the organizers that drafted and circulated the letter of Jewish socialists. Oren tells me: "We were disgusted with the public narrative. We're proud Jews, proud DSA members, and proud anti-Zionists in support of Palestinian liberation." "And," he adds, "we know there are a lot of Jewish Americans just like us."
Isserman concludes his article by saying he's quitting DSA because he follows "Sarah Silverman Rule #1 for Judging One's Political Associates."
I take my lead, instead, from the letter that Schweitzer and others drafted. It concludes: "As Jewish people we're taught the phrase 'Never Again' from a young age. To not stand up now for justice in Palestine would make those words hollow. We must act. If not now, when? May our ancestors forgive us for the crimes committed in their names."