Print Magazine
November 1, 2004 Issue
Editorial
Twenty months ago, when the Bush Administration was steering the country toward war in Iraq, we noted a parallel with another military misadventure, the Spanish-American War, ...
In the summer of 1953, the New School for Social Research hung a yellow curtain over a mural by the Mexican artist José Clemente Orozco. Orozco's transgression?
With the announcement that 50 million influenza vaccines from the British manufacturer Chiron won't be available in the United States this year because of possible contaminati...
In November, California voters will have their first chance in a decade to reform the state's "three strikes and you're out" law, which has imposed cruel life sentences on...
Many viewers were puzzled when, toward the end of the second debate, George W. Bush answered a question about Supreme Court nominees by referring to the Dred Scott case.
Every once in a while there is good news in this troubled world, and the choice of Kenyan environmentalist Wangari Maathai as this year's Nobel Peace Prizewinner is one ...
As he began his seventh campaign swing this year through the battleground state of Wisconsin on a sunny day in late September, George W. Bush loaded a secret weapon onto...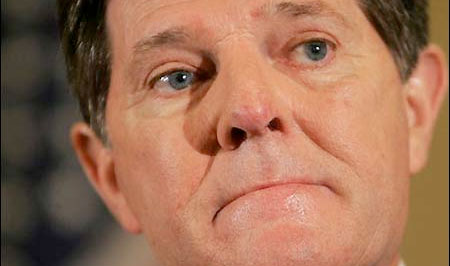 Has Tom DeLay--a k a The Hammer--hit his last nail? Not yet, but the Republican House majority leader has sustained his own whacks recently for a series o...
Feature
A star is on the rise for Death Cab for Cutie. The Seattle-based indie band's last record, Transatlanticism (Barsuk), has sold just over 184,000 copies.
Letter dated January 20 2004 from International Strategy Group, Coudert Brothers and The Albrigh...