Print Magazine
August 1-8, 2011 Issue
Column
From Dominique Strauss-Kahn to Casey Anthony to Rupert Murdoch, the media are debasing the public conversation—and therefore our democratic process.
Academics flocked to a Paris conference in Tony Judt's memory—but solutions to the growing anti-government absolutism he warned of were scarce.
Books & the Arts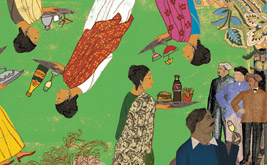 Esther studied botany and biochemistry, and ended up serving Cokes to arms dealers in Delhi's Hotel Shangri-La. She is a station holder, occupied and rootless. Welcome to ...