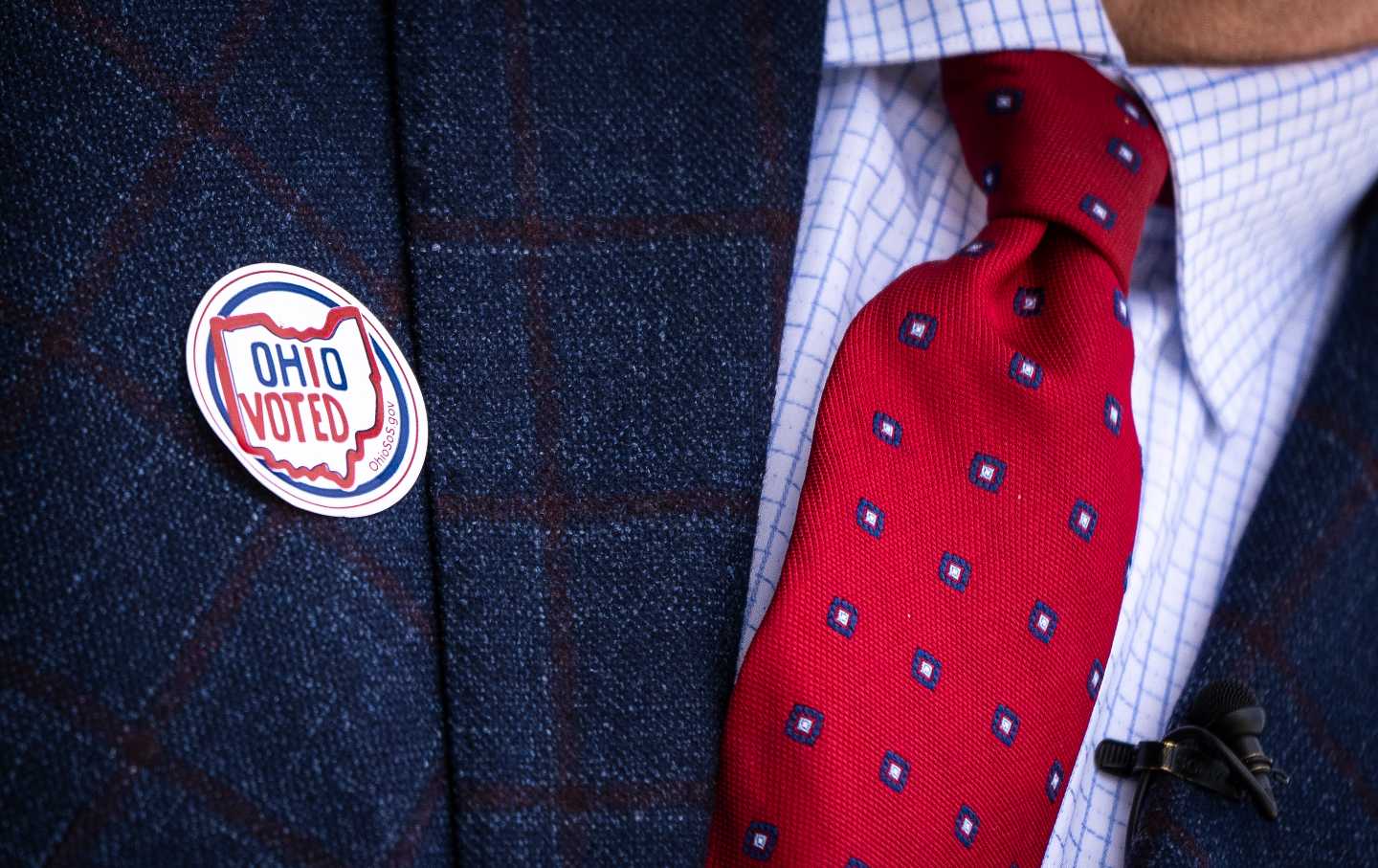 Once synonymous with Midwestern placidity, Ohio has become the epicenter of an unprecedented assault on civil and reproductive rights. Bills banning gender affirming care for LGBTQ youth and trans athletes from participation in women's sports have been introduced in the statehouse, and House Bill 245 would prohibit drag performances from being held in public.
Now, Republicans in the state are attempting to thwart voters' ability to amend Ohio's Constitution. A ballot measure in the August special election could impede a proposed amendment to preserve abortion rights by requiring petition-based amendments to pass with 60 percent of the vote, rather than a simple majority. The proposed measure is "abandoning a fundamental policy that has been part of the Ohio Constitution since 1912," said Steven H. Steinglass, an expert in Ohio constitutional history. If the measure is approved, it will make passing the abortion rights amendment, introduced by Ohioans for Reproductive Freedom and Ohio Physicians for Reproductive Rights, much more difficult. "These politicians know that their radical views on abortion care can't win a fair vote, so they're rigging the system," said Ohioans for Reproductive Freedom.
These initiatives have been primarily driven by conservative interest groups, with the Ohio-based Christian advocacy organization the Center for Christian Virtue playing an outsize role in shaping Republican policy. Right-wing billionaire Richard Ulhein has spent millions funding the "Save Our Constitution PAC," which advocates for the ballot measure known as Issue 1. "Our Constitution has been hijacked by special interests and legislators have an opportunity—and duty—to stop it by voting to put the Constitution Protection Amendment on the August ballot," reads the PAC's website. Meanwhile, groups like Protect Women Ohio have attempted to connect abortion and trans rights with misleading ads. "If passed, this dangerous initiative would abolish parental notification and consent requirements which protect minor girls from undergoing an abortion or even sex change surgery without her parents' knowledge or involvement."
"It's a horrible case study of how lawlessness builds on lawlessness," said David Pepper, author of Laboratories of Autocracy and former chairman of the Ohio Democratic Party. As the right entrenches itself in the state, Ohioans have started creating support networks to protect themselves. The Ohio Student Activist Alliance was formed during the amendment debate to "talk to young people and raise awareness about harmful legislation like the gender affirming care ban or the don't say gay bill," according to Garrison Bowling, a cofounder. OSAA's members also submitted testimony in opposition to House Bill 68, which would ban gender affirming care and limit access to puberty blockers.
For Bowling, the attack against the LGBTQ community is personal. Bowling is a gay man and works as a crisis counselor for the Trevor Project. He knows that anti-LGBTQ legislation has a dire impact on queer youth. "I don't think a lot of people realize how difficult it is to live in a state where the government is trying to outlaw your existence," said Bowling. According to the Trevor Project, 46 percent of LGBTQ youth and 54 percent of trans youth in Ohio seriously considered suicide in the past year. "Let's be clear—HB 68 is extreme government overreach and state-sponsored bullying of trans and gender non-conforming Ohioans," said the American Civil Liberties Union of Ohio.
Bowling wants to motivate young people in Ohio to oppose these far-right attacks. "Ohio has had a youth political gap for years," Bowling explained. "We are far behind when it comes to youth organizing." Referencing statewide walkouts in Florida against Governor Ron DeSantis, Bowling said he hopes to build a similar mass movement. The turnout in Ohio for last August's primary was under 8 percent, but the secretary of state's office has said that early voting numbers from this year already reflect a nearly fivefold increase. "Ohio deserves better than our current leadership, and it's time for young people to start fighting back and empowering ourselves," said Bowling.
Arienne Childrey shares Bowling's mission of fighting for Ohio's queer citizenry. A trans woman, Childrey spent her early life in the closet. "For 34 years, I was miserable," Childrey admitted. "I was active in church, trying to make this secret part of me disappear." Then, at 34, Childrey came out. Though she lost relatives and colleagues, Childrey said "I haven't regretted it since." Childrey now runs Northwest Ohio Trans Advocacy, advocating for "trans rights through allyship, activism and education."
Childrey, who calls HB 68 "disastrous," began her career in the local Democratic Party, but left after learning the "vast difference between politics and activism." Childrey hopes the renewed outrage against LGBTQ people will lead to a new, more militant age of queer activism, hearkening back to Stonewall as a source of inspiration. "I'm not going to play nice with people who want me dead."
Dr. Anita Somani is an ob-gyn and cochair of the Physician Action Network. The network is a coalition of physicians and medical students who support reproductive rights and gender affirming care for their patients. Though the network was founded in 2017, "access to health care is no better, maybe a little worse than it was," according to Somani. In some rural areas they've "closed practices, denied access to those services."
Even if these restrictions pass, Somani believes her colleagues will find ways to support their patients. "The people I know who are providing this care will do the best they can to provide the wrap-around care that is permitted," said Somani.