Sometimes tailgating is even better than the game. The Democratic National Convention starts Monday, but thousands of delegates, activists, operatives, protesters and members of the media have already flooded Denver. The media started pre-partying in earnest on Saturday night, in a blowout reception at a local amusement park; the bloggers began pre-funking Sunday afternoon, at the 8,000 square foot Big Tent "new media center"; and Democratic pols are tailgating Sunday night at several welcoming receptions, from a DNC museum gala to a concert at the famous Red Rocks amphitheatre. There's even a DLC party for self-doubting Democrats.
Parties are central to the party conventions, as The Nation's Ari Berman explains in a new video, and we're hitting our share. Gov. Ed Rendell dropped by a small Salon loft party last night, where he chatted with guests about his intention to cast his first ballot for Hillary Clinton, if there is one. Put Clinton's desires aside, Rendell said, and it's simply in Obama's interest to give voice to Clinton supporters this week, since some could still jump ship. The McCain campaign obviously agrees, given their new Clinon ad. (Rendell also thinks she'll run again, but that's another story.)
As delegates mingle, the buzz is focused on Biden, naturally, along with excitement for the first big speeches on Monday, from Michelle Obama and Ted Kennedy. Hardcore delegates are also sizing up the convention floor map, which the DNC released Sunday,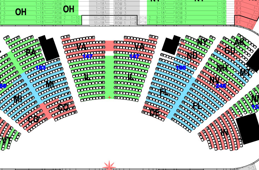 showing which states have the best positions and revealing, supposedly, the party's national pecking order. On Sunday morning, organizers moved the Delaware delegation to the front of the hall. "Honoring of the home state delegation of the Vice Presidential nominee is a Convention tradition," explained a solemn announcement from the convention committee. While Delaware moved up, most of the convention floor was dotted with staffers and security officials making last-minute preparations on Sunday. The Obama campaign "boiler room," outfitted with a dedicated phone line for every state delegation, was piled high with homemade Obama signs shipped in from around the country.
Also, even though Obama will never enter Pepsi Center this week, security is extremely tight. Ken Salazar, Colorado's junior U.S. Senator, was prevented from entering the hall by the Secret Service for several minutes on Sunday, apparently because there was a question about whether he had the proper credential to enter for a TV interview.