The Catastrophic Moral Failing of Those Who Won't Condemn Hamas
Israel's oppression of Palestinians is an atrocity. So was Hamas's massacre of civilians—and anyone who claims to be on the left should say so.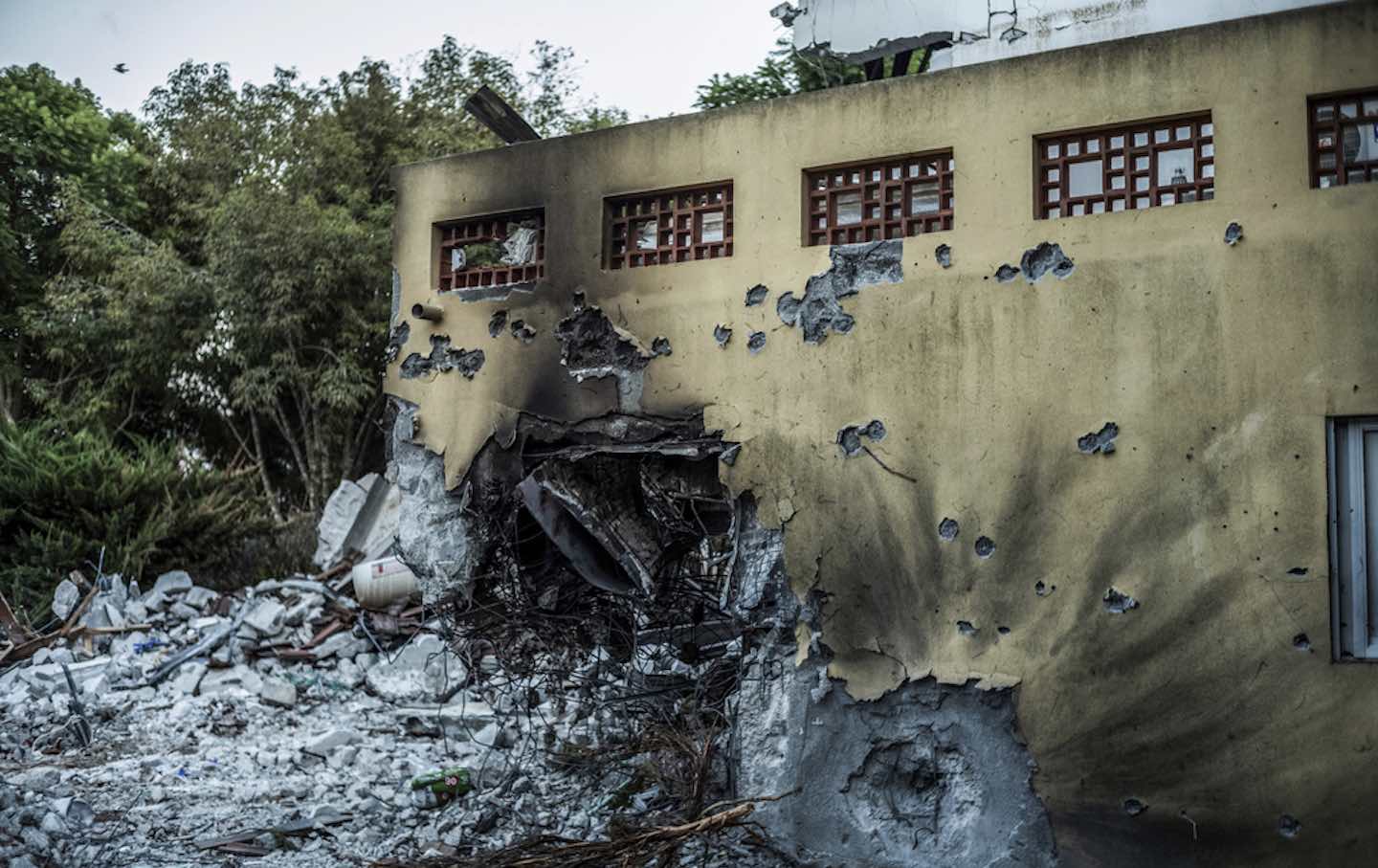 If you are expecting to read my usual Left Coast column, I tell you now that you will be disappointed. I write, today, from a place of horror—about the massacre unleashed against civilians in Israel this past week, and about the morally cretinous bloodlust reaction some who fashion themselves as being on the "left" seem to have experienced in its aftermath, but also in despair at the ghastly collective punishments being unleashed from the air on Gaza residents by Netanyahu's far-right government and the Israeli military.
I write days after Hamas launched the bloodiest attacks against Israel in decades. In the space of a single day of killing, more Israelis died than have died in any conflict since the 1973 Yom Kippur war—and while the dead of that war were, in the main, soldiers, the roughly 1,200 dead this past week were mostly civilians, including nearly 300 revelers at a music festival, residents of kibbutzes, and an unfathomable number of children. Whether or not the media accounts suggesting that Hamas went out of its way to target young people, children, and babies are accurate, it seems indisputable that its gunmen went from house to house executing as many people as they could, as fast as they could. What is indisputable as well is that Hamas's hitmen, in addition to killing as many people as possible, also went on a hostage-taking spree. Kidnap victims are thought to include Vivian Silver, a 74-year-old who has spent decades working to build bonds of peace between Israelis and Palestinians.
Many progressives have, quite rightly, been quick to condemn Hamas's actions, and they have written eloquently, and with nuance, about the horrors inflicted on both the Israeli and Palestinian populations by this week's orgy of bloodletting. A powerful example here is the Palestinian writer Karim Kattan, in the French newspaper Le Monde, writing about the tragic circle of heartbreak being drawn in the region, mourning the casualties on all sides. "A dead man is 10 people, a family, a village, mourning and shattered," he writes. "A wounded person is often a mutilated body." Others on the "left," however, appear to be celebrating the massacre as a master class in liberation politics, as just comeuppance for decades of cruel, violent, and degrading actions committed by Israel against its Palestinian population.
Just today, The Nation published a truly extraordinary, bilious glorification of the Hamas action, written by Saree Makdisi, in which a pro forma half-sentence statement of regret at civilian casualties was followed by thousands of words praising the broader strategy, actions, and results, of the Hamas attacks. It is beyond me how this was deemed a piece worthy of publication in a magazine with such a storied history of shaping progressive values and agendas in America over more than a century of publication.
Current Issue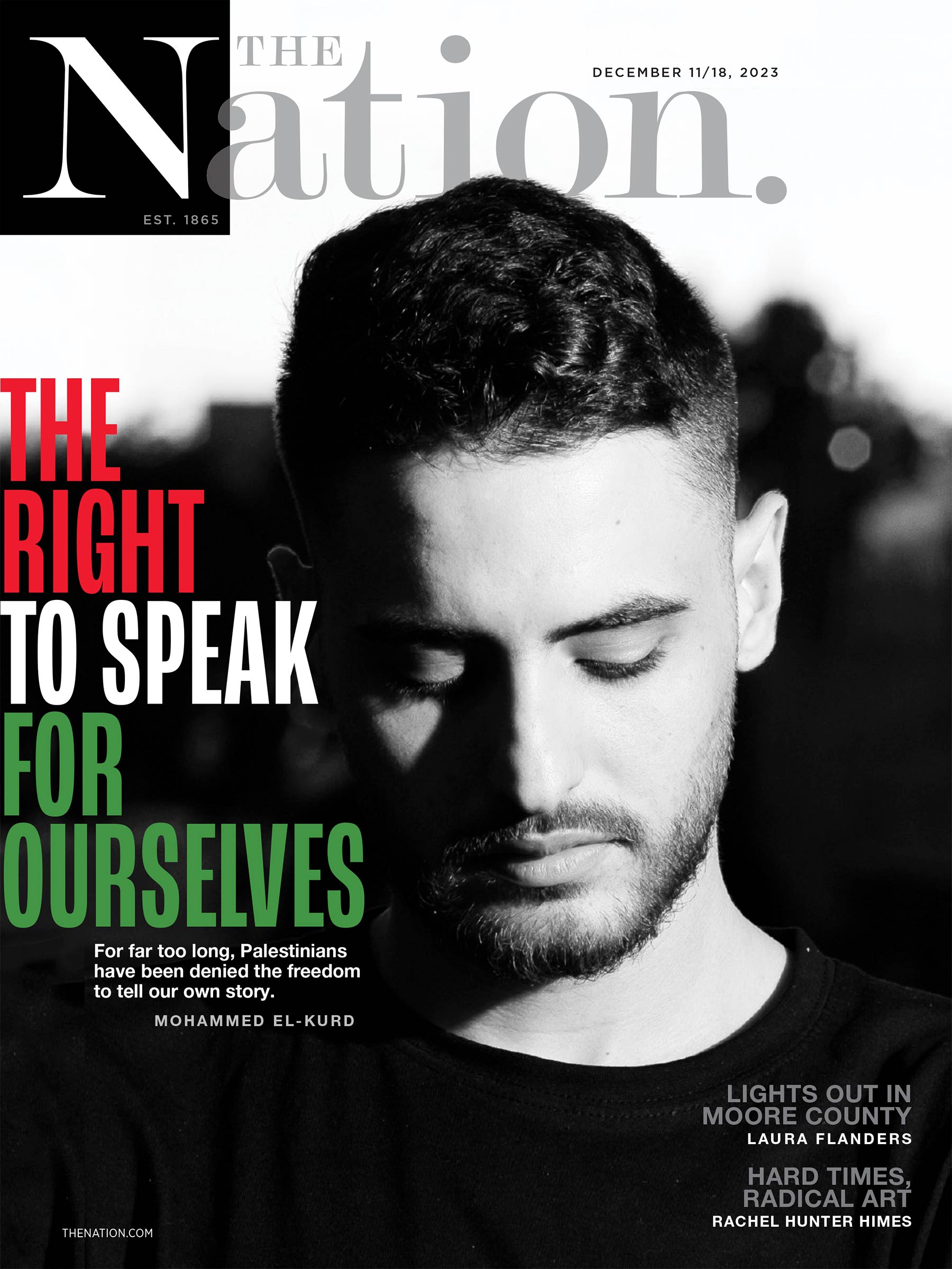 BLMChicago, which has more than 50,000 Twitter followers, tweeted out an extraordinarily inflammatory meme within minutes of the news that Hamas gunmen had paraglided into a music festival in southern Israel and executed hundreds of people. The tweet showed an image of a paratrooper descending to the ground, and the slogan "I stand with Palestine." Now explain to me how, in good conscience, one can build a movement to oppose police brutality and racism in one country and, at the same time, glory in the killing of 1,200 people, mostly civilians, in another?
Yes, Israel's policies are often spectacularly vicious. Yes, Netanyahu's foul far-right government has taken that viciousness and that bigotry to new levels. Yes, that government, with its pseudo-fascist oratory and its deliberately confrontational no-compromise policies, has pushed the Palestinian population beyond the point of endurance. One only has to look at the actions and statements of many current cabinet ministers to see that this is a government that thrives in a petri dish of extremism and fanaticism—as many Israelis were all too aware in the months leading up to the Hamas rampage, which is why the streets of Israel's major cities have been jam-packed with anti-Netanyahu protesters since the formation of his new government.
In "normal" times, Netanyahu's government has embraced the most authoritarian of policies. Now, in a genuine emergency, it will likely push the limits even further. Its leaders have, in the last few days, seemingly decided to raze large parts of Gaza in response to the Hamas outrage. Defense Minister Yoav Gallant has, inexcusably, called Palestinians "human animals," apparently using this dehumanizing language as a rationale for the blitzkrieg ordered against the besieged enclave. Days into Israel's response, the images out of Gaza look like Grozny after the Russians razed the city. If Israel's leadership goes down a path of collective punishment, as it seems to be doing, people of good conscience must of course denounce this.
But, in the same way that Israeli assassinations and indiscriminate bombings of civilian populations and infrastructure deserve condemnation, in the same way that efforts to displace the West Bank's population via the building of new settlements deserve condemnation, so too the extremism, the zealotry, the fanatical vision of Hamas also merit unreserved calumny rather than praise. And that, for one particularly morally myopic part of the left in the United States, in the United Kingdom, and in many other Western countries, is apparently a bridge too far.
At Harvard, on the day that Hamas killed more than 1,000 people, a coalition of pro-Palestinian students released a statement reading, in part, "The Apartheid regime is the only one to blame." All well and good to condemn the manifest horrors of Israeli practices vis-à-vis the occupied territories, but nowhere in the four-paragraph statement was there a single word of sympathy for the victims or condemnation of the Hamas killers. Meanwhile, that same day, a pro-Palestinian protester in Paris was quoted as saying, "We are all witnessing incredible actions by the Palestinian armed resistance, who, as far as we know, manage to come out of this huge concentration camp that Gaza is and inflict severe losses to the Israeli soldiers and settlers. We are looking at the news every minute." In the UK, a headmaster at a Jewish school gave his students permission to not wear their uniforms, so that they would be less identifiable to hoodlums glorying in the moment and looking to beat Jews up.
A DSA-promoted pro-Palestine rally in New York City degenerated into clear anti-Semitism and a celebration of the slaughter, as Representative Alexandria Ocasio-Cortez was quick to point out. It was, she rightly noted, an exercise in "bigotry and callousness." So-called "Solidarity statements" released this week by other DSA chapters also referenced a "right to resist" and clearly implied that the bloodshed was a legitimate form of resistance. The Las Vegas DSA put out a series of tweets laying the full blame for the massacre on Israel and America; its authors couldn't even muster a few words of condolence for the hundreds of murder victims. PBS quoted pro-Palestinian protesters saying that "when Palestine rises in resistance, the diaspora rises with it." Again, not a word of remorse or grief for the staggering number of civilians shot dead in cold blood.
Similar statements, issued by small-but-loud activist groups at Stanford, Columbia, Yale, and other top universities, spoke of a "counteroffensive" having been launched against the "settler-colonial oppressor," declared that "the illusion of Israel is burning," and concluded that "Israel bears full responsibility for this tremendous loss of life." I doubt very much whether most students at these institutions, be they conservative, liberal, or socialist, would agree with such a morally calamitous read of the mass slaughter, but the fact that some supposedly progressive student groups would lean into such thinking is indicative of a tremendous moral double standard on their part.
Surely, all of this isn't what passes for the moral voice of conscience on the left today. Surely, Stalin and his reign ought to have been enough to forever wean the left off of the specious argument that the means—no matter how vile—are justified by the noble ends. Surely, going door to door shooting children in cold blood, gunning down unarmed revelers at a music festival, taking dozens of families hostage, and killing infants doesn't constitute a "legitimate" right to self-determination, nor does it constitute "fighting" by any meaningful definition of the word.
The romanticization of Hamas's killing spree by one small subsection of the left, the argument that the shedding of innocent blood is somehow forced on the killers by their victims, is the same one that far-right murderers, such as Anders Beivik or Dylann Roof, have been making these past several years before they open fire with their high-velocity rifles and spray supermarkets, schools, music festivals, churches, synagogues, and mosques with their murderous ammunition.
Popular
"swipe left below to view more authors"

Swipe →
A small, but loud, part of the left is falling for the logical fallacy that simply because Hamas opposes the awful, frequently murderous, actions of the Israeli government, therefore Hamas and its ideology are to be considered friends of a progressive, secular, vision. To be clear, there's literally nothing progressive about Hamas: It is a fundamentalist movement that views indiscriminate killing as an end in itself. It has no interest in a negotiated settlement with Israel—even if the Israeli government wanted to negotiate, which, especially in its current far-right incarnation, it generally doesn't—viewing the complete eradication of Israel as the only acceptable goal. And it frequently turns its murderous gaze inward on political opponents and marginalized groupings within Gaza itself. Haaretz has reported that members of the LGBTQ community in Gaza risk being killed because of their sexual identity. In 2009, The Guardian reported that Hamas enforcers had begun patrolling beaches to ensure that women wore conservative clothes. Their patrols aren't that different from those of the infamous "morality police" in Iran. Four years later, the movement segregated all schools in Gaza by gender. It hangs residents it views as traitors, and its fighters are also alleged to have maimed large numbers of political opponents by deliberately shooting them in the legs.
One can and should shout from the rooftops about the horrors of Israeli actions in the West Bank and in Gaza. One can and should call out the daily humiliations faced by Palestinian communities kept walled in and economically strangled by Israeli policy. But one can do all of these things without then turning around and celebrating the massacre of civilians, of children, by Hamas this past week.
It's inconceivable to me that, in any other context except the Israel-Palestine one, supposedly leftist students, or campaigners against police brutality, or progressive commentators, people who pride themselves on their sense of social justice, would celebrate the mass slaughter of more than 1,000 civilians as an act of self-determination, self-defense, and resistance. Surely, it's not too much to ask for "solidarity groups" to have the moral imagination and courage and, yes, decency, to at least recognize wholesale murder when it's staring them in the face.