The "Digital Blackface" Artist Competing for a Grammy
Ghostwriter's "heart on my sleeve" became a viral hit thanks to vocals by Drake and The Weeknd. But neither artist contributed to the song.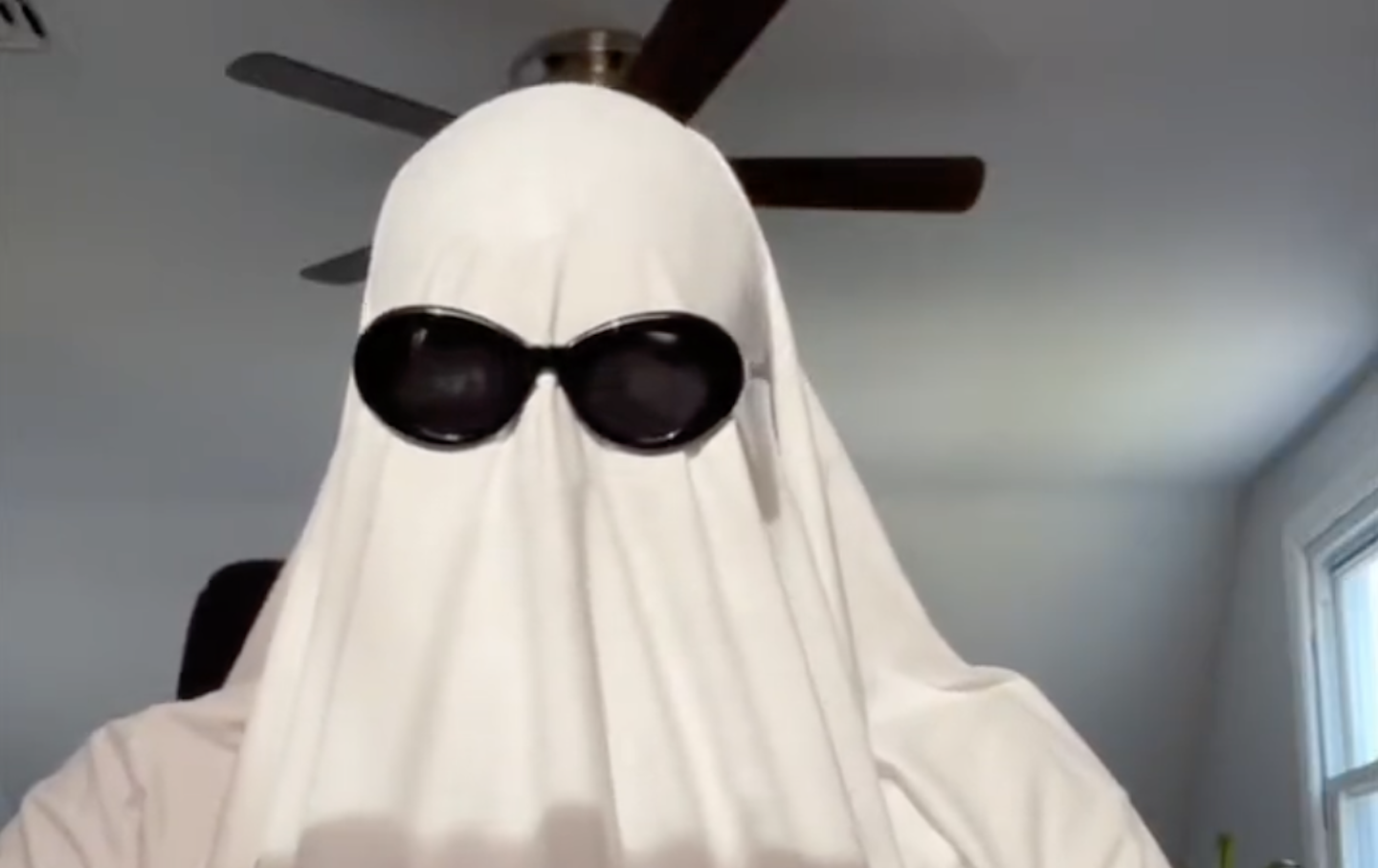 This Friday, the Recording Academy will announce its nominations for the 2024 Grammy Awards, in heavily stacked brackets that are widely expected to include hit songs like SZA's "Kill Bill" and Barbie-hit "What Was I Made For?" Also among those nominations, according to Billboard, could be a historical first: a song initially partly generated by artificial intelligence. Ghostwriter's "heart on my sleeve," a viral pop-rap song by a virtually unknown, anonymous TikTokker who dons a white sheet in all of his videos, garnered millions of views across social media since its April release. "I got my heart on my sleeve with a knife in my back—what's with that?" listeners heard the voice of Drake rapping over a minor-key piano loop. But Drake—along with The Weeknd, whose voice is also heard on the track—made no contribution to its production. Instead, the vocals were created by training an AI voice model to reproduce both artists' voices, presumably using copyrighted songs.
The song was swiftly scrubbed from most of the Internet due to copyright claims over its apparent use of the vocals. But that didn't stop it from catching the attention of key players in the music industry. "When you start seeing A.I. involved in something so creative and so cool, relevant and of-the-moment," Recording Academy CEO Harvey Mason Jr. told The New York Times, "it immediately starts you thinking…'What's the business implication for monetization?'"
After multiple re-uploaded versions of the song—and several new songs featuring stolen vocals from a different set of Black artists, including 21 Savage and Travis Scott—Ghostwriter is back. But his chances of beating out competitors to win a Grammy nomination are no stronger than before his team was forced to strip the "not legally obtained" vocals from their submission to qualify. To some observers, Ghostwriter's work amounts to what is sometimes called "digital blackface," a term popularized by feminist writer Lauren Michele Jackson in a Teen Vogue op-ed referring to the use of the voice, image, or performance of Black artists by non-Black performers or producers. Nevertheless, Ghostwriter has received enough institutional buy-in to jump from the Internet into a real-world arena—even with a product so fundamentally derivative.
In a recent interview with Billboard, Ghostwriter and his manager attributed his approach to a humanitarian intention to democratize music. "We wanted to do something that could spark much-needed conversation and prep us so that we can start moving toward building an environment where this can exist in an ethical and equitable way," said the artist's manager, who also chose to remain anonymous. But the air of altruism quickly dissipated as the interview progressed. When asked about the lack of consent from Drake, The Weeknd, Travis Scott, or 21 Savage for this purported music industry-saving project, Ghostwriter's manager offered up only platitudes: "Nothing is perfect in the beginning," and "Everything starts somewhere." The promise of "ethical and equitable" results from such a dubious strategy is already questionable. But within the context of decades of non-Black people using the simulation of Blackness to generate self-serving opportunities, the posture of good intentions breaks down even more.
One person who isn't buying it is Rashad Robinson, who is president of Color of Change, an online racial justice organization working to curb AI-driven racial biases. "They're saying the quiet part out loud: It's fine to hurt a lot of people and to exploit people as long as certain types of other people make money," he told The Nation.
The practice of blackface dates back to the 19th century, when poor and working-class white people turned to racial mockery as an outlet for their discontent. From there, blackface—which traditionally meant using burnt cork and other Africanizing makeup to portray a caricature of a Black person—has followed Americans into every new medium, jumping off the stage onto the small screen, and later onto the computer screen.
Current Issue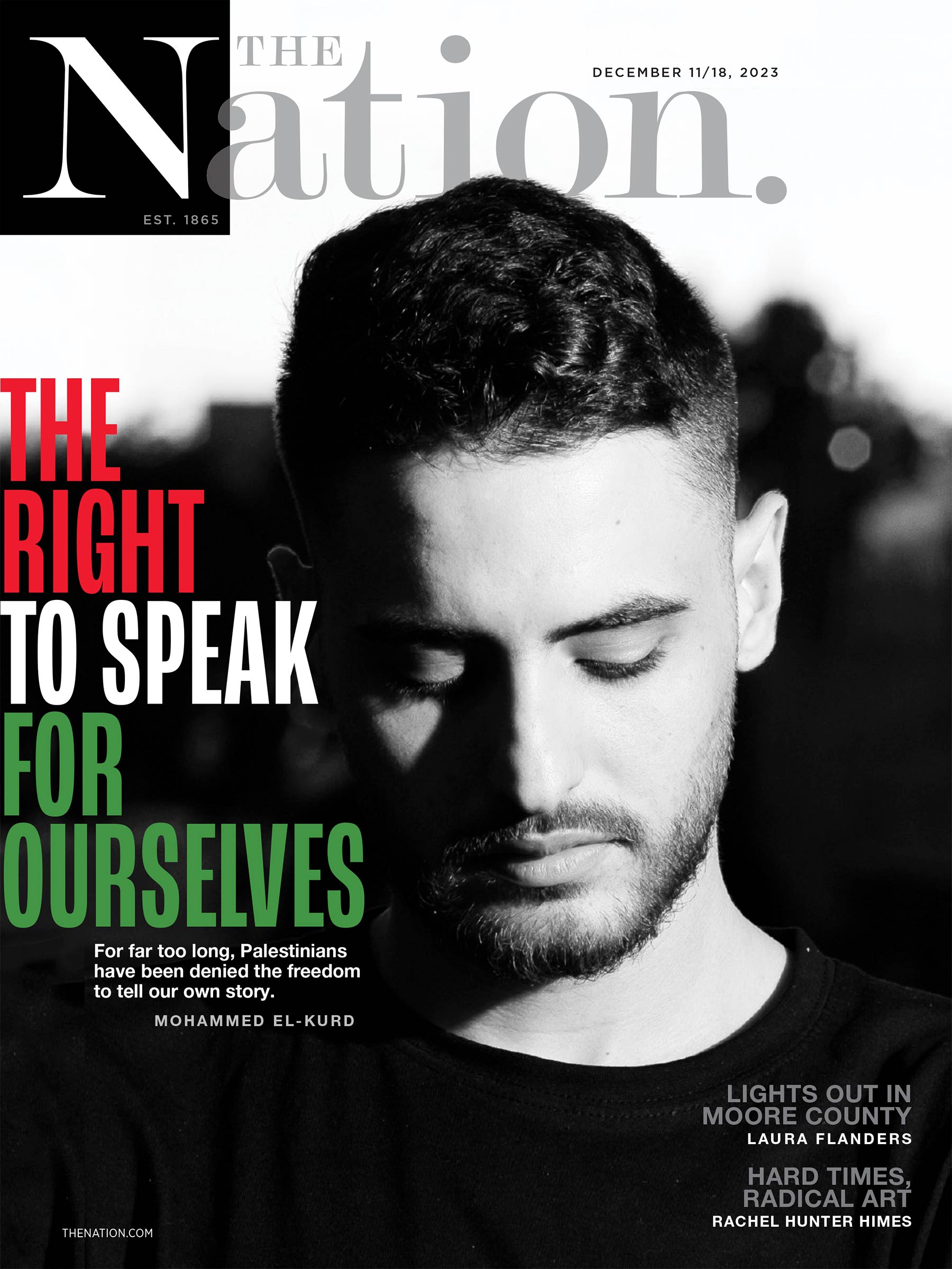 Remnants of the practice remain threaded into American forms of entertainment, most effortlessly concealed on the Internet. Avatars and anonymity have made it easier for people who aren't Black to play pretend in the form of digital blackface. In Teen Vogue, Jackson described the phenomenon as amounting to "various types of minstrel performance that become available in cyberspace." It's as commonplace as the use by non-Black people of reaction gifs of Black people to express exaggerated emotions, but it has become increasingly commercialized. The recent trend of "Blackfishing"—a form of blackface where a person darkens their skin or wears Black hairstyles to give a convincing appearance of being Black or biracial—has been used by online influencers to garner followers and subsequently marketing opportunities. Instances of digital blackface can be "difficult to identify," the writer Vann Newkirk told NPR in 2017, in a report on its use in the harassment of Black people online. He added, "The thing that has tipped me off most is they often try to speak the way maybe someone who has never been engaged with Black culture thinks Black people talk. It's all very cartoonish."
Ghostwriter is part of the same lineage, this time swapping makeup and memes for audio deepfakes—all while clad in a white sheet that is uncomfortably close to the garb of the Ku Klux Klan. And he's not alone. Only a year before the rise of Ghostwriter, FN Meka, a musical avatar of a Black man, was created by a group of non-Black people who claimed it had "the potential to be a true equalizer and the next frontier in representation in the arts." The vocals for FN Meka's music were taken from a Black rapper, Kyle The Hooligan, who said the company "used my voice, used my sound, used the culture, and literally just left me high and dry. I didn't get a dime off of nothing and they got record deals."
Not only did the team behind FN Meka appropriate the work of Black artists to sell records, the fictional artist released songs using the N-word, and an Instagram post on his account depicted the avatar being brutalized by police. After complaints from civil rights groups, FN Meka was dropped by his record label.
Still, there's no lack of musicians signing up to take part in this endeavor. Willing artists have reached out to Ghostwriter's team to aid in their mission to "democratize" music. After Ghostwriter initially made headlines, the Canadian songwriter and producer Grimes even publicly invited artists to use AI versions of her vocals. But Ghostwriter has yet to release music featuring Grimes—or any other white artists. In conversation with Billboard, Ghostwriter's manager said they were looking for artists who could "create the sort of moment" that was generated by the copied sounds of Drake and The Weeknd.
That's likely because the true novelty of the song lies in the unwilling imprimatur afforded to it by the big-name Black artists it copies. Without the facsimile of famous rapper's voices to prop up the music, Ghostwriter's output is unremarkable and clichéd. It's unlikely that the boilerplate lyrics and simplistic arrangement of "heart on my sleeve" would occur in the same sentence as the words "Grammy-eligible," if not for the song's proximity to Black celebrities—and the possibility for the music industry to parlay this moment into more money-making appropriation.
The Ghostwriter team's stated goal of elevating long-underappreciated artists may be an admirable one, but it's not a likely one. Historically, for many non-Black performers, the road to fame, money, and recognition has been paved using the aesthetics and sounds of Black people, often without consent from or proper compensation for the artists they're stealing from. Instead of having a democratizing effect, AI technology has only made it easier to get away with it.
We need your help to continue publishing stories like this one. Supporters like you play a vital role in keeping our reporting fiercely independent. Donate today to support progressive journalism this Giving Tuesday.