Print Magazine
December 10, 2012 Issue
Column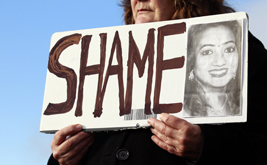 Her death is a warning: It could happen here.
Books & the Arts
Louise Glück's poems aim to get to the bottom of her experience without making an idol of "reality" or brute suffering.
For all the ways it is rife with tenderness, fury and ugliness, William Faulkner's fiction is stubbornly persistent in its artistry.
Edward P. Jones's characters know that everything they've worked for might suddenly be taken from them.
Edward Luttwack''s The Rise of China vs. the Logic of Strategy
In The Passage of Power, Robert Caro shows that LBJ's brilliance as a politician lay not in his idealism but his opportunism.
If you get to the top, only to find that the voice hounding you with charges of inauthenticity is your own, what then?