It doesn't actually matter if the Coop boycotts Israel or not. Just having the debate is a symbolic victory for the pro-boycott camp.
Mar 29, 2012 / Kiera Feldman
Alexandria, Va.   Congratulations to Kiera Feldman for her important article "The Romance of Birthright Israel" [July 4/11].   Arising out of concern about the decline in affiliation among young Jewish Americans, the Birthright Israel program is, as Feldman points out, an effort at "the selling of Jewishness to Jews." This program has thus far sent more than 260,000 young Jews from throughout the world on free trips to Israel. "Welcome Home" is a predominant message, a reference to Zionism's view that all Jews outside Israel are in "exile" and that Israel is the "homeland" of all Jews, who should immigrate to that country. Beyond concern over the propaganda aspects of the program, heavily influenced by advocates of the settler movement, the reason for a lack of involvement of many young Jewish Americans in organized Jewish life is precisely that Israel, not God or Jewish ethics or the traditional Jewish idea of tikkun olam (repairing the world), has become "central" to Jewish life. Israeli flags fly in many US synagogues; and many "religious" schools are teaching Israeli culture and Middle East politics, not religious concerns about what it means to lead an ethical life. A study by social scientists Ari Kelman and Steven M. Cohen found that among American Jews, each new generation is more alienated from Israel than the one before. Among American Jews born after 1980, only 54 percent feel "comfortable with the idea of a Jewish state." The reason, Cohen explained, is an aversion to "hard group boundaries" and the notion that "there is a distinction between Jews and everybody else." Israel claims millions of men and women who are citizens of other countries as being in "exile" from their real "homeland." Why is it not content to be the homeland of its own citizens? There is a silent majority of American Jews who are not represented by the national organizations that speak in their name. Kiera Feldman's report indicates why so many idealistic young people—seeking a world of justice for all, as the Hebrew Prophets did—are alienated from the Jewish establishment. They deserve something better. ALLAN C. BROWNFELD, publications editor American Council for Judaism (acjna.org) New York City As the largest funder of Israeli civil and human rights organizations, we at the New Israel Fund have a vested interest in young progressive Jews embracing a critical, fully informed and firsthand experience of Israel. The relationship between the American Jewish community and Israel is complex and ever-changing. Birthright is one of a number of organizations attempting to address this relationship. While there are some valid criticisms of Birthright, the portrayal of its agenda as monolithic is incomplete. While we disagree with Birthright's decision to block a J Street trip, we have also seen it open itself to pluralistic content and politics on a broad range of views. Between 2006 and 2009, we partnered with Israel Experts to provide nearly a half-dozen trips titled "Peace, Pluralism & Social Justice." These trips visited real Bedouin shanty towns in the Negev and Arab villages halved by the '67 line; they discussed Israel's security measures and human rights extensively. These visits were accompanied by social change grantees of the New Israel Fund. Without Birthright, we could not have inspired these young Jews to grapple with Israel's complicated reality. The full picture of Birthright, its funders and the Jewish community, like the Middle East itself, is more nuanced than presented in Feldman's article. BEN MURANE, director of New Generations New Israel Fund New York City Although I'm a longtime critic of Israeli policies, I'm disturbed by Kiera Feldman's article. It could have been written as straight fact, without the anti-Zionist innuendoes. If Birthright Israel has become an anti-Palestinian, pro-occupation enterprise, we need to know this. But Feldman also implies that it's wrong for American Jews, part of a historically persecuted people, to promote a connection with Israel and their fellow Jews. In her zeal for the Palestinian cause, Feldman neglects to mention that some major Birthright funders are liberals. This includes Charles Bronfman and S. Daniel Abraham. Abraham is a major contributor to the Democratic Party and a dove who founded the Center for Middle East Peace. Yossi Beilin, an originator of the idea of Birthright, whom Feldman cites as a Labor Party "stalwart," left the party and has headed the very dovish and left-wing Meretz Party for most of the past decade. He remains a stalwart for peace and a Palestinian state. Yes, J Street's effort to organize a Birthright trip was rejected on the dubious grounds that it was too "political," but it was intended as the kind of progressive trip that had been permitted under Birthright to a campus-based group called the Union of Progressive Zionists. The UPZ merged with J Street two years ago and was renamed J Street U, which has just independently undertaken a progressive tour of Israel similar to the one UPZ made through Birthright. With this kind of article, The Nation is not promoting reason and moderation in the public discourse about the clash of rights that is the Israeli-Arab conflict, but rather serving up more red meat for people who believe that everything about Israel and Zionism is bad. RALPH SELIGER New Orleans Kiera Feldman points to abuses in the Birthright Israel program. Abuses there are, both on the part of recipients, many of whom know a freebie when they see one, and the donors. Birthright Israel is propagandistic. It shows only the chauvinistic Zionist side and ignores Palestinian suffering. The strong sexual desires of the young participants are manipulated to create, through brainwashing, an army of twentysomething Zionist hardliners. Good points. But Feldman's article smacks of bad faith. What did she expect when she accepted the free trip? She knew very well who was offering this free junket and why it was offered to her and not to the other 98 percent of the American people. By her own depiction of her journey she was more interested in laying out her objections to Israeli mistreatment of Palestinians and revealing the right-wing orientation of the underwriters than learning anything new on the ground. Israel could very well be a racist state, but it is clear that Feldman's views on this matter were solidified before she arrived in the country. Finally, she vividly describes how directors of Birthright Israel have harnessed the strong hormonal forces of the young participants to a political agenda, complete with a suggestive photograph. The intense level of her scorn and mockery, however, makes one wonder whether her feelings had been hurt in one of those arranged flirtations with Israeli soldiers, the mifgash, whom she so pungently portrays. She shouldn't feel bitter, though. Birthright Israel paid for the trip and The Nation Institute paid her to write it up. Not bad. LEO LAVENTHAL Feldman Replies Brooklyn, N.Y. Thank you for your thoughtful letters. I join Allan Brownfeld in lamenting the rise of Jewish nationalism in America. In Birthright, we see its demands and consequences. Ben Murane and Ralph Seliger point to the "Peace, Pluralism & Social Justice" trip offered by the tour provider Israel Experts (in partnership with the New Israel Fund and the UPZ) to illustrate Birthright's "progressive" side neglected in my piece. Yet, out of 260,000 participants, only 200-odd Birthrighters traveled on this (long ago canceled) heterodox tour. As the recently nixed J Street trip demonstrates, ultimately Birthright is fabric of the same cloth of its founders and funders. Some of them might be considered liberal on issues unrelated to the Middle East, yet most share hawkish Israel politics and AIPAC ties. Seliger incorrectly uses "dove" to describe Birthright funder 
S. Daniel Abraham, an AIPAC board member. (Seliger also disputes my portrayal of Yossi Beilin, yet Labor Party "stalwart" accurately describes a politician who spent the bulk of his career—from 1977 to 2002—in the party.) In May, Israel Experts CEO Joe Perlov was named AIPAC's "Ally of the Year." "What did she expect when she accepted the free trip?" asks Leo Laventhal. (Answer: not the racist breeding project I encountered.) Especially since it's free, should we not all the more closely examine the nature of the "connection" to Israel that Birthright fosters? Consider this: Birthright spokesman Jacob Dallal was previously the spokesman for the IDF. It is the purview of the left to imagine an alternate future, which brings us to Jewish Voice for Peace's satirical website, Birthright for Us All. Criticizing Birthright's fear of "miscegenation" and promising to "bear witness to the occupation," the fake trip is advertised for Jews and Palestinians. Barry Chazan, the architect of Birthright's curriculum, told me that such a mifgash would never happen on Birthright. "This is about a Jewish journey," he said. One wonders where it will lead. KIERA FELDMAN
Aug 30, 2011 / Letters / Our Readers and Kiera Feldman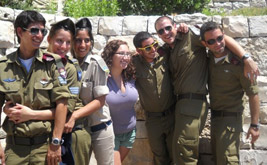 By providing all-expenses paid trips to Israel for Jewish young adults, US funders and Israeli politicians are creating the next generations of American Zionists.
Jun 15, 2011 / Feature / Kiera Feldman