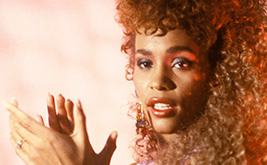 Dismissed as inauthentic and overlooked by rock critics, Houston inspired a rainbow connection of Gen X and Y singers to belt across the colorline.
Feb 14, 2012 / Daphne A. Brooks
Just about the only thing Amy Winehouse hasn't repackaged from the black music archives is the one thing she could use: a lesson in Motown etiquette.
Sep 10, 2008 / Books & the Arts / Daphne A. Brooks
Beyoncé Knowles's sexed-up club jam B'Day is also an odd, urgent, dissonant and disruptive personal and political statement.
Nov 30, 2006 / Books & the Arts / Daphne A. Brooks