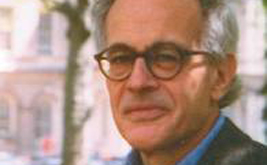 "Breather," "Madrigal," "A Note on Labor Day"
Dec 3, 2012 / Charles North
People snap like asparagus stems. Oh no?   She is flying along the base paths and the sun is nestled in her hat. She has the color of a stone roof which clearly enjoys it.   If the year could do without spring, I'm guessing it would. The planet, mild analgesic, revolving around a similarly gaseous idea awash in consonants.
Oct 16, 2012 / Books & the Arts / Charles North
     (after Henri Michaux)   How you work at it. Give it a rest Misfortune. Relax. Better let's both take a breather. See what the other is all about. I destroy you.   My theater my harbor and my hearth. A gold cave. O new horizon (and real mother) I let myself go in your vaster light and amplitude along with the horror.
Oct 16, 2012 / Books & the Arts / Charles North