THE NATION CLASSROOM
History as It Happened
RACE RELATIONS and CIVIL RIGHTS
MODULE SIX:
1945-1965
MODEL ANSWERS
STUDENT PRACTICE ACTIVITY TWO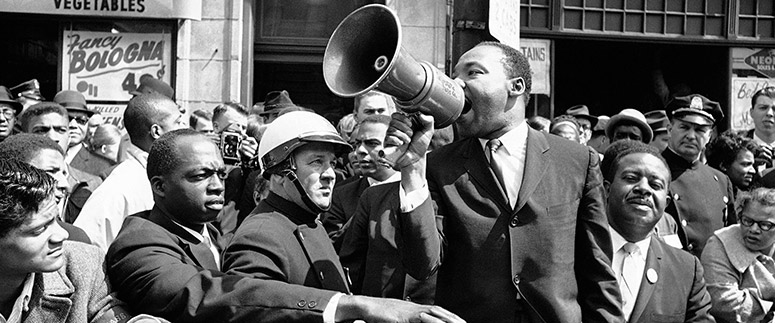 Review the seven documents and pick two of the civil-rights activists' tactics cited. Explore the similarities and differences between them here:
Choices include: boycotts; street demonstrations; court challenges; voter-registration drives; civil disobedience/jail-ins; supporting legislation, working for its passage.
I. Organizing time and funding required. All actions required time and energy, but some were much more complex or long-range than others. Court challenges, for example, called for highly trained legal experts and extensive research, often requiring long time frames and substantial funding. Drafting legislation and developing sufficient support was often time-consuming and demanded professional involvement. Voter-registration drives frequently required professional help to set up and execute but could be carried out by a volunteer workforce. Boycotts and street demonstrations could be launched by volunteer activists, and might be effective on a relatively short time frame. Civil disobedience ideally calls for training and thoughtful, careful tactics to be safest and most effective.
II. Physical danger to activists. Here, too, all actions could involve some danger, but some entailed placing more people at risk. In a number of cases, civil disobedience and street demonstrations led to confrontations and sometimes to substantial injuries. Court cases and legislative actions entailed their own risks but in general did not lead to as many confrontations and physical battles. Voter-registration drives may sound relatively safe but in some cases endangered the lives of volunteers (one dramatic example: the murders of volunteers James Chaney, Andrew Goodman, and Michael Schwerner, who were working to register voters in Mississippi).
III. Impact: immediate, short-term, or long-term; specific or wide. Few events resulted in immediate change. Street demonstrations and boycotts were frequently intended to remedy injustices over a mid-range period of time. Legislation and court cases are aimed at longer-range change and wider impact.