THE NATION CLASSROOM
American History as It Happened
RACE RELATIONS and CIVIL RIGHTS
MODULE EIGHT:
1991–2019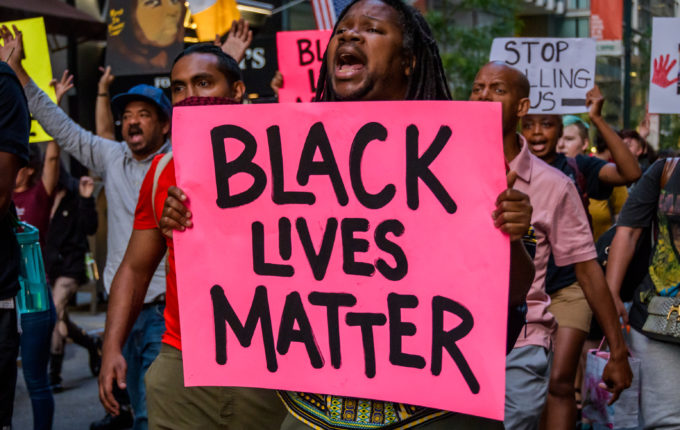 PERIOD SUMMARY: African-Americans reached extraordinary individual milestones in politics and pop culture during these decades. Two black men were elected governors of their states—Douglas Wilder of Virginia (1990-1994) and Deval Patrick of Massachusetts (2007-2015). General Colin Powell was the first Black man to serve as U.S. Secretary of State (1991). In 2002, the Motion Picture Academy awarded Oscars for Best Actress and Best Actor to black performers Halle Berry and Denzel Washington. And, in 2008, US Senator Barack Obama of Illinois achieved the previously unthinkable when he became the first African-American elected president of the United States. Another notable black American milestone of the time was the opening in 2016 of the National Museum of African-American History and Culture in Washington, D.C.
Yet, during the same period, notorious acts of racial bias rocked the nation. In 1992, a disastrous, racially tinged riot resulted in death and widespread destruction in Los Angeles. The early 1990s saw the rise of mass incarceration and the war on drugs, which resulted in millions of young blacks being put behind bars for non-violent drug offenses. In 2015, a self-proclaimed white supremacist murdered nine black churchgoers in Charleston, South Carolina. After the 2016 presidential election of Donald Trump, reported incidents of racial harassment dramatically increased nationwide. Throughout the first decades of the 21st century, dozens of killings of Black men by law-enforcement officers raised troubling questions about racial profiling and lethal force. Michael Brown's murder in 2014 in Ferguson, MO spread widely through social media and sparked protests and media attention and inspired the Black Lives Matter movement.
Below you'll find excerpts from selected articles that ran in The Nation between 1991 and now.
The DBQ about this set of excerpts is: Assess the validity of this statement: Despite the many acts of racism reported across the United States in the years before, during, and after the election in 2008 of Barack Obama, his victory as the first African-American president in U.S. history was a sign that the nation had entered a new era in race relations.
AS YOU READ: THINGS TO LOOK FOR
Review the titles of the eight documents that are excerpts from The Nation. What additional information can you learn from the titles? Which title do you think is most significant? Why?
Identify actions that improved racial equality and race relations. How many involved activism? How many involved politics? How many involved changing attitudes?
Two documents focus on the public displays of history. One notes that these public displays "tells us a great deal about a society's values." What is the meaning of this phrase? How does it apply to these two excerpts?
VOCABULARY
Black Lives Matter
Bradley Effect
Emanuel AME Church
George Zimmerman
Jim Crow
Klansmen
Louis Farrakhan
Million Man March
Reconstruction