THE NATION CLASSROOM
American History as It Happened
RACE RELATIONS and CIVIL RIGHTS
MODULE ONE:
1966–1990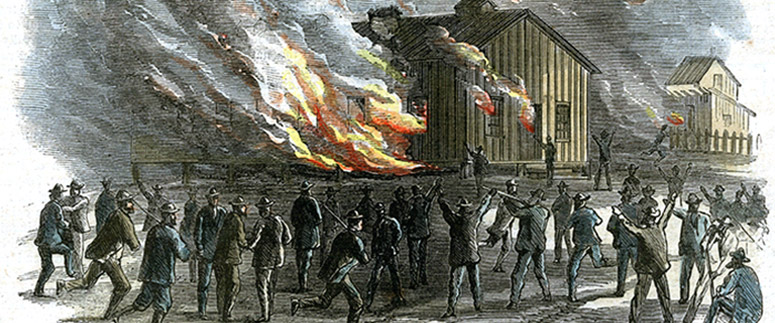 PERIOD SUMMARY: After the turmoil and hard-won triumphs of the civil rights movement, race relations in the United States after 1965 entered a new phase. The era began roughly, with the founding of the Black Panther Party in 1966 and the "long, hot summer" of 1967, which saw 159 "race riots" erupt in cities across the country. In April 1968, the assassination of Martin Luther King Jr.—on the eve of his Poor People's Campaign and March on Washington D.C.—unofficially ended the civil rights era.
In the 1970s, the national focus shifted away from these concerns. The 1980s were defined by Ronald Reagan's presidency and his "supply-side" or "trickle-down" economic policies. Meanwhile, great achievements by many individual African Americans marked a cultural shift in the country. In 1972, Congresswoman Shirley Chisholm became the first black American to run for a major party's nomination for president of the US. In 1984 and 1988, civil rights activist Jesse Jackson became the first black man to run for the Democratic presidential nomination. At the same time, however, growing economic and social despair in many black communities was taking a heavy toll. The US crime rate escalated and drug use rocketed (including, in the 1980s, crack cocaine). In reaction to these and other developments, millions of African American men were incarcerated.
Below you'll find excerpts from selected articles that ran in The Nation between 1966 and 1990.
The DBQ about this set of excerpts is: Using the documents below and your outside knowledge, analyze what was changing in African American life, for the better and/or worse, in the years following the civil rights movement. 
AS YOU READ: THINGS TO LOOK FOR
Which documents point to a new awareness of the importance of increasing opportunity for black people in American society? Which ones point to hindrances to that progress?
How would you characterize the opportunities and hindrances referred to in the previous question, in terms of social, cultural, political, or economic advancement?
What are three reasons mentioned in these excerpts as to why the civil rights movement came to an end?
From the examples given here, as well as your previous knowledge of the era, determine some of the main forces that drove the events of this period as they relate to cultural change in America and equal opportunity for African Americans?
VOCABULARY
anachronism
black nationalist
Black Power
economic oppression 
ghetto
incendiary
Reaganism
recession
Watts
welfare