THE NATION CLASSROOM
American History as It Happened
RACE RELATIONS and CIVIL RIGHTS
MODULE ONE:
1865–1877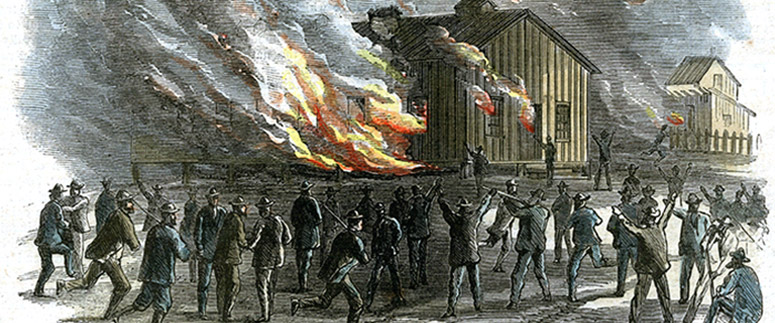 PERIOD SUMMARY: The Confederacy surrendered to the Union Army on April 9, 1865, ending the Civil War. Five days later, President Lincoln was assassinated, and the daunting task of reincorporating the 11 defeated secessionist states became even more difficult. Between 1865 and 1870, the US Congress—made up only of representatives from states that had remained in the Union—passed three amendments to the Constitution (the 13th, 14th, and 15th) that, respectively, abolished slavery; granted African Americans citizenship and "equal protection of the laws"; and prohibited denying the right to vote based on "race, color, or previous condition of servitude."
During the first 12 years after the war ended (known as the Reconstruction era), Union troops were stationed across the South to help enforce federal laws, and a number of southern states elected African Americans to the US Congress. White supremacists across the South founded organizations such as the Ku Klux Klan to terrorize and suppress blacks. In the early 1870s, the federal commitment to Reconstruction policies waned, and in 1877, the newly elected President Rutherford B. Hayes withdrew the remaining federal troops from southern states.
Below you'll find excerpts from selected articles that ran in The Nation between 1865 and 1877.
The DBQ about this set of excerpts is: Explain why Reconstruction was such a complex, difficult task for the federal government after the Civil War ended.
AS YOU READ: THINGS TO LOOK FOR
Review the titles of publication for the documents that are excerpts from The Nation. What additional information can you glean from the titles? Which title do you think is most significant? Why?
Note the different ways the use of force is mentioned in these excerpts. When is it mentioned in support of Reconstruction? When is it proposed, or used, to impede Reconstruction's goals?
Two of the documents from The Nation focus on voting rights. One explains southern people's views on voting; the other discusses the 15th Amendment. Why was voting such an issue?
Several documents mention concerns and fears about Reconstruction. Find at least two examples. Which issues concerned southerners? Which mattered to northerners?
Consider the points of view expressed by The Nation's writers in Documents One through Four. Were they optimistic or pessimistic about the prospects for Reconstruction's success? What solutions did they see to the problems they described?
VOCABULARY
franchise
Ku Klux Klan
Memphis Riot of 1866
secessionist