How Can I Tell if I Am Being Scammed by Someone Posing as an Agent of The Nation?
NOT FROM THE NATION: Example of Scam Mailer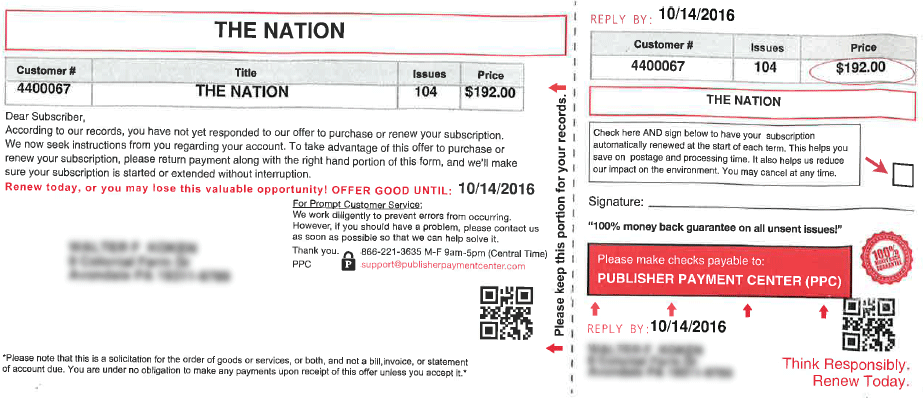 LEGITIMATE Solicitations from The Nation
Subscriptions
The renewal return envelope looks like this: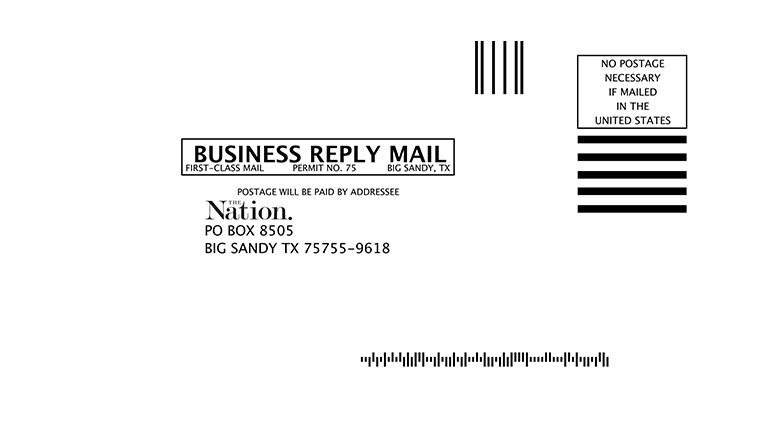 Donations
We may contact you with a fundraising solicitation that looks like this: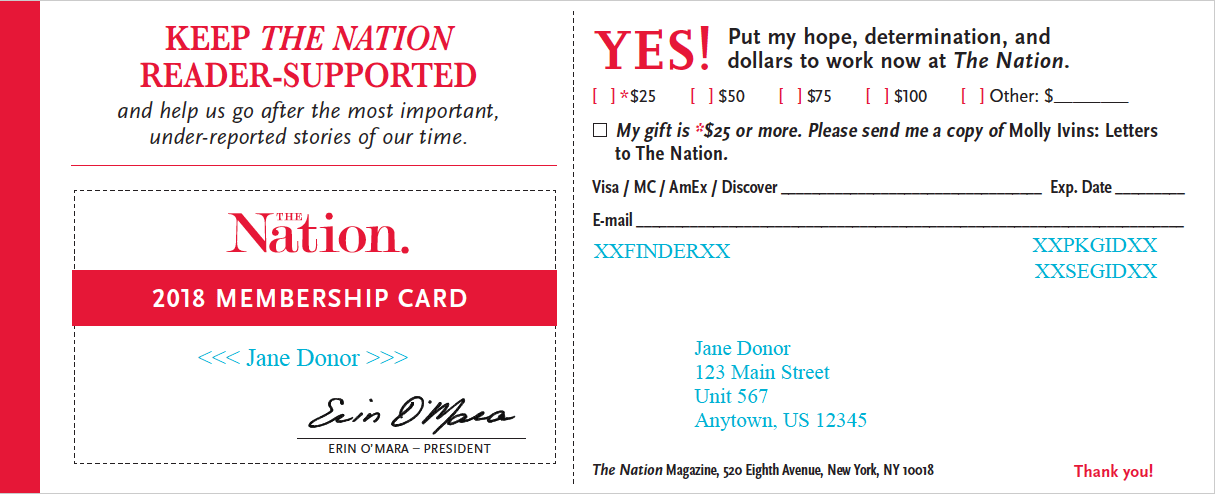 The return envelope looks like this: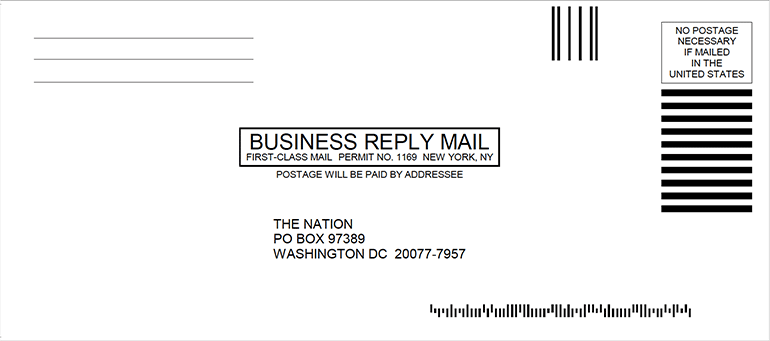 To date, subscribers have received fraudulent offers under the following aliases:
Billing Services Association
Billing Services of America
Circulation Billing Center
Circulation Billing Services
Magazine Billing Services
Magazine Billing Network
Magazine Billing Services
Magazine Distribution Services
National Magazine Services
National Magazine Subscriptions
Orbital Publishing Group
Pacific Magazine Billing
Periodical Billing Services
Publishers Billing Association
Publishers Billing Center
Publishers Billing Exchange

Publisher Payment Center (PPC)

Publishers Payment Processing, Inc.
Publishers Subscription Services
Readers Billing Network
Readers Billing Services
Readers Payment Center
Readers Payment Services
Secured Publisher Mail Center (SPMC)
United Publishers Services
We have no relationship with these entities, and we have no guarantee that subscriptions purchased from them will be sent to The Nation.
Please be wary of the numerous companies that collect magazine subscriptions and renew them as a third-party agency. Note that we do use some legitimate subscription services to sell our publication, such as, Dial America. Any mailed renewal notice from The Nation will always display the magazine logo and ask that payments be sent to our customer service center in Big Sandy, TX. If you receive a renewal notice and are unsure of its authenticity, please call our customer service department and order your renewal through us. You may contact customer service by calling our toll-free number, (800) 333-8536.
The Nation Builders do conduct monthly telemarketing campaigns. These campaigns are managed by Public Interest Communications, a prominent and reputable telemarketing firm that has offices in Pittsburgh and Salt Lake City. One of those two cities will show up in your caller ID when PIC telephones. Any questions about our telemarketing campaign should be directed to The Nation's New York City office: (212) 209-5400.
WE ENCOURAGE SUBSCRIBERS TO WRITE LETTERS TO YOUR STATE'S ATTORNEY GENERAL. YOU CAN FIND A LIST OF THEIR ADDRESSES BY VISITING NAAG.ORG.
« Return to Subscription Services