How Can I Tell if I Am Being Scammed by Someone Posing as an Agent of The Nation?
Example of a scam mailer below. See larger version of scam image here »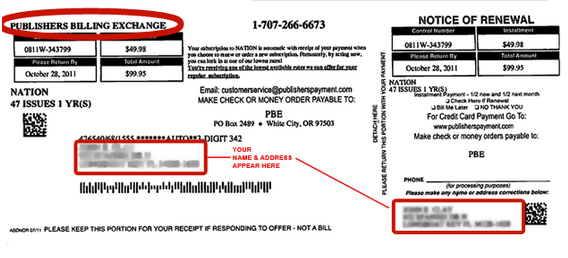 View legitimate Nation solicitation material »
Please contact our customer service at 800-333-8536 with any renewal questions.
Renewal Mailing Scam
We have received many complaints about an unauthorized company targeting our subscribers with an invalid renewal offer.
They use the following aliases:
Billing Services Association
Billing Services of America
Circulation Billing Center
Circulation Billing Services
Magazine Billing Services
Magazine Billing Network
Magazine Billing Services
Magazine Distribution Services
National Magazine Services
National Magazine Subscriptions
Orbital Publishing Group
Pacific Magazine Billing
Periodical Billing Services
Publishers Billing Association
Publishers Billing Center
Publishers Billing Exchange
Publisher Payment Center (PPC)
Publishers Payment Processing, Inc.
Publishers Subscription Services
Readers Billing Network
Readers Billing Services
Readers Payment Center
Readers Payment Services
Secured Publisher Mail Center (SPMC)
United Publishers Services
We are not affiliated with this company. We do not know how the scam artists obtain the mailing lists they use to victimize subscribers.
This company is based in Reno, Nevada and recently expanded its operations to White City, Oregon. The individuals running this scam pose as legitimate subscription sales agents for The Nation and other magazine publishers. They illegally contact our readers, charging then a $99.95 fee, 70% of which they pocket as their "commission."
They operate strictly through the postal service and do not contact subscribers by telephone or e-mail.
The Nation Builders do conduct semi-annual telemarketing campaigns. These campaigns are managed by Public Interest Communications, a prominent and reputable telemarketing firm that has offices in Pittsburgh and Salt Lake City. One of those two cities will show up in your caller ID when PIC telephones. Any questions about our telemarketing campaign should be directed to The Nation's New York City office: (212) 209-5400.
For future reference, please be wary of companies that collect magazine subscriptions and renew them as a third-party agency. Any mailed renewal notice from the Nation will always display the magazine logo and ask that payments be sent to our customer service center in Boone, Iowa. If you would like to see examples of our official correspondence, click here.
Note that we do use some legitimate subscription services to sell our publication. EBSCO and North Shore Agency are two of these. The safest course of action is to place your order directly through the Nation's legitimate mailed notices or by visiting this webpage.
At this point, we are investigating the matter. We have posted subscriber alert messages in the magazine as well as online. We urge you NOT to send your money and to disregard all future offers from them. If you would like to renew from us directly, you may call our customer service number at (800) 333-8536.
We are encouraging subscribers to write letters to the following places:
· Your state's Attorney General. You can find a list of their addresses by visiting naag.org
If the return address is Reno, Nevada:
· The US Attorney General's office in Reno, NV: United States Attorney, Reno Branch, 100 West Liberty, Suite 600, Reno, NV 89501.
· The Nevada Attorney General in Reno, NV: Nevada Attorney General, 5420 Kietzke Lane, Suite 202, Reno, NV 89511
· The Postmaster General in Reno, NV: The Honorable MIchael O. Behrend, Postmaster General's Office, 2000 Vassar Street, Reno, NV 89510
If the return address is White City, Oregon:
· Ellen F. Rosenblum, State Attorney General; Oregon Department of Justice, 1162 Court Street NE; Salem, OR 97301-4096
· The US Attorney General's office in Portland, OR: United States Attorney General, 1000 SW Third Ave, Suite 600, Portland, OR 97204.
· Postmaster, White City, Oregon 97503
Thank you for helping us in our efforts to prevent these people from bilking unsuspecting subscribers and impeding publishers from conducting honest business.