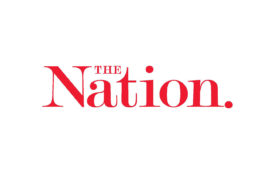 Vision2020: Election Stories from the Next Generation
Nation Seeking Student Writing Fellows
The Nation is accepting applications for a small number of Student Writing Fellows. This six-month program will give college students the opportunity to write for TheNation.com and to work with Professor Sherri Williams of American University and Nation editors and writers to develop the skills needed for a successful and meaningful career in journalism.
The purpose of this project is to make the concerns of young people visible through solid, thoroughly-reported, intersectional enterprise journalism stories produced by young journalists. Fellows should expect an intensive training program that requires a commitment of at least five hours a week. This project will tap into the lived experiences of young people as the foundation for reported stories that will amplify their concerns leading up to the 2020 election. Students will work on one longform story related to major election issues during the spring 2020 semester (January-May 2020). If students involved in the project meet all deadlines and produce quality articles their stories will be published by The Nation in summer/fall, 2020.
REQUIREMENTS
The fellowship will run from January to June 2020. Fellows will participate in regular online editorial sessions and conversations with both Professor Williams and Nation editorial staff. There will also be required readings. In addition to contributing one article to TheNation.com, fellows will be encouraged and funded to attend The Nation's annual spring Student Journalism Conference in New York City. Fellows work remotely from their own campuses. Fellows will receive a $500 annual stipend, plus compensation for an article upon publication. Students need to be enrolled in college in the fall of 2019 and spring 2020 and not enrolled in a study abroad program.
APPLICATION
Applicants must submit the following:
1. A cover letter of not-more-than 300 words telling us why you want to become a StudentNation Writing Fellow.
2. A resume.
3. One published piece of journalism. A link is fine.
Applications will be accepted until noon EST on Friday, September 20. Application materials should be in Microsoft Word (.doc, .docx) format and should be emailed to [email protected]. Incomplete applications will not be considered. Applicants will be informed of their status by October 4.
ELIGIBILITY
All matriculating graduate and undergraduate students at all two and four year schools in the US due to graduate in spring, 2020 or after. Email [email protected] with questions.
This fellowship has been made possible by the generosity of the Puffin Foundation.