The Nation Festival Cocktail Recipes!
Thank you so much for joining the first-ever Nation Festival and helping to support independent journalism in this critical moment. What a year it has been! We hope you will join us Friday evening at 7PM EST for a virtual celebration of our democracy and progressive journalism.
Nation staff members have compiled some of our favorite cocktail recipes that we will be toasting with. Please join us by making one of the below (with or without alcohol!) or making your own favorite drink. See you on Friday!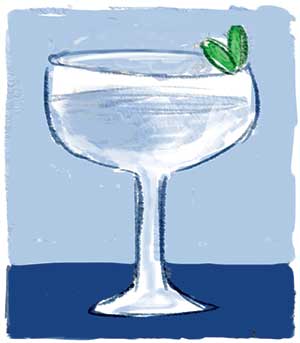 White Russian
Ingredients
2 oz. Kahlua
2 oz. vodka
2 oz. heavy cream
Directions
Fill a rocks glass with ice. Pour Kahlua and vodka into glass. Pour heavy cream over top and serve.
Manhattan
A tribute to The Nation's hometown!
Ingredients
2 oz. good rye or bourbon (I prefer rye for a spicier drink, if you have a sweet tooth go with bourbon instead!)
1 oz. sweet vermouth
3 dashes bitters (angostura for a classic manhattan, but feel free to experiment!)
Directions
Add ingredients to a mixing glass with a few ice cubes. Stir until chilled and strain into glass. Add a cherry (or three!)
The Shineapple!
Ingredients
½ Leinenkugel's Summer Shandy
½ Truly Hard Seltzer Pineapple Flavor
Directions
Pour equal amounts of each, add ice, close your eyes, and pretend you are on a beach. Note: Likely any summer shandy and fruity hard seltzer would work, this is just what we happened to have on hand when the lightning of inspiration struck.
Boulevardier
A wintery negroni!
Ingredients
1 1/2 oz. bourbon
3/4 oz. campari
3/4 oz. sweet vermouth
Directions
Pour ingredients into a mixing glass and fill with cracked ice. Stir well for 20 seconds and strain into a chilled cocktail glass. Garnish with a cherry or a twist of orange peel.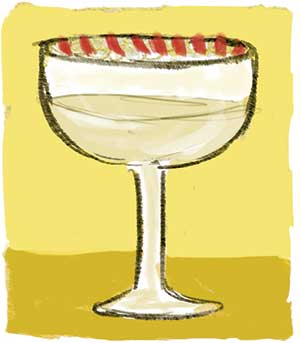 Fuzzy French Martini
Ingredients
1 oz Grey Goose Vodka
1 oz Chambord
2 oz pineapple juice
raspberry garnish
Directions
Pour vodka, chambord and pineapple juice into a cocktail shaker and shake vigorously. Strain into a Martini glass. Let the cocktail rest for 30 seconds to allow foam to form. Gently place a raspberry garnish on top.
Fall Spritz
Ingredients
1 shot of amaro
6 oz. Basque-style dry hard cider
Directions
Pour amaro and cider into a glass filled with ice. Give it a stir, and garnish with an orange twist.
Apple Cider Mule
Ingredients
1 shot vodka
2 shots ginger beer
1 shot apple cider
Squeeze of lemon
Directions
Add all to glass with ice (copper mug if you want to be authentic!). Stir and garnish with a lemon and apple slice.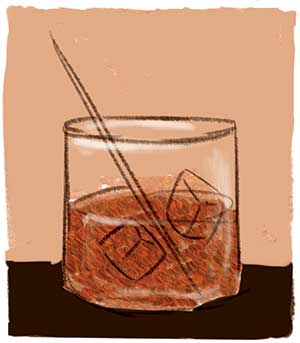 El Diablo
This drink is a revelation and like anything good, worth the extra effort.
Ingredients
1 1/2 oz Reposado Tequila
1/2 oz Creme De CAssis
1/2 oz Fresh Lime Juice
1-2 oz Ginger Beer
Directions
Combine all the ingredients except for the ginger beer and shake. Pour into an ice-filled highball glass. Float the ginger beer on top and garnish with blackberries or a lime wedge.
Champagne Margarita
For anyone feeling celebratory!
Directions
Put equal parts tequila and triple sec into a shaker half-filled with ice and shake. Strain into a sugar-rimmed flute and top with champagne, garnish with a lime wedge.