This evening I'd just returned from watching the excellent and important new documentary The Tillman Story when I came across some startling news: a group of young Democrats at Yale University had canceled its support for a screening of the film at the campus tomorrow after former US commander in Afghanistan, General Stanley McChrystal, has just agreed to teach a course at the school this fall.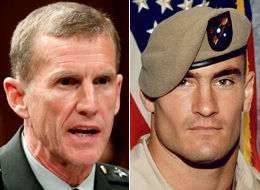 You see, McChrystal is identified in The Tillman Story (and earlier in various news probes) as a willing participant in the cover-up of how the soldier died. Mary Tillman, mother of Pat, has called Yale's hiring of the general "insulting."
The Yale Democrats have explained their move by blaming it on the framing of a post-screening discussion that aimed to discuss McChrystal's role in the cover-up, given his upcoming arrival on campus. One would expect such a discussion given the recent reports of his hiring. Event organizers usually pray for such a local angle. But Ben Stango, president of the offended organization, told the campus paper, "The Yale College Democrats do not attack war heroes. We do not attack members of the Yale faculty."
In a phone conversation with me, Stango said that statement had been taken out of context. "The real issue," he said, "was the event not turning into an attack that was aimed at raising press for the film." He pointed out that his group did not have control over the post-film discussion. However, the panel, he said, was to be comprised of the film's drrector, a film studies professor (who has endorsed the Yale Democrats dropping their sponsorship) and Stango himself, so it's hard to imagine how it could have turned into a "Bash McChrystal" forum.
Mary Tillman told the New York Daily News that McChrystal's "involvement in the tortures at Camp Nama and in the cover-up of Pat's death has never been satisfactorily scrutinized. The House Armed Services Committee failed to vet him properly in the spring of 2009. The fact that Yale wants to employ him to instruct courses on leadership is extremely insulting and unsettling."
According to the Yale Daily News, key topics in the general's seminar include: "Role of a Leader," "Coping with Failure," "Making Difficult Decisions" and "Loyalty, Trust and Relationship."
Meanwhile, the Army Times reveals that no Army or Air Force bases will be showing The Tillman Story, opting instead for… The Expendables.
For an interview with the film's director, see one of my earlier posts on the movie here.