As I've done for more than seventeen weeks, I will be updating news and views on all things WikiLeaks all day, with new items added at the top. All times are ET. Contact me at epic1934@aol.com, Read about or order my book The Age of WikiLeaks in print or as an e-book., or brand-new Bradley Manning: Truth and Consequences as e-book here and print here.
UPDATE: The Wednesday edition of the blog here, now.
3:40 I am on Randi Rhodes' radio show just after 4 p.m., they tell me.
3:30 @WLLegal: Thomas Drake, whistleblower currently being prosecuted under the Espionage Act, wins truth-telling prize.
2:00 And now a word from my sponsor: My new book, Bradley Manning: Truth and Consequences, just published as e-book here and print here. Remember, e-book nowadays also means phones, iPad, PC reading, etc. Plus, first excerpt from the book ("From Oklahoma to Baghdad to Prison") right here.
1:30 Off topic, but never off topic: Beethoven's funeral 184 years ago today. Schubert carried a torch. Now buried nearby. "Benedictus."
11:15 Former State Dept spokesman PJ Crowley took to the airwaves yesterday (even with Shep Smith) to defend his attack on prison conditions for Bradley Manning and now he's written a column in that vein for The Guardian. "Based on 30 years of government experience, if you have to explain why a guy is standing naked in the middle of a jail cell, you have a policy in need of urgent review. The Pentagon was quick to point out that no women were present when he did so, which is completely beside the point. The issue is a loss of dignity, not modesty."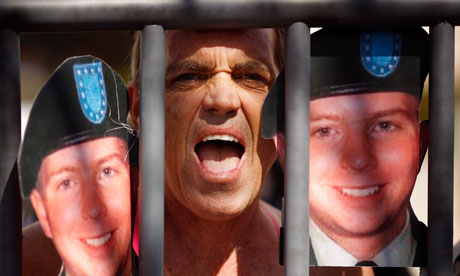 10:00 Ed Wasserman, the longtime McClatchy columnist, with strong defense of Manning that goes well beyond simply hitting the conditions of his incarceration. " If these news media believe they were right to publish the material Manning gave them, how can they stand aside as he faces life in prison for giving it to them? If they did right and the world benefited, did he do wrong? On what grounds can they say – as Keller and Guardian of London editor Alan Rusbridger have – that they would help defend WikiLeaks boss Julian Assange if the U.S. charges him, while they won't lift a finger to protest Manning's incarceration?… What I do understand is that the WikiLeaks material – especially the frank comments of U.S. envoys about the foreign thugs and despots with whom they do business – has been devoured by reading publics throughout the world, people stuck with lapdog media who are starved for reliable, insightful observations about their own corrupt leaders."