As I've done for more than four months, I will be updating news and views on all things WikiLeaks all day, with new items added at the top. All times are ET. Contact me at epic1934@aol.com. Read about or order my book The Age of WikiLeaks in print or as an e-book, or brand-new Bradley Manning: Truth and Consequences as e-book here and print here.
UPDATED: The Tuesday version of this blog here.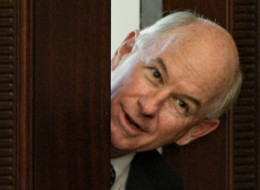 8:50 Ben Smith in Politico: Why PJ Crowley "went rogue" at State Dept and lost his job over sticking up for Bradley Manning. " Crowley – to the occasional dismay of some of his colleagues at State and the White House – had come to view himself as having a special public role. 'There were times when I thought it was important to push for the United States to take a public stand,' he said of his time at the podium. 'I thought it was important to make sure that what we were saying and what we were doing would be consistent with, not only our interest but our values."'
7:20 Fox News' Shep Smith: WikiLeaks releases are "the only straight answers we get anymore." Also: "Wait a minute. You get information that the government's lying to you again, one more lie from the government! I wish they would publish all of it! Every lie they tell ought to be laid bare!"
4:25 Reuters: Those cables re: U.S. helping opposition in Syria causing some real issues, so State Dept flack says no big deal, we just support democratic movements everywhere…. This comes after official (unnamed) tells Fox that fears grow that Syria will kill opponents thanks to documents released. Certainly unconfirmed.
3:15 Pulitzer Prizes announced — no Wikileaks-related winners, or even finalists.
2:30 We've been reporting in past day (see below) on new WikiLeaks "partners" in US—finally, beyond the NYT—McClatchy and the Washington Post. Now one more: the Turtle Bay blog at the Foreign Policy magazine site just announced that it was getting to all the cables (in partnership with the Post) to search for unpublished revelations related to the United Nations. It's been rare for WikiLeaks to made this available to a blog, but it's possible that the Post arranged it and then got WikiLeaks approval. Stay tuned.