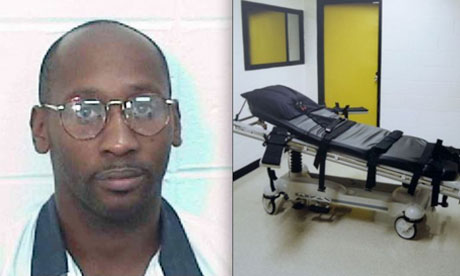 The Troy Davis execution in Georgia now appears ready to go forward again tomorrow night—despite wide citizen protests. In a recent piece here, I observed that such protests have, at least, led to a decrease in the number of executions in the USA over the past dozen years, so that's something. Then, in another posting, I revealed that buried in the new NYT/CBS poll we find that support for capital punishment is now at near-record lows in America, even while still strong at roughly six in ten backing it.
But what about the larger moral and media issues raised by executions? And its future here?
A few years back, Brett Essler interviewed me about capital punishment following publication of the book I wrote with Robert Jay Lifton, Who Owns Death?, and it appeared at Alternet. Here is a still-relevant portion of that interview.
Essler: In the book, you point out that one of the flaws of capital punishment is that it is sentenced arbitrarily. Will this be an impediment to future executions taking place or will citizen apathy, whether purposeful or systemic, allow this law to stand as it is?
Mitchell: Some prosecutors will never bring a capital charge while others are all too eager. It merely makes manifest the inherent unfairness of the system, in every state.
Essler: One of the most disturbing aspects of the death penalty is the way the juries in capital cases are stacked to promote death. In the book, you call them "automatic death penalty people." This is, obviously, one of the biggest obstacles to abolition. How can the abolitionist movement subvert this system?
Mitchell: Well, I know some anti–death penalty people, as individuals, try to get on capital juries by fudging their beliefs, then voting for life. They rarely succeed. But it's such an unfair setup, where only those who are pro-death penalty are allowed on these juries. So, by definition, it cannot be a "jury of your peers" since at least one-third of all Americans now oppose the death penalty.
Essler: Given the court's recent partisan rulings, can you assess—taking into account past rulings and the shifts in public opinion—where they might rule on death penalty cases in the foreseeable future?
Mitchell: Some of the conservative US justices nevertheless have expressed doubts about the death penalty, as have recently such people as George Will and Pat Robertson, for example. I believe the US Supreme Court will eventually call a halt to executions but I don't pretend to claim that it will likely be for "moral" reasons. More likely, they will simply decide again—as they did 30 years ago—that it is administered unfairly or arbitrarily, or puts too many innocent people at risk, or is simply out of whack. But I'd take abolition any way I could get it.