"Old wineskins must make room for new wine." During the Rainbow Coalition days of the 1980s, Jesse Jackson used that biblical reference to press the Democratic Party to make structural and strategic changes in order to seize the opportunities presented by the country's demographic revolution.
Today, this change is more imperative than ever, with an unprecedented number of Democratic gubernatorial nominees of color in the 2018 election cycle. These new candidates, propelled by large numbers of new and potential voters, create new opportunities for Democratic gains across the country. But to take advantage of these opportunities, Democrats will have to discard their old approaches.
Just two African Americans in US history have been elected governor: Doug Wilder in Virginia in 1989 and Deval Patrick in Massachusetts in 2006. This year alone, there are three black gubernatorial nominees: Stacey Abrams in Georgia, Ben Jealous in Maryland, and Andrew Gillum in Florida. In addition to the black candidates, there are three Latino gubernatorial nominees—David Garcia in Arizona, Michelle Lujan Grisham in New Mexico, and Lupe Valdez in Texas. And if that weren't enough, the Democratic nominee in Idaho, Paulette Jordan, is bidding to become the first Native American governor in the country.
The very fact that these leaders are the nominees shows that they have already proven their popularity. What they need—and indeed, what most candidates of color need in a country where the average black or Latino family has just 10 percent of the net worth of the average white family—is money. That's why this is a moment of truth for the donors and institutions who comprise the core of Democratic spending on gubernatorial races.
In each of the last two election cycles, the Democratic Governors Association, which is "dedicated to electing Democratic governors across the country," has spent nearly $90 million on gubernatorial races. A data-driven analysis of the underlying composition of the electorates in all 50 states and the closeness of the last gubernatorial election shows that five of the top 12 battleground races have nominees of color.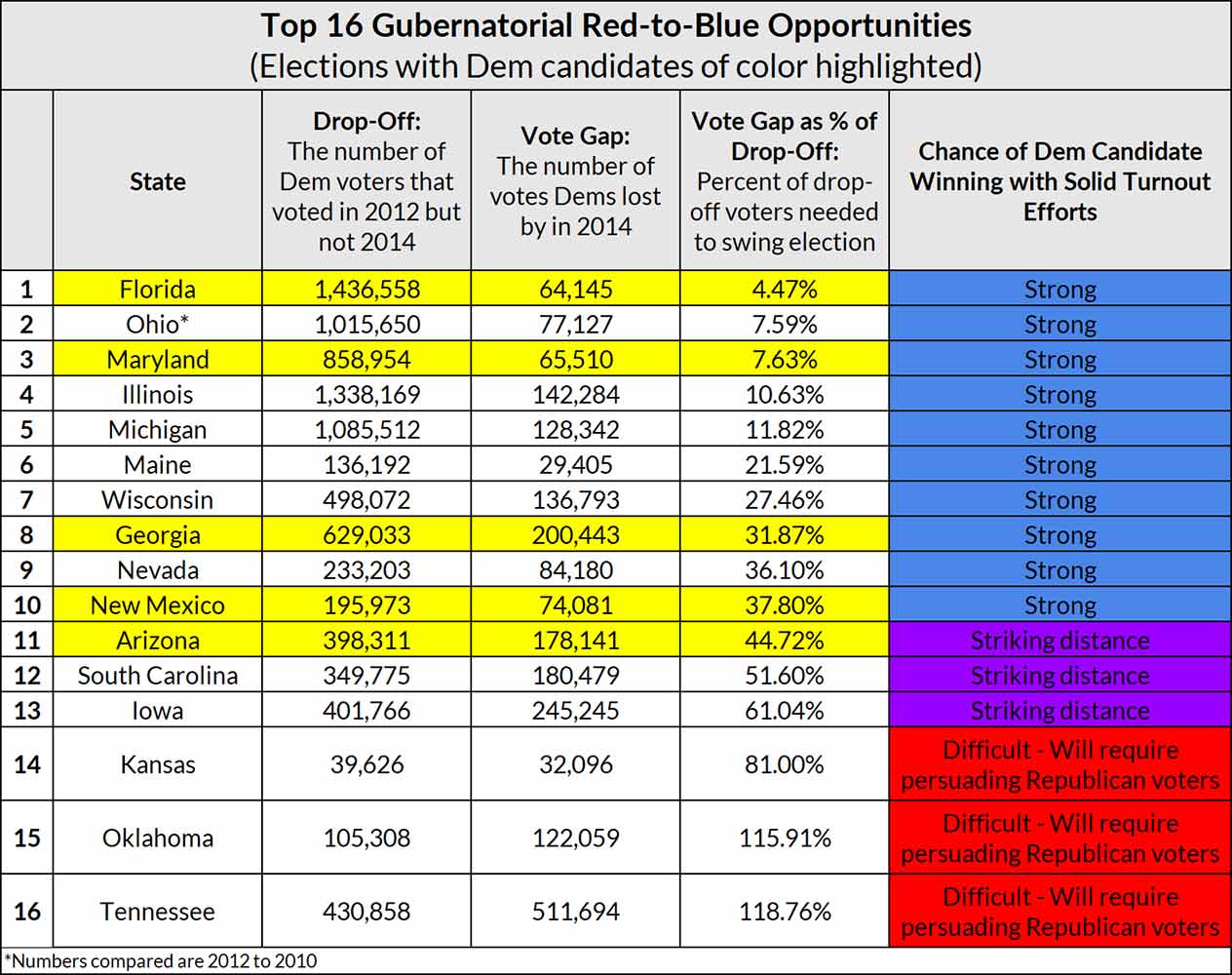 Logic would dictate that Democratic investors should try to turn out as many Democratic voters as possible, especially in those races that are and have been the most winnable. People of color are consistently the most Democratic voters of all, giving nearly three-quarters of their votes to Democrats (in the case of Obama, the number was four-fifths).
Furthermore, academic research by Yale University professor Ebonya Washington and others has affirmed that candidates of color at the top of the ticket increase voter turnout among Americans of color.