Two years ago today, Julian Assange had just flown out of Iceland with the shocking video he'd been working on for weeks in his bag. It showed U.S. helicopter gunships firing on Iraqi civilians on the ground, along with two Reuters staffers, and at least two children riding in a van. Assange had already dubbed it "Collateral Murder." On April 5, 2010, he would release it to the world. Here is an exclusive excerpt from the new book (and e-book) I have written with my former assistant here at The Nation, Kevin Gosztola, titled Truth and Consequences: The U.S. vs. Bradley Manning (Sinclair Books).
The shadowy organization, WikiLeaks, aided by a corps of volunteers, had been leaking sensitive documents for more than three years, but drawn only modest media coverage in the U.S., beyond a few brief flurries, when it: published messages hacked from Sarah Palin's Yahoo! account; exposed emails between scientists on global warming (which became known as "Climategate"); and released 570,000 pager intercepts from September 11, 2001.
Near the close of 2009, the organization was scrambling for funds. Julian Assange, 38, had pleaded for donations to prepare what he described as hundreds of thousands of pages of documents relating to "corrupt banks, the U.S. detainee system, the Iraq war, China, the U.N," and other topics. A German foundation reportedly collected about $1 million for the WikiLeaks account, easing the way for a busy 2010.
If, in fact, Pvc. Bradley E. Manning came to contact WikiLeaks (anonymously, if at all, Assange insists) during this period, how did it come about? One must rely largely on the "chat logs" that allegedly document the lengthy discussions between Manning and convicted hacker Adrian Lamo from May 21 to May 25, 2010. Little other evidence against Manning surfaced for some time and even the validity of the chat logs had been called into question, both because of what appears there and what had been edited out. The prisoner, of course, was innocent until proven guilty.
With that said, the chat logs suggest that Manning told Lamo that he first contacted WikiLeaks back in late-November 2010, after Wikileaks posted the pager messages from 9/11. By then, he had been probing classified military and government networks for months, and saw that they contained "incredible things, awful things… that belonged in the public domain, and not on some server stored in a dark room in Washington D.C.," he told Lamo.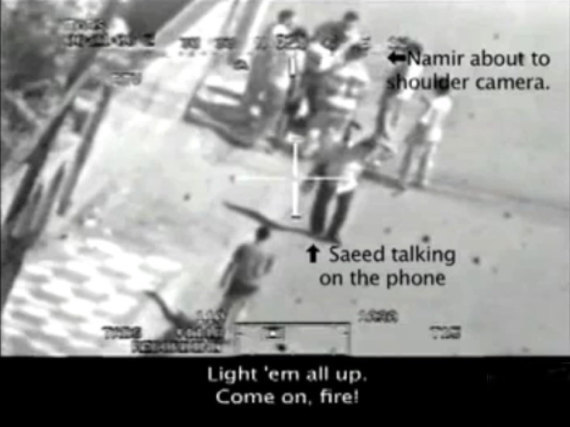 Then he discovered a graphic video of an attack on what seemed to be Iraqi civilians by U.S. Apache gunships back on July 12, 2007. Perhaps the most questionable aspect of the attack came after a van arrived to take one or more of the badly wounded from the scene, probably to a hospital. Fire from the Apache obliterated the van. "At first glance it was just a bunch of guys getting shot up by a helicopter," Manning supposedly wrote to Lamo much later. "No big deal … about two dozen more where that came from, right? But something struck me as odd with the van thing, and also the fact it was being stored in a JAG officer's directory. So I looked into it."