WELCOME TO DAYBOOK, our daily collection of media and politics hits/misses from a wide variety of sources plus fun videos and (at the bottom) a music pick. Return for updates during the day. Keep up with fresh items via @gregmitch at Twitter. E-mail me at: epic1934@aol.com. To increase type size, hit middle "A" above right.
WEDNESDAY WAKE-UP CALL & AFTERNOON UPDATES

My new piece on CNN revealing it was target of latest James "ACORN Pimp" O'Keefe stunt: luring one of its correspondents to a "pleasure boat" and filming it all. Well, that doesn't really do it justice.
White House: "Stop whining" remarks aimed at negative bloggers, not cable TVers like Keith and Rachel who are just trying to keep us honest…. Good Peter Daou summary of liberal bloggers vs. Obama mainly on civil liberties issues, assassinating our own citizens etc. with update on key Rolling Stone Obama passage.
NYT Mag Sunday preview courtesy Mike Allen: Cover story on Glenn Beck, with Rogers Ailes and others growing a bit weary of his egomania: "When I mentioned Beck's name to several Fox reporters, personalities and staff members, it reliably elicited either a sigh or an eye roll. Several Fox News journalists have complained that Beck's antics are embarrassing Fox, that his inflammatory rhetoric makes it difficult for the network to present itself a legitimate news outlet."
Nick Kristof: Might the end of the semi-freeze on settlements help Hamas overrun Fatah on the West Bank?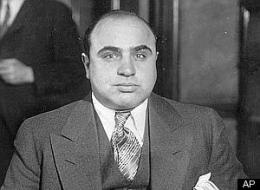 Boardwalk Empire fan? Check out true-life news, as Al Capone gets a new day in court. No reporters punched out yet.
Record number of suicides at Fort Hood this year, already easily topped last year's mark.
Slate: Why liberals hated Rahm and are happy to see him go.