Hillary Clinton now faces long odds in Nevada and South Carolina — and that may work to her advantage.
Clinton has a cyclical tendency to rise and fall and rise and fall, only to rise once again. While her unexpected New Hampshire comeback triggered tons of commentary about polls and tears, the results may have actually turned on her conflicted feelings about her own success. Having spent most of her life as an overachieving underdog, Clinton still does best running against the odds. And she does worst feigning the aura of inevitable incumbent, a role that was obviously uncomfortable both for her and the Democratic electorate.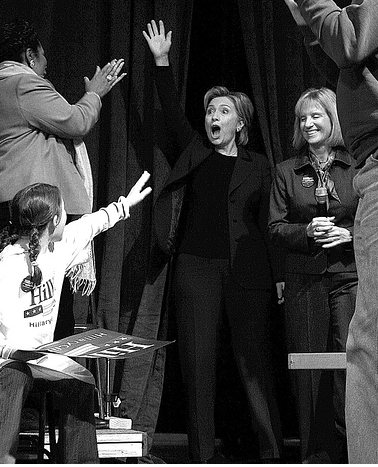 Clinton in Salem on the eve of the New Hampshire Primary.
After a year running as an inevitable frontrunner, placing a weak third in Iowa was the toughest rebuke in Clinton's political life. Yet she looked much more comfortable afterwards. She was thoughtful in her newly interactive campaign events, and forceful when debating her rivals. She sounded more passionate appropriating the messages of change and populism than she ever was about taking credit for her husband's administration.
She spoke about her achievements as a woman leader with a newfound candor and pride – not as a contest over who has it harder, though Gloria Steinem took that tacky route – but as a relevant demonstration of her mettle. Like Barack Obama, Clinton has broken barriers in her legal and political career. That kind of experience can reveal more grit than speeches, because it demonstrates a candidate's ability to rout adversity. It was not easy serving as the only woman the board of a Fortune 50 company in 1985, nor battling the Republican attack machine while taking on the largest policy role of any first lady since Eleanor Roosevelt. Yet Clinton spent most of last year pretending she had the incumbent experience of a pseudo-president, instead of the record of a fighting underdog.
Forced back into a tough spot, Clinton sounded more genuine reminding voters of her record, not her husband's. Suddenly, the power lawyer who hid a failing bar exam for decades was not claiming invincibility or incumbency. Instead, she conveyed a fighting and even frantic sense that she need more time, that she had more to say, that momentum and polls and pundits should not cut this election short. She truly needed The People to back her in a fight against all the varied forces that distort, abridge and control our elections. Bill Clinton hit this point on the night of the New Hampshire victory, telling a reporter, "they know what they're doing here. They knew that they were telling America we should continue this [race]." Maureen Dowd may be right that at bottom, Clinton essentially cried for herself, not for America. But after a year of campaign contrivances, Clinton was undeniably an underdog, wrestling with that core, unyielding fact of a healthy democracy: power comes from the people.
If the storyline sounds melodramatic, it's partly because our politics are often broadcast as a supercharged blend of sports and entertainment. Clinton seemed especially beleaguered because the media establishment rushed to end her campaign after a single state spoke. (Having led New Hampshire polls for most of 2007, she might have won there no matter what.) But the media often pumps up politicians just like celebrity entertainers, prepping to tear them down for the sake of entertainment. And when the elites come to destroy you, the people are your only hope.
–Photo Credit: Daniella Zalcman