Ralph Northam won the Virginia governor's mansion last year after running a campaign that strongly advocated expanding Medicaid in the state, as allowed by the Affordable Care Act. In doing so he captured 77 percent of the vote among the 39 percent of voters who considered health care to be their most important issue.
The state legislature has now called a special session to debate that expansion, and on Tuesday night the House of Delegates passed a budget that would expand Medicaid. But the State Senate has rejected a similar bill once already this year, and may do so again. While the issue remains deeply divisive among Virginia's legislators, the same cannot be said for Virginians themselves. According to new data from Civis Analytics, presented in a new Indivisible and Data for Progress memo, Medicaid expansion has majority two-way support in every Virginia state legislative district in the state. Two-way support means people who responded "don't know" were excluded, indicating that people who know about the issue and would be more likely to vote on it are overwhelmingly supportive.
Civis polled 2,400 adults, including 1,400 likely voters, about Medicaid expansion at the beginning of April. Civis then used multilevel regression and poststratification to generate estimates of public opinion for every state legislative district. And this was no push poll: It explicitly mentioned a revenue source for the proposal, and included partisan language: "Democrats in your state's legislature are proposing a bill to expand eligibility for Medicaid to provide health insurance to families that make less than 138 percent of the federal poverty line. This expansion would be paid for by a 1.4 percent tax on hospital revenue. Would you be for or against this policy?"
The results were unequivocal: Medicaid expansion is enormously popular across all districts. In every House of Delegates and State Senate district in Virginia, likely voters support Medicaid expansion, often by an overwhelming margin, with 66 percent and 67 percent supporting expansion in the median House of Delegates and State Senate districts respectively. Support for expansion never dipped below 55 percent in any district in Virginia, and reached as high as 85 percent in some others.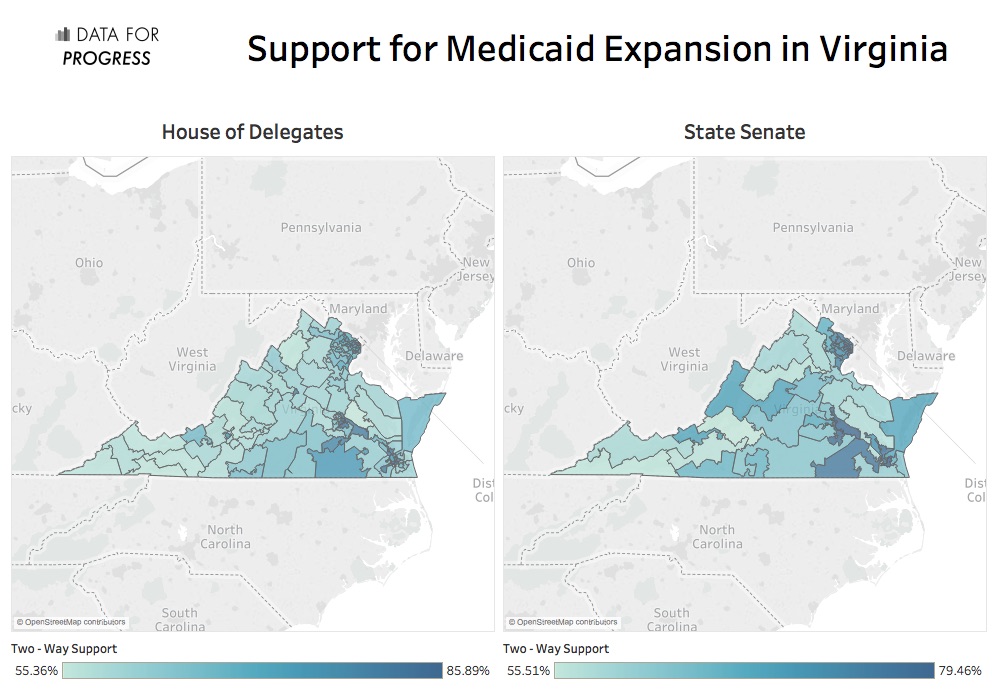 This support is durable even among Republicans and within GOP-controlled districts. In the median House of Delegates district, net opposition among Trump voters is only nine points. Support for Medicaid expansion is strong even in deep Trump country. For example, in House of Delegate Districts 1 and 3—both of which Trump carried with at least 81 percent of the vote—Medicaid expansion has two-way support of 56 percent among likely 2018 voters.