After several weeks of intense attention, Pvt. Bradley Manning began to slip off the media's radar screens again last month with his transfer from the maximum security brig at Quantico to a medium-custody military prison at Leavenworth, Kansas, while he awaits trial.
That is about to change again, as the first anniversary of his alleged online "chatting" with convicted hacker Adrian Lamo — it led to his arrest on multiple charges of leaking classified information — arrives this weekend. On Tuesday, PBS Frontline plans a full program on Manning, Julian Assange and WikiLeaks, and they promise to air new information. (See Part IV in this series for preview.)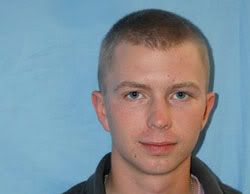 I'll be previewing the Frontline show on Monday, and have already covered here the past two days what led up to Manning "meeting" Lamo and his arrest. But now let's just look at his first day of extensive chatting with Lamo (as alleged by authorities). Controversy has surrounded the fact that the entire logs have not been published, just selected, if lengthy parts, with Wired and others redacting portions. FireDogLake put together a version combining what appeared in a few different sources. References to Assange gaining new notice, although they could be nothing more than idle boasting.
Here is a lengthy excerpt from May 22, 2010, drawn from my current book and e-book, Bradley Manning: Truth and Consequences.

*
bradass87: hypothetical question: if you had free reign over classified networks for long periods of time… say, 8-9 months… and you saw incredible things, awful things… things that belonged in the public domain, and not on some server stored in a dark room in Washington DC… what would you do?bradass87: or Guantanamo, Bagram, Bucca, Taji, VBC for that matter…
bradass87: things that would have an impact on 6.7 billion people
bradass87: say… a database of half a million events during the iraq war… from 2004 to 2009… with reports, date time groups, lat-lon locations, casualty figures… ? or 260,000 state department cables from embassies and consulates all over the world, explaining how the first world exploits the third, in detail, from an internal perspective?…
Adrian: Depends. What are the particulars?…