WELCOME TO DAYBOOK, our daily collection of media and politics hits/misses plus fun videos and (at the bottom) a music pick. Return for updates during the day. Keep up with fresh items via @gregmitch at Twitter. E-mail me at: epic1934@aol.com. My new book on one of most influential poltiical races ever here.
THURSDAY POST-TSUNAMI EDITION
Time's new cover story on John Boehner….Don't miss video posted by Palin just now, showing candidates she backed, ignoring the ones who failed, closing with a grizzly image. .. How Republicans blew taking the Senate…. Now it begins: Politico's Roger Simon asks—"Can Howard Dean beat Obama in 2012?"
Good Kakutani review of Bush memoir today and his mantra: "I was blindsided"…. In new memoir what does Bush call worst moment of presidency: 9/11? Invading Iraq w/ no WMD? Katrina? Economic meltdown? No: Kanye West's attack on him. So Bush DOES "care about black people"—dissing him.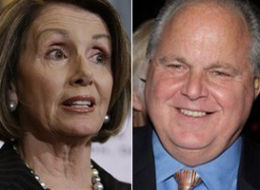 Kathleen Parker opened last night's CNN show by saying, seriously, that Obama should have come out at presser, flapped his ears, and said, "I hear you."…. On her campaign Meg Whitman spent more than the annual budget of the Nat'l Endowment for the Arts… Audio of Rush Limbaugh on air yesterday saying "bye-bye Pelosi" over "Ding-Dong, The Witch is Dead." Of course, earlier he had proposed waterboarding for her …. Danced out:? Bristol Palin didn't vote.