There are no passageways or partitions on the fourth floor of Manhattan's New Museum. The elevator opens onto an undivided room. The room is rectangular, and large enough that, from its threshold, you can't tell what style of portraits are presently hung on its walls, though some are over five feet tall. The dim lighting makes it hard for a visitor to see.
Despite these viewing conditions, it's best to stand still for a few moments. Observe how, even at this distance, even in this lighting, the paintings' muted tones—smoky ochres, milky grays, velvety blues and pinks—envelop you in their melancholy mood. The mood grows more intense as you move toward the canvases. Soon, with a sense of revelation, you see that it's shared by the figures on the wall. Although they appear to sit, stand, lounge, and even pose, the best part of them remains elsewhere. Each is lost in a daydream.
Each figure may even be a daydream. For the Ghanaian-British painter Lynette Yiadom-Boakye paints imagined portraits: characters who grow out of her imagination, out of memories, old photographs, or "any number of preoccupations," as she titled a painting from 2010.
The conceit of fiction does away with positivism, allowing Yiadom-Boakye to blur character and style. What results is a portraiture that reconciles contradictory merits. On the one hand, her work is openly self-reflexive: Yiadom-Boakye paints with thick, naked brushstrokes, renders clothing as blocks of color, and often leaves her canvases unfinished. On the other hand, and more surprisingly, she conveys inwardness with haunting ease. "Subtleties of human personality it might take thousands of words to establish are here articulated by way of a few confident brushstrokes," as Zadie Smith wrote recently in The New Yorker.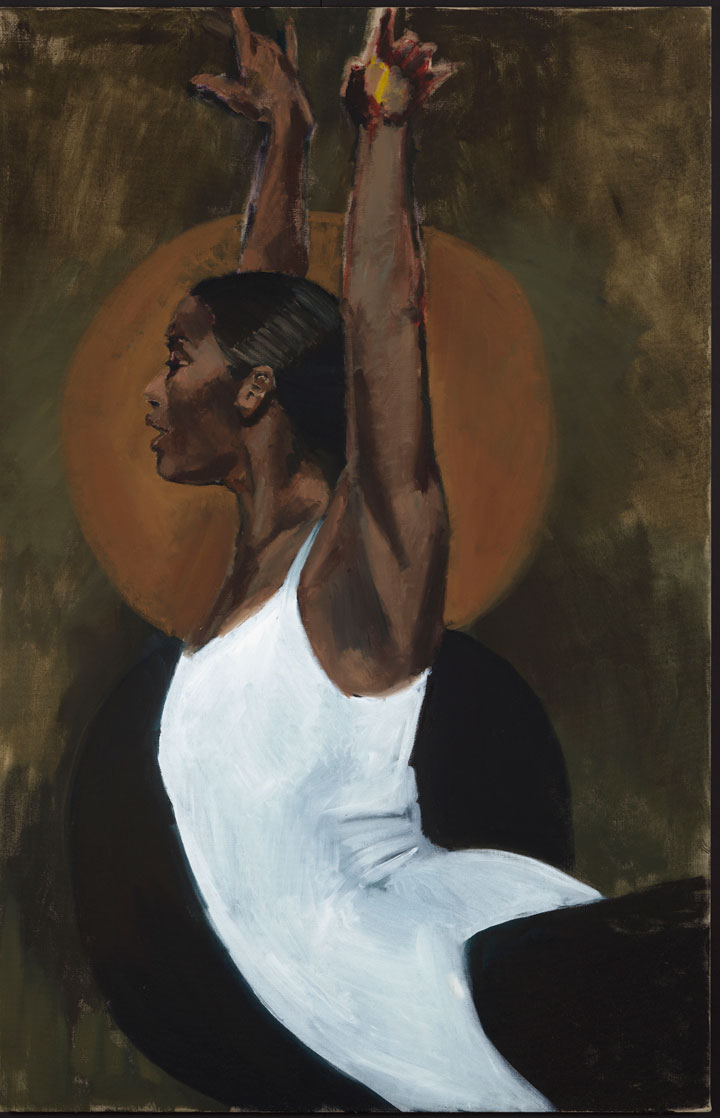 Born in 1977, Yiadom-Boakye grew up in London, where she received her MFA at the Royal Academy in 2003. As a young painter, she was interested in figuration, a genre that can be subtly political when handled well (think of William Kentridge or Marlene Dumas). Unhappily, Yiadom-Boakye, whose exhibition, "Under-Song for a Cipher," is at the New Museum until September 3, tackled politics before developing the necessary technical skills. In fact, and by her own admission, her political engagement served as a substitute for technique. "It wasn't painting as a practice," she told the curator Naomi Beckwith in a 2013 interview. "It was more about telling a crazy story using paint as opposed to learning to work with oil or watercolor."
First (2003) and Politics (2005) are representative of this early work. In First, a middle-aged woman, half-dressed in a striking red robe, smiles out of a crude, minstrelesque face. The younger celebrities in Politics are rendered with more delicacy, but here too the program is decidedly satirical.