The US Census Bureau's announcement today that the number of Americans living below the poverty line fell between 2014 and 2015 is good news. But before we get too excited, it is worth noting that the federal poverty line was a meager $12,000 for a single person living alone in 2015 (and only about $24,000 for a married couple living with two children).
If your initial reaction to that is "whoa, that's waaay too low for a person to lead a minimally decent life on in the USA," then you're in good company. In a recent survey conducted by the conservative American Enterprise Institute (AEI) and the Los Angeles Times, Americans were asked, "[What is the] highest annual income a family of four can have and still be considered poor by the federal government." The average response was $32,293—an amount 34 percent higher than the current federal poverty measure.
In short, conservatives did a poll on how much income it takes to avoid poverty, and the answer they got back was more than $8,000 above the federal poverty line.
The wonks reading this might be thinking "well, if the federal government says a married couple with their two kids only needs $24,000 to live a minimally decent life, then they must have good reasons to think this is enough." I'm a bit wonkish myself and generally trust official government statistics—but the federal poverty measure is a big exception.
The main reason I don't trust this approach to measuring poverty is shown in the figure below. In 1963, the poverty line for a family of four was 50 percent below the median family income—or one-half of the income of the typical four-person family in America. Today, however, the poverty line for a family of four is nearly 75 percent below the median family income.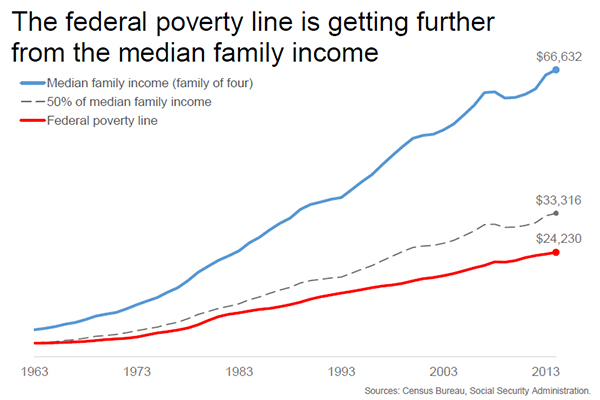 That means to be officially counted as poor today, a family has to be much poorer compared to the typical American family than it had to be in 1963. In fact, if the federal poverty line today was set at the same place relative to median income as it was in 1963 it would be about $33,000, rather than $24,000.
The AEI survey results are not a fluke. We know from decades of evidence that the public's understanding of the income needed to avoid poverty increases over time at a rate faster than inflation, and closer to the increases in mainstream incomes and living standards.
So why hasn't the official poverty line been adjusted over time in a way that reflects the public's more accurate understanding?