On Monday, April 30, the White House made a startling assertion. "Iran has a robust, clandestine nuclear weapons program that it has tried and failed to hide from the world and from its own people," read an official statement from press secretary Sarah Huckabee Sanders. Well, this was news! Has Iran been secretly developing nuclear weapons in defiance of the 2015 international deal? Does this mean we should go to DEFCON 4, as new national-security adviser John Bolton has long pined for? At the least, President Trump would now seem justified in ditching the deal, which is exactly what he announced he'd do on Tuesday, just over a week later.
Oops. The first "has" in the quote above should have been a "had"—as in Iran had a robust, clandestine nuclear-weapons program, etc. Of course, it had—that's why the US and other world powers hammered out the deal with Iran in the first place. And, according to Trump's own State Department, Iran has been in compliance.
Facing feedback of "WTF?!", the White House changed "has" to "had" in its online statement a few hours later, but without acknowledging the correction or e-mailing reporters who had received the original statement. At first, a National Security Council spokesman blamed the present-tense verb on a "clerical error" (can you imagine the US response if Iran's clerics had similarly erred?). At the next day's press briefing, Sanders chalked up the brink-of-war message to a "typo," and essentially told reporters to chill. The original message also appeared in a @WhiteHouse tweet, which has been deleted, though the cached version lives on for now.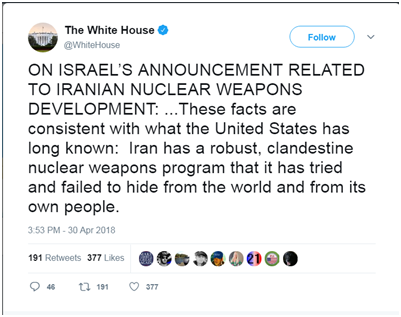 Has we been had? Was "has" a sloppy but innocent error, proving yet again that incompetence trickles down from the top? Or, was it some kind of psy-ops typo, planted to create a false first impression? Research shows that first impressions often stick even if they're later proven wrong. So, though it circulated for only a few hours, the meme that "Iran cheated on the deal!" echoes on.
Whether "has" was intentional or accidental, it came with plausible deniability, if only because the line of dumb but usually harmless mistakes—misspellings, mangled dates, and grammatical misdemeanors that commonly fall under the umbrella term "typos"—is so long in the Trump administration. Of course, much of the volume is due to Trump's prolific tweeting. But these typos also fly out of the press office and other corners of the White House, and undoubtedly at a higher rate than in prior administrations. Press releases in the Obama White House, for instance, were typically proofread by multiple people, according to Liz Allen, a deputy communications director under President Obama. "We felt a burden and responsibility to get it right," she told The Washington Post's David Nakamura in March. "No one should meet a higher bar than the White House."