A version of this piece was originally published by Maisonneuve magazine. Reprinted with permission.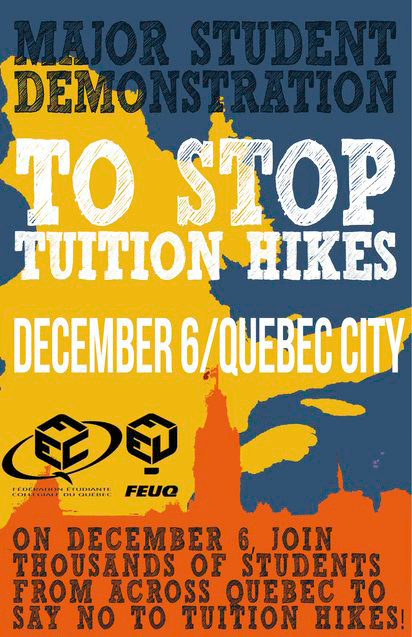 December 6 was a big day for Quebec's student movement. Across the province, approximately 60,000 university students went on strike, in protest of discussions about proposed tuition fee hikes at an education summit in Quebec City. Students also flooded into Quebec to demonstrate outside the meeting. Louis-Phillipe Savoie, of the Fédération étudiante universitaire du Québec (FEUQ), gave Maisonneuve a primer on what is at stake if Quebec's historically low university tuition is raised.
Amelia Schonbek: Are there concrete plans right now for tuition increases in Quebec?
Louis-Philippe Savoie: Well there is an intention by the government of Quebec to raise tuition fees by 2012. [Tuition is] currently rising at a rate of $100 per year, since 2007 and until 2012. Tuition next year will be at the level of $2168 for a 30-credit [course load]. And the Liberal government has the intention of raising it by an even larger amount in the following years.
AS: Have they named a number?
LPS: There has not yet been a governmental decision on it, however there are a few scenarios that are floating around. Last April, the Quebec Liberal party's general council took the position to raise tuition to the Canadian average, which would mean roughly $5,000 a year. And the Conférence des recteurs et des principaux des universités du Québec (CREPUQ), which is the organization that groups university principals, has taken the position of raising tuition $500 per year for three years, and afterward keep on raising tuition to reach at least the Canadian average, in terms of tuition fees. So those are the major propositions that are on the table now. There is a meeting of education stakeholders that will take place Monday, December 6 in Quebec City and the issue of tuition fees will be part of the discussion that will take place there.