As someone who has written literally millions of words related to the atomic bombings of Japan in 1945, it was disturbing to read assorted wishes for a similar fate (maybe minus the radiation) for Gazans as expressed by various prominent Israelis yesterday.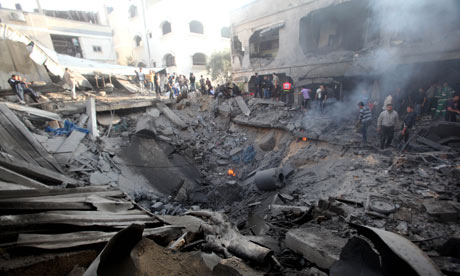 We'll assume Israel will not actually use atomic weapons in this case, although we must note: They do possess them. Hopefully they have kept any potential Gen. Jack D. Rippers on a close leash.
Sound overstated? Gilad Sharon, son of former Israeli leader and noted hawk Ariel Sharon wrote an op-ed Sunday: "We need to flatten entire neighborhoods in Gaza. Flatten all of Gaza…. The Americans didn't stop with Hiroshima—the Japanese weren't surrendering fast enough, so they hit Nagasaki, too…. This needs to end quickly—with a bang, not a whimper."
Yes, it's not likely that Gaza will be truly flattened—but then, it's the thought that counts.
Now, it's true that young Sharon is not in power himself—he's merely a farmer and reservist in the IDF—so who cares? Well, then, you have the well-known Israeli Interior Minister, Eli Yishai, who says (as cited by Haaretz and others):
The goal of the operation is to send Gaza back to the Middle Ages. Only then will Israel be calm for 40 years.
Hey, why stop there? Why not go the Gen. Curtis LeMay route and call for bombing them right back to the Stone Age?
What might pause to recall when another prominent Israeli back in 2008 broke a taboo on using the word "shoah" or "holocaust" for anything but the Nazi exterminations but now applied to the Gazans. The speaker was Matan Vilnai, deputy defense minister.
Circulating widely is this video of an anti-Palestinian hate rally four days ago, featuring member of Knesset Michael Bar Ari. He's the bearded fellow who keeps popping up, demanding that Gaza be "mowed." At one point he complains—this is a few days ago—that the Israeli had launched hundreds of bombs but only killed fifteen. He advocates fifteen bombs—that will kill 2,000.