Ohio Voters Protected Their Last Shot at Representative Democracy
The defeat of Issue 1 is an unequivocal sign that Ohioans understood the connection between democracy and abortion—and that enthusiasm for abortion rights has not waned in the wake of Dobbs.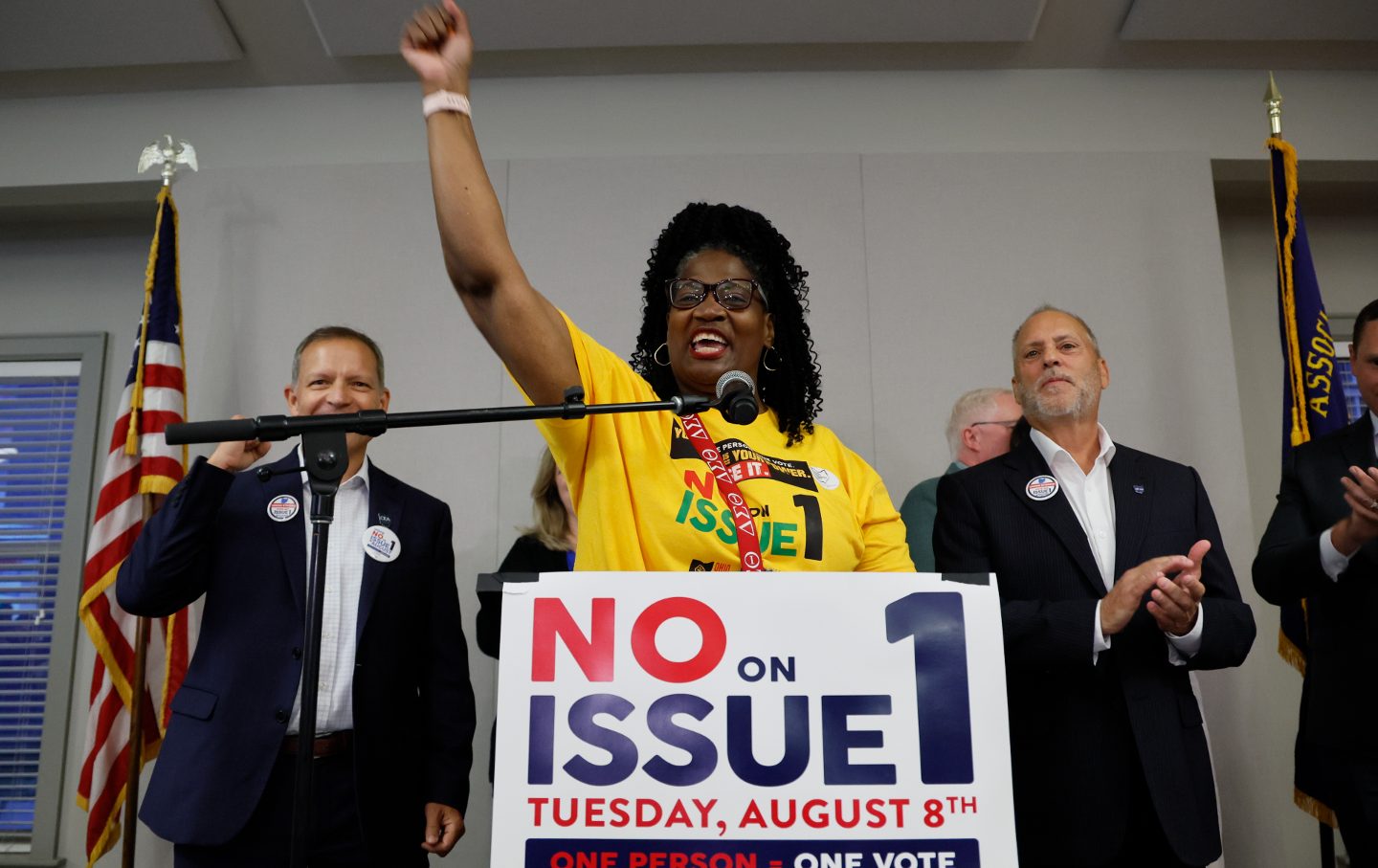 In late July, Mike Gonidakis, the president of Ohio Right to Life, was handing out lawn signs urging Ohioans to vote yes on Issue 1 and doing his best to take a naked attempt to kneecap democracy in one of the country's most gerrymandered states and make it sound like a popular uprising. "I've never seen this kind of enthusiasm in Ohio for our side since President Trump ran the first time around, back in 2016," Gonidakis told me at the time. It wasn't just anti-abortion activists who backed the initiative, put before voters by the state legislature, to raise the threshold for citizens to amend the state Constitution from a simple majority to 60 percent, he said—although Republican Secretary of State Frank LaRose had admitted that the measure was "100 percent" about defeating a November ballot initiative that would protect abortion in Ohio. "Our brothers and sisters at the NRA are standing shoulder to shoulder with us, yet they're not talking about abortion," Gonidakis said.
Ohioans did not buy it—not by a long shot. On August 8, 57 percent of voters rejected Issue 1, a margin six percentage points higher than Trump's when he won the state in 2016. Turnout was almost twice as high as it had been for the 2022 primaries, even though Republican legislators scheduled the vote for August, just months after they had eliminated August elections because of low turnout. Ohio, where a court has blocked a six-week abortion ban, is one of 18 states that allow citizens to initiate constitutional amendments. There, as in Arizona, South Dakota, Florida, and Missouri, abortion rights activists are counting on these initiatives to stop anti-abortion laws. They have reason to be confident: Just months after the Supreme Court issued its Dobbs decision, all six abortion-related measures on the ballot went for the pro-choice side, including in red states like Kansas. In response, Republicans ratcheted up their campaign to make ballot initiatives harder to pass, an effort that began after voters approved measures to expand Medicaid, enfranchise felons, and raise the minimum wage in red states. Ahead of the August vote, Chris Melody Fields Figueredo, the executive director of the Ballot Initiative Strategy Center, told me the outcome in Ohio would be "incredibly important." "It will send a message and a signal across the country" to state legislatures about how voters respond to such antidemocratic initiatives, she explained.
More on Ohio Abortion Rights
Clearly, Ohio voters understood that protecting democracy and protecting abortion are inextricably linked. The defeat of Issue 1 is also an unequivocal sign that enthusiasm for abortion rights has not waned in the wake of Dobbs. Abortion rights activists knew as much based on how people were responding to petitions to protect abortion in their state Constitutions. "I've been running campaigns for five years now, and there has never been a time that I can just walk down the street with a clipboard and people are approaching me and being like, 'Is that the repro ballot initiative? Please, can I sign?'" Jordyn Close, the deputy director of the Ohio Women's Alliance, told me in June, shortly before the campaign submitted its signatures. Almost half a million signatures were certified, ensuring that the abortion rights amendment will be on the ballot this November.
The August 8 vote was also an early test of what has become a hallmark conservative strategy of the post-Dobbs moment—avoiding discussion of abortion in favor of attacking trans people. Ads for Issue 1 focused on "out of state special interests that put trans ideology in classrooms" and claimed that the November ballot initiative would enable minors to get "sex changes" without parental consent, even though there is no mention of gender-affirming care in the amendment. In April, when Gonidakis was pressed by reporter Morgan Trau about where, exactly, the language about sex changes appeared in the abortion amendment, he froze and then tried to pause the interview.
By the time I spoke with him in July, Gonidakis had his talking points down. "When you mess with parental rights, all ideologies fall away—Democrat, Republican, liberal, conservatives—and people come together," he told me. But if his state offers any indication, Gonidakis is mistaken. What brings people together across party lines is abortion rights—and the principles of direct democracy that allow such rights to flourish.