Kentucky's Anti-LGBTQ "Parental Rights" Law Is a Disaster for Families, Teachers, and Kids
SB 150 recommends that schools use incorrect pronouns and limit sex education, while banning gender-affirming care for trans minors. "They're actively targeting us."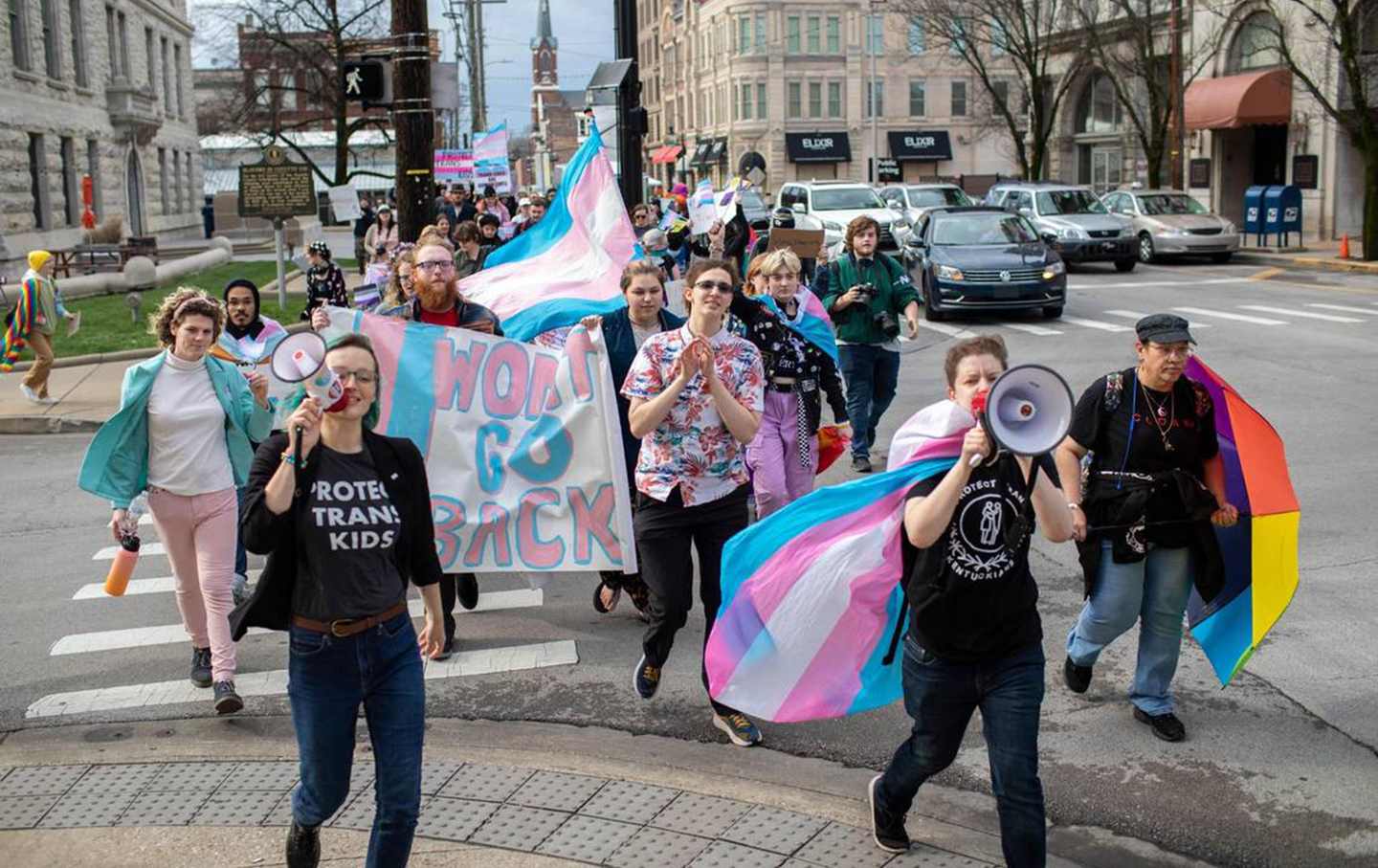 When Kentucky Senate Bill 150 was introduced in February, it was opposed by the American Medical Association, the American Psychological Association, the American Academy of Pediatrics, the Human Rights Commission and 71 percent of Kentuckians. The bill would ban gender-affirming care for trans minors, require them to use the bathroom that aligns with their gender at birth, recommend that teachers use incorrect pronouns, and limit education on "human sexuality or sexually transmitted diseases."
Still, it passed the House and the Senate. When Democratic Governor Andy Beshear vetoed the bill, saying it "strips freedom from parents" and will "endanger the children of Kentucky," his veto was overridden. The bill finally passed on March 29. The same day, the American Civil Liberties Union of Kentucky announced that it was planning to file a lawsuit against "one of the worst anti-trans bills in the country."
"Implementing the restrictions proposed by SB 150 will not change the number of LGBTQ children in schools," said psychologist Laurie Grimes to lawmakers. "They'll still be there, and they'll still have needs, but they will no longer be in a safe and accepting environment." Chris Hartman, director of the LGBTQ advocacy group the Fairness Campaign, was more forthright. "You're going to kill kids," said Hartman. "Their blood will be on your hands."
When SB 150 was first introduced, the bill's main purpose was to force teachers to use pronouns related to a trans student's biological sex, rather than what they preferred. Amendments were filed aiming to give trans students an out by changing teachers or allowing parents to require that teachers use the student's chosen pronouns, but all six were ruled out of order. The bill was eventually combined with House Bill 470, called the "Do No Harm Act," by the House Education Committee.
A majority of the bill is dedicated to provisions that hinder trans students from comfortably living their day-to-day lives, forbidding them to use their preferred bathroom or locker room and encouraging the use of incorrect pronouns or names. "People are really feeling not just the actual written effects of this law, but also what it means," said Oliver Hall, trans health director at Kentucky Health Justice Network. "What it means to be a trans person in Kentucky at a time when they're actively targeting us."
Section 4 of the bill, which eliminated access to gender-affirming care for trans minors, would have originally gone into effect on June 29. But it was temporarily blocked that same day by the ACLU's injunction, which was lifted in July. The rest of the bill will go into effect when the school year starts. "It's the single most destructive bill I've seen in my life," said Willie Carver, a former high school teacher in Kentucky.
Current Issue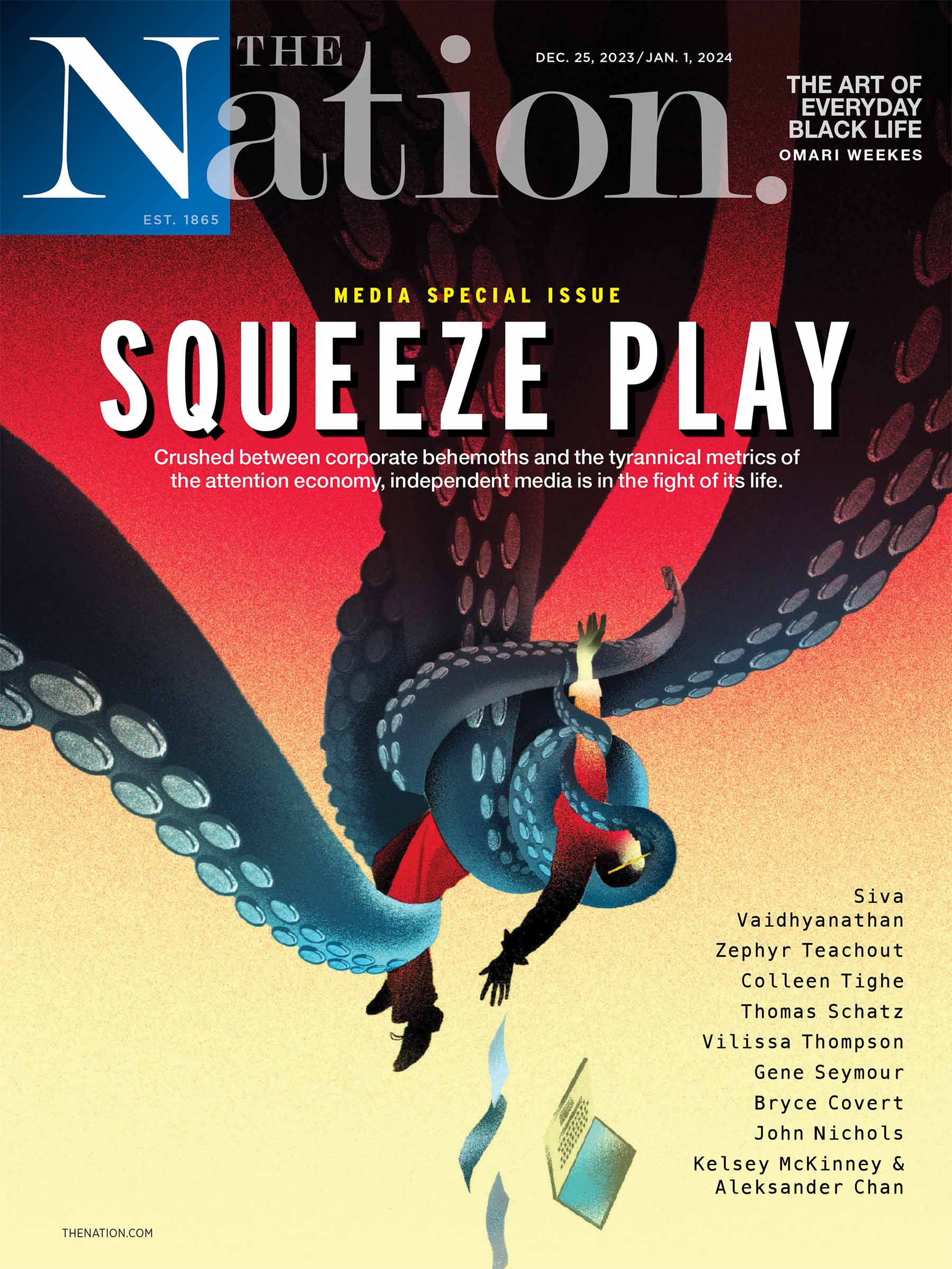 Schools should be safe places for students. According to Carver, young people should be able to see that they're important, that they can achieve their wildest dreams. But for young trans children, they often face bullying and erasure from class content. Studies have found transgender individuals are statistically more likely to be diagnosed with a mental illness than the general population, and over six times as likely to seriously attempt suicide.
Actively taking a student's identity out of the curriculum itself is a violent act, Carver said, and the law takes it leaps and bounds farther. Some children in Louisville Youth Group, a nonprofit serving LGBTQ youth in Kentucky and Indiana, will have to de-transition, a process called "exponentially harmful" by LYG program director Em Joy. "Despite the strong opposition of every major medical and mental health association, the new law prohibits parents, healthcare professionals, teachers, and clergy from working together to lovingly and privately provide support to transgender youth," said LYG in a statement in June.
The bill prides itself on its protections of parental rights, but parents of trans students are left reeling. "As a parent, your goal is to support your child and give them opportunities to grow and find themselves," said Amanda Wilson. Her child, June Wagner, is trans and nonbinary. "It hurt me because I knew it was gonna hurt my child."
She doesn't believe the government should get a say in how parents protect their kids. Legislation like this only puts a target on kids' backs, she said, and they end up being bullied or ostracized. "I don't see the viewpoint of how this bill is going to protect other kids," said Wilson. "I think it's gonna make it worse, not having a community that is as understanding or as supportive to all genders and all people."
Wagner, an incoming high school senior, said it was "devastating" to see the bill's success. With this bill, they said, the government has endorsed transphobic bullying. "Suddenly it's all legal," Wagner said. "Suddenly, your own legislators are bullying you and threatening you to take away your own medical rights and your school life, too. It's just shocking."
James and Rebecca Simpson, whose son is trans, don't see this bill as a protective measure; rather, they see it as the government stripping parents of their rights. Beyond that, James said, this bill tells trans kids they can't trust the adults in the room—that they have to hide. He saw the change in his son after his son came out to them, and he doesn't understand how denying him that could be seen as protection. "They just become who they are, when they have the space to do that," said James. "It just makes me so angry that is being vilified in the way it is, how cruel people can be when all anyone's asking is to just be themselves."
Popular
"swipe left below to view more authors"

Swipe →
The bill also limits sex education, banning it from being taught below the fifth grade and having parents "opt in" from sixth to 12th grade. It's a move widely opposed by educators and advocates. Generally, sex education in elementary school is broken into two sections: kindergarten to second grade, and third to fifth grade, according to the Sexuality Information and Education Council of the United States' National Sex Education Standards. The focus is on learning about one's body, identifying unhealthy and abusive relationships and understanding gender identity, with older elementary students beginning to receive information about puberty.
But in "opt-in" sex education, parents have to actively sign off on their child's participation. This makes the content covered seem more dangerous and uncomfortable, which limits the program's usefulness, according to Valerie Sedivy, the director of capacity building and evaluation for the ​​Healthy Teen Network. It's likely, she said, that the parents whose children most need this education won't sign off.
Sex education gives children mental, physical, and social benefits, said Sydelle Barreto, assistant director of federal policy for the Sexuality Information and Education Council of the United States. Children are taught how to say no, to see past gender stereotypes, and to name their anatomy without shame and stigma. It's empowering, said Barreto, and without it, children are vulnerable to harm. Studies have shown that students who receive comprehensive sex education are more likely to delay sexual initiation, reduce their number of sexual partners, and increase their condom or contraceptive use. It can also reduce gender-based and sexual violence.
After the bill's introduction, some senators raised concerns that revealing children's chosen pronouns or expressed sexualities could expose children to abuse or other forms of harm. Senator Max Wise, who authored the bill, said that it's the job of the state to lay out "basic freedoms." Local school districts can make their own decisions on whether they require schools to tell all parents everything, even if it's likely to lead to abuse. Jonathan Zimmerman, professor of education history at the University of Pennsylvania, called this the "language of local control" in what's becoming an increasingly federal talking point.
Kentucky isn't the only state to pass a bill like this—not even close. Gender-affirming care has been restricted in at least 18 states, and bills have been considered or introduced in 14 others. Florida's recent HB 1069 expands on last year's "Don't Say Gay" law and now, like SB 150, bans instruction on human sexuality, sexually transmitted diseases and related subjects before sixth grade. In Indiana, parents must give written consent to student name or pronoun changes, and teachers are prohibited from discussing sexual orientation and gender identity through the third grade. In Oklahoma, instruction on sexual orientation and gender identity are banned through fifth grade, with "opt-in" puberty education in fourth and fifth grade.
These bills don't just ban actions but also discussion of actions. "If I was a schoolteacher now in this country, I would be extremely worried," Zimmerman said. Laws restricting what educators can say have become more and more ambiguous, and it's easier for many to avoid controversial subjects altogether. Laws banning any mention of these issues attempts to silence debate and discussion.
But the conversation's only just beginning. ACLU representative Angela Cooper said the organization expects to file more lawsuits as the school year begins. School districts face difficult choices, ones that could bring down the fire of a legal battle whether they decide to follow legislation to the letter or not, and while they've been deciding, lobbyists from Kentucky LGBTQ activist groups such as Louisville Youth Group and Fairness Campaign have protested outside school board meetings. Still, it's unclear how this school year will treat Kentucky students.
"Trans people belong in Kentucky," wrote the ACLU, "and we will continue to fight for their right to equal protection under the law and freedom to access to the things they need to live full and authentic lives, as guaranteed by the national and state constitutions."