Live-blogging OWS daily since October 1. Email: epic1934@aol.com. All times ET. See my e-book on Occupy "40 Days That Shook the World." My other books, including recent ones on Bradley Manning, Upton Sinclair, and Beethoven, here….
4:00 Michael Kinsley hits NYT Sunday Mag cover story on guy who says U.S. needs MORE inequality. Would Zuckerberg have invented Facebook if he thought he'd only make, oh, 5 billion instead of 10 billion?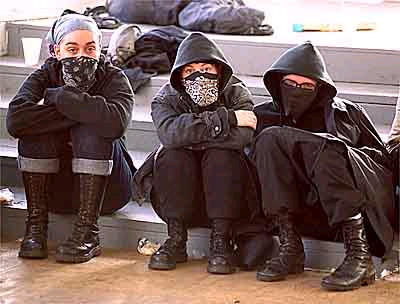 12:50 New SF Chronicle piece on Black Bloc and anarchists being both "divisive" and "crucial" for Occupy (although they get IDed for lot of things they don't do). "Some protesters say Black Bloc violence and vandalism undercuts the core Occupy message of advocating for more economic equality. Supporters, however, say the Black Bloc has a different definition of violence, particularly in dealing with police – and that Black Bloc anarchists are a force for protection of other demonstrators and assertive expression."
12:10 OccupyCleveland continues to try to distance itself from "bridge plotters" but now has to deal with name of one of them on lease for warehouse where a dozen live. Also, the 5 suspects have now pleaded not guility in court, with (according to this account) about 50 OWSers showing up in support.
11:55 Michael Moore's version of "The Times They Are a-Changing" on that new Occupy album but seems like it's not his voice singing but merely leading a crowd rant in the middle.
11:20 OccupyTheFarm protestors refuse to leave UC-Berkeley land. "About 200 of the Occupy squatters broke into the 10-acre Gill Tract property on April 22 and set up camp. They planted carrot, broccoli and corn seedlings on part of the land to protest planned housing and commercial development nearby the site at Marin and San Pablo avenues."