Live-blogging OWS daily since October 1. Email: epic1934@aol.com. All times ET. See my e-book on Occupy "40 Days That Shook the World." My other books, including new ones on Bradley Manning and Beethoven, here….
6:20 Matt Taibbi roasts Obama's JOBS act. "Boy, do I feel like an idiot. I've been out there on radio and TV in the last few months saying that I thought there was a chance Barack Obama was listening to the popular anger against Wall Street that drove the Occupy movement, that decisions like putting a for-real law enforcement guy like New York AG Eric Schneiderman in charge of a mortgage fraud task force meant he was at least willing to pay lip service to public outrage against the banks.
"Then the JOBS Act happened. The "Jumpstart Our Business Startups Act" (in addition to everything else, the Act has an annoying, redundant title) will very nearly legalize fraud in the stock market."
4:50 Chris Hedges rips debate over Obama health plan, citing its many weaknesses. And: "There is no substantial difference between Obamacare and Romneycare. There is no substantial difference between Obama and Romney. They are abject servants of the corporate state. And if you vote for one you vote for the other."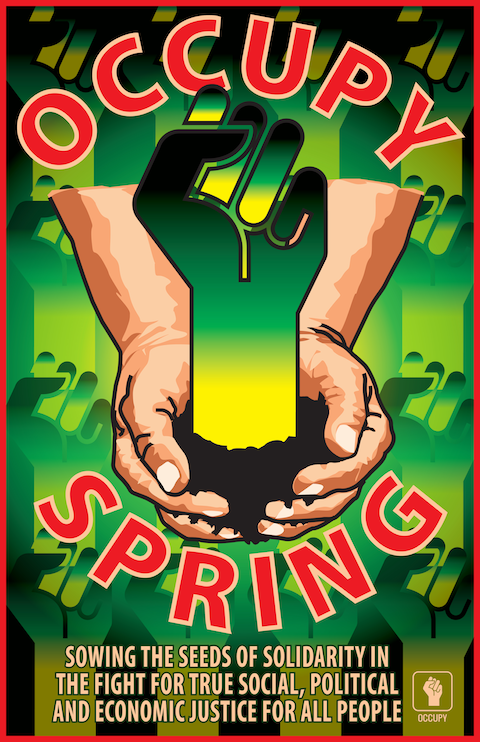 4:05 Even more fat for the fire, as Salon with new piece on charges that MoveOn and the OccupySpring are "co-opting" OWS. "The fear, expressed by numerous Occupy participants I spoke to in different cities, is that the 99 Percent Spring trainings will steer energy away from Occupy spring actions and toward support for the Democrats this coming general election. Many still believe that MoveOn, as a recent CounterPunch article put it, is a "front for the Democratic Party." On the other hand, see video down the page, below.

3:40 Reuters: Occupy groups unite–over foreclosures. 'Those who have watched the Occupy movement since its September beginnings say the foreclosure focus may help it recover from a slump that followed forced shutdowns of encampments in New York, Washington and other cities.'