Live-blogging OWS daily since October 1. Email: epic1934@aol.com. All times ET. See my e-book on Occupy "40 Days That Shook the World." My other books, including new ones on Bradley Manning and Beethoven, here….
4:00 Our buddy Peter Rothberg with The Nation's "guide to May Day," plus video. See below for his top ten May Day tunes, as well.
2:55 Maybe a bit of a stretch but love Salon piece on Leslie Knope last night in "Parks and Rec" emerging as something an Occupy candidate, or at least vs. 1%, or something. Also enjoyed Buddy Garrity as a rival candidate. "Leslie promises to fight corporate control of the town she loves — her words would have fit in comfortably in any of Occupy's former encampments or ongoing mobilizations and propaganda efforts. Indeed, it is perhaps fitting with the Occupy zeitgeist that Leslie has never expressed preference for Republicans or Democrats — for her, they're politicians all the same — but she is firmly against corporate influence in government."

1:40 Judge hands out harsh 90-day sentence to San Diego activist.
11:25 Photog describes his "intimate" photo project on OWS, plus a gallery…. White House threatens to veto GOP student loan bill because it pointedly takes from health care fund.
11:10 OccupyDenver prepares for May Day, plus video…and OccupyOakland press conf on same.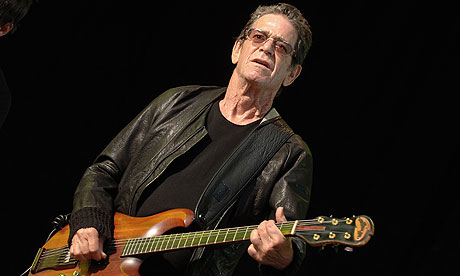 10:25 OccupyMusicians planning online May Day action, wants your stories about being music maker and more. That's the great Lou Reed at left, one of the group's first backers.
10:20 More from Allison Kilkenny, this time on the protests (still) planned for Chicago next month, despite G8 move. And much more at the Occupy.com site, check it out.