Friday updates: Latest reactions, debate and controversy here.
My neighbor across the street has at least one handgun.
That's what I discovered just now, thanks to an amazing mapping project carried out by my local—and usually quite unambitious—daily Gannett newspaper, The Journal News, which covers Westchester and Rockland counties just north of NYC. Reporters got the names and addresses of everyone with a gun (not rifle) permit during the past five years from local agencies and mapped it all using Google maps. Zooming in you find your village and streets and clicking on colored dots over certain homes bring up the person with the permit.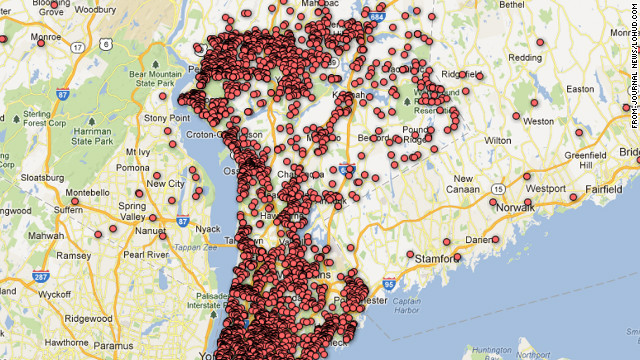 The only one on my block is a guy (or woman) catty-corner from me. Someone else is packing, or packing away, on cross streets up and down the hill. Only scattered permits in my general area, but probably much denser in a lot of other places. Given the hype over how many Americans own guns, some might be surprised to see relatively few permits anywhere. But this does not count illegal weapons and hunting rifles and so on.
The Journal News observes, "About 44,000 people in Westchester, Rockland and Putnam—one out of every 23 adults—are licensed to own a handgun."
The newspaper article also has an editor's note: "Journal News reporter Dwight R. Worley owns a Smith & Wesson 686 .357 Magnum and has had a residence permit in New York City for that weapon since February 2011."
Few newspapers have done this and those that have often stir up debate. Many readers of the new article have written negative comments for the web. One woman wrote, "I'd rather have a gun owner as my neighbor then a journalist, one is far more responsible then the other."
The Journal News defended its decision to print the names in a statement to ABC News, saying readers "are understandably interested to know about guns in their neighborhoods." For example: parents may want to know if there's a gun in a home their child is visiting.
Objections usually include: (1) if bad guys check it out they can plot break-ins based on who doesn't (seemingly) have a legal gun, although might have rifle or illegal gun; (2) bad guys can target houses with guns, to steal them; (3) people named may get some kind of stigma; and (4) "You have judges, policemen, retired policemen, FBI agents—they have permits. Once you allow the public to see where they live, that puts them in harm's way," Paul Piperato, the Rockland county clerk, told Worley.
The reporter talked to one local gun owner who said information "should be absolutely private. He is licensed to carry firearms and owns an AR-15 rifle, the same type of gun used in the Newtown massacre. "Why do my neighbors need to know that?" he asked. "I am not a threat to my neighbors. I don't pose a physical threat to anyone."
Worley writes, "Combined with laws that allow the purchase of rifles and shotguns without a permit, John Thompson, a program manager for Project SNUG at the Yonkers Family YMCA, said that leaves the public knowing little about the types of deadly weapons that might be right next door."
Greg Mitchell is the author of more than a dozen books on politics, history, nuclear issues, capital punishment and media. His latest, on the Obama-Romney battle, is Tricks, Lies, and Videotape.