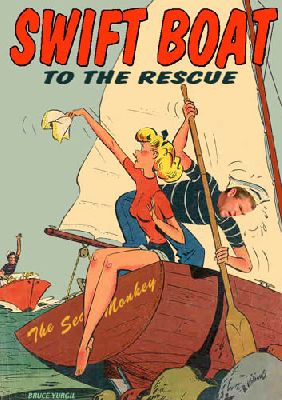 It's a word that's entered the political language—much like attaching "-gate" to the end of every scandal, real or faux. It's "swiftboating" or "to swiftboat" or "he got swiftboated." Of course, this goes back to the successful effort by a well-funded, allegedly "nonpartisan" group to destroy John Kerry and his stellar military record—one of his chief attributes—in his race for president in 2004.
In a ludicrous and imprecise use of the term recently, the GOP claimed the Democrats were "swiftboating" Mitt Romney by bringing up so many questions about his years with Bain and his refusal to release tax returns. One difference, of course, is that most of those claims had a factual basis. But there will no doubt be a lot of more comparable (to 2004) "swiftboating" coming up in the next two months or so.
The media did not strongly combat the anti-Kerrey lies in 2004 so it's uncertain what will transpire this year. Fact-check sites are now numerous but they often take one shot at a pack of lies, get attention and praise, and let it disappear, even as the lies continue.
A major 2012 Swift Boat example emerged just yesterday.
A new group of ex–military and security veterans—allegedly "non-partisan" but actually made up mainly of GOPers and Tea Partiers—has launched a fresh attack and site vs. Obama, claiming he and his cronies leaked info on the Osama bin Laden raid for political gain. Of course, this brings these critics into the race for political gain.
"Chad Kolton, who was spokesman for the director of national intelligence in the Bush administration and now represents the Opsec group," the New York Times reported yesterday, "said that because the it was classified as a 501(c)(4) educational group under the tax laws, it was not required to identify its donors. He said the group had raised nearly $1 million since June and intended to run television and Internet ads, as well as host showings of 'Dishonorable Disclosures' in swing states."
Here's that over-the-top, clearly partisan, twenty-two-minute video just released Wednesday. It already has had 242,000 views on YouTube:
Thankfully, some in the media have already critiqued it, and the new group. "It's a dishonest hatchet job that'll make you long for a shower, especially since the 'stars' of the video present themselves as concerned citizens with no partisan motivations," Juliet Lapidos charges in an opinion piece just posted on the Times site.