A new blog with frequent updates, with the latest at the top, à la my long-running WikiLeaks News & Views blog. My Nation associate Kevin Donohoe is helping out mightily with links, as is Barbara Bedway. Speaking of scandal, my new book Atomic Cover-Up just out , in print and as e-book.
9:00 Major new Guardian piece on committee finding that Murdoch's News Int'l "deliberately" blocked probe. And released in time for Cameron showdown tomorrow.
5:55 My radio chat with Warren Olney today (also John Burns, Sarah Ellison, more).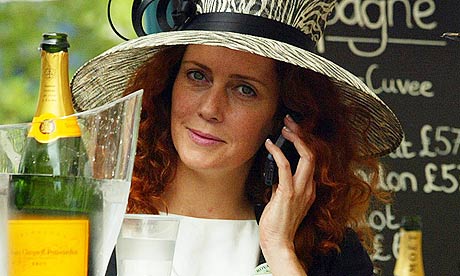 5:50 Summary of Rebekah Brooks' testimony today. And she turned down the red in hair a notch.
5:10 Transcript of Murdochs' testimony today.
5:00 New at the Guardian: "Blindingly obvious" evidence of corrupt payments to police officers was found by the former director of public prosecutions, Lord Macdonald, when he inspected News of the World emails, the home affairs select committee was told.
1:45 Update on item just below, statement from Tories: " We have double-checked our records and are able to confirm that neither Neil Wallis nor his company has ever been contracted by the Conservative Party, nor has the Conservative Party made payments to either of them. It has been drawn to our attention that he may have provided Andy Coulson with some informal advice on a voluntary basis before the election. We are currently finding out the exact nature of any advice. We can confirm that apart from Andy Coulson, neither David Cameron nor any senior member of the campaign team were aware of this until this week."
1:00 BBC : Neil Wallis was informally advising Andy Coulson before the election.
12:55 Rebekah Brooks on, adds "apologies,' says a lot she can't talk about due to legal cases. Gets sharp questioning anyway. Says she never paid police. Like Nixon could say he never paid Watergate burglars (he didn't meet them and hand over cash himself)?