Thousands marched Saturday in the Sister March in Cincinnati, one of the few Democratic strongholds in a state that Trump carried with 51.3 percent of the vote. Estimates put the crowd that gathered in Over-the-Rhine's Washington Park at 7,000, an impressive showing in this metro area of just over 2 million people. Speakers at a rally prior to the march addressed the crowd on behalf of Planned Parenthood, a local organization supporting survivors of gender-based violence, and the Islamic Center of Cincinnati and Black Lives Matter Cincinnati, among other groups. The event attracted participants who were concerned about a variety of issues, from preserving the Affordable Care Act to combating police violence and preserving a science-based approach to climate change at the federal level.
In the crowd I met Debbie Sims, who sat on a bench holding a sign that read "Hands Off My American Dream." It featured a simple drawing of a house and a seal identifying her as a member of Communities United for Action, a local organizing project that focuses on abuses in foreclosures and payday loans. Sims said she's worried that a Trump presidency will take us back a decade to the dark days of the last financial crisis. "I know a lot of people who, during the Bush administration, lost their homes, lost their jobs," she told me. Sims is concerned about the concentration of power on the right, particularly as a resident of a state with a Republican governor. "With the Republicans taking over, we don't have a leg to stand on," she said, explaining what had drawn her to the march. "We have to fight. We can't just let the poor not have a voice."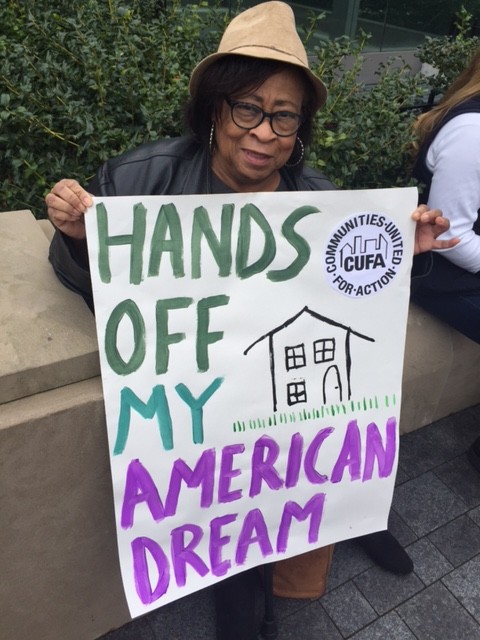 The effects of reactionary federal policies may not have hit this city yet, but the cultural impact of the Trump victory has. This weekend, swastikas and racist and homophobic graffiti were painted around the campus of Withrow University High School, where the student body is 97 percent young people of color. The phrase "Fuck Niggers and Faggots" was painted on sidewalks, and other slurs and swastikas were painted on signs and benches alongside the president's name. Earlier this month, a vandal painted a swastika on the sign of a local Jewish seminary, Hebrew Union College.