Barack Obama did a nice job of debunking Mitt Romney's plan to cut taxes for the wealthy in the second presidential debate. He also pointed out that Romney, according to his tax estimate for 2011, paid a "lower tax rate than a nurse or a bus driver." But Obama failed to make another significant point: Romney has still not released many crucial details about his tax returns.
The media have stopped pressing Romney for more information about his tax history, which is unfortunate, since there's still a lot we don't know. The 2010 tax return Romney released in January, which showed that he paid a rate of 13.9 percent in income taxes, did not provide details about his offshore accounts in places like Switzerland, Bermuda and the Cayman Islands. (In his 2011 tax returns, where he claimed to pay a rate of 15.4 percent, Romney did not check the box indicating he had any foreign accounts.) And he released only a brief summary of his taxes from 1990 to 2009, when he claims to have paid an average of 20.2 percent in federal income taxes.
Romney's lack of financial disclosure is virtually without precedent. According to Fact-Check.Org:
It's true that in the 2008 election, Republican nominee McCain released just two years of tax returns. But you have to go back more than 30 years—to President Ronald Reagan, who released one year's return in 1980—to get to a major party nominee who released less than five years of tax returns.

Over those three decades, the number of years of released tax returns went from a high of 30 by Republican Bob Dole in 1996 to a low of five by Democrat Michael Dukakis in 1988.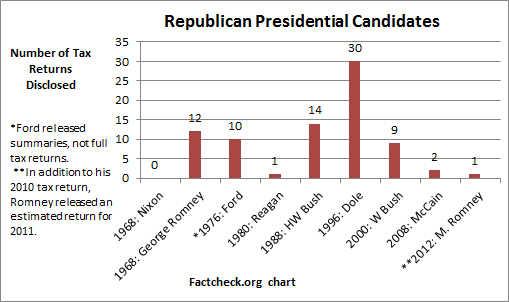 In 2000, George W. Bush released nine years of tax returns and Al Gore released eight. John Kerry released twenty years in 2004. Barack Obama released seven years in 2008. McCain only released two years in 2008, but, aside from forgetting how many houses he owned, McCain's financial accounting was far less complex than Romney's. George Romney famously released twelve years of tax returns, saying, "one year could be a fluke, perhaps done for show."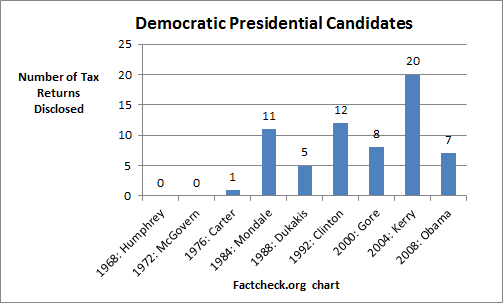 Here's what we still don't know about Romney's taxes:
Along with his missing Report on Foreign Bank and Financial Accounts (FBAR) from 2010, Romney should have released a 990-T form for his IRA, which is for unrelated business taxable income. That includes income from private equity accounts, which Romney has in his IRA. The fact that Romney hasn't released such a form "suggests he owns them through an offshore blocker corporation," said Rebecca Wilkins, senior counsel for Citizens for Tax Justice. "That would be entirely at odds with his statement that his offshore investments have never saved him a dime in US income taxes."