The Kids Are All Right
I thought some at The Nation would appreciate this picture of my son, age 19 months, with the Dec. 5/12 issue. This wasn't staged: He grabbed it and started "reading" with genuine concern. Apparently, we can be hopeful about the next generation—as long as we can give them a habitable world to grow up in.
Henry Pratt
highland, n.y.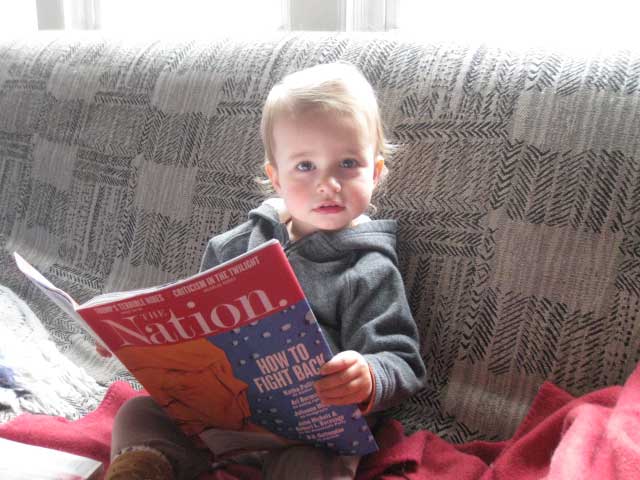 A People's Party?

I agree with John Nichols ["We Must Transform the Democratic Party," Dec. 5/12] that "there is no point to the continued existence of this Democratic Party." I agree that the Democratic establishment has shown itself to be "disengaged, incompetent, and indebted to elite campaign funders." I also agree that Trump's victory shows "the potential of an economic populist message," but I am highly skeptical that the Democratic Party will be able to deliver any such message or that it can be "transformed," as Nichols suggests.
D.D. Guttenplan's article in the same issue ["A People's Revolt"] recommends that we give some credit to those who voted for Trump: Rather than regard them as racist and misogynistic "deplorables," we should consider how their populist sentiments were shut out by the Democratic Party. Can the party really turn itself completely inside out and appeal to all those (including Trump voters) who could constitute a progressive majority? As I said, I am skeptical.
Nichols is right that "no major party has been replaced since Henry Clay's Whigs," but I think it's going to be hard to convince anyone (including me, a lifelong Democrat) that the same old "Democratic Party" name contains a truly new reality. I think we are at a historic turning point in the politics of this nation, so big changes are probably needed. We need a party that is of, by, and for the people.
I think Abraham Lincoln said some version of that. And he was a Republican, wasn't he? And wasn't it the Republican Party that replaced the Whigs, picking up the disillusioned Whig voters who wanted an end to slavery? That's the way I remember it.