This post originally appeared at The Huffington Post.
 
On the heels of a new Congressional Budget Office report that the DREAM Act would reduce the deficit by $1.4 billion over the next decade and public support by Homeland Security Secretary Janet Napolitano, seven university students in San Antonio prepare themselves to enter their 28th day of a debilitating hunger strike that has now spread across the country.
The Texas students are weary, reaching a critical 30-day stage in a liquid-only fast that health experts warn could lead to organ failure, but hardly alone. A doctor now monitors their health daily. One student striker has diabetes.
In the tradition of famed labor leader Cesar Chavez, whose own "spiritual fasts" won workplace safety concessions for their parents' generation, the students' hunger strike has been joined by United Farm Worker cofounder Dolores Huerta and League of United Latin American Citizens executive director Brent Wilkes, along with thousands of students across the country.
Declaring that they don't plan to end their hunger strike until the Senate and House pass the DREAM Act, including a recent streamlined version unveiled by US Sen. Harry Reid (D-NV) that would require minors who arrived as undocumented immigrants to pass a 10-year waiting period, the strikers were joined last week by Rev. Lorenza Andrade Smith, who remains locked up at the Bexar County Adult Detention Center. The United Methodist minister was arrested on Nov. 30th, along with 15 other activists, at a nonviolent sit-in at the San Antonio office of US Sen. Kay Hutchison (R-TX), a one-time supporter of the Dream Act in 2007.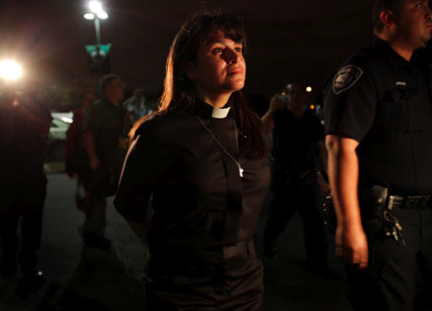 (Rev. Lorenza Andrade Smith arrested at Nov. 30th sit-in in San Antonio, Texas.)
Along with two of the student strikers, Rev. Andrade Smith is on a complete fast–refusing water, as well as food. Supporters of the Methodist pastor and the students conduct daily vigils in front of the detention center.
"We're completely exhausted," said Felipe Vargas, a PhD student in History, Philosophy and Education Policy at Indiana University, who was born and raised in San Antonio, "but our spirit is stronger than ever. When we launched this hunger strike, we had no idea we would receive such wide support."
Along with other DREAM Act supporters and organizations, Vargas said the students are part of a national campaign called United We Dream.