Few people in the Republican Party have done more to limit voting rights than Hans von Spakovsky. He's been instrumental in spreading the myth of widespread voter fraud and backing new restrictions to make it harder to vote.
But it appears that von Spakovsky had an admirer in Neil Gorsuch, Donald Trump's nominee for the Supreme Court, according to e-mails released to the Senate Judiciary Committee covering Gorsuch's time working in the George W. Bush Administration.
When President Bush nominated von Spakovksy to the Federal Election Commission in late 2005, Gorsuch wrote, "Good for Hans!"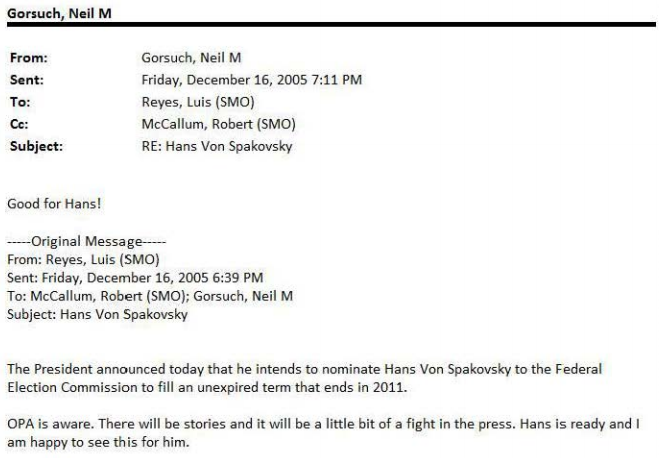 In another e-mail, when von Spakovksy said he was participating in a "Ballot Access and Voter Integrity Conference" at the Justice Department, Gorsuch wrote, "Sounds interesting. Glad to see you're doing this. I may try to attend some of it." Though the Justice Department was supposed to investigate both voting discrimination and voter fraud, the latter cause took priority and eventually led to Republican US Attorneys' being wrongly fired from their jobs for refusing to prosecute fraud cases.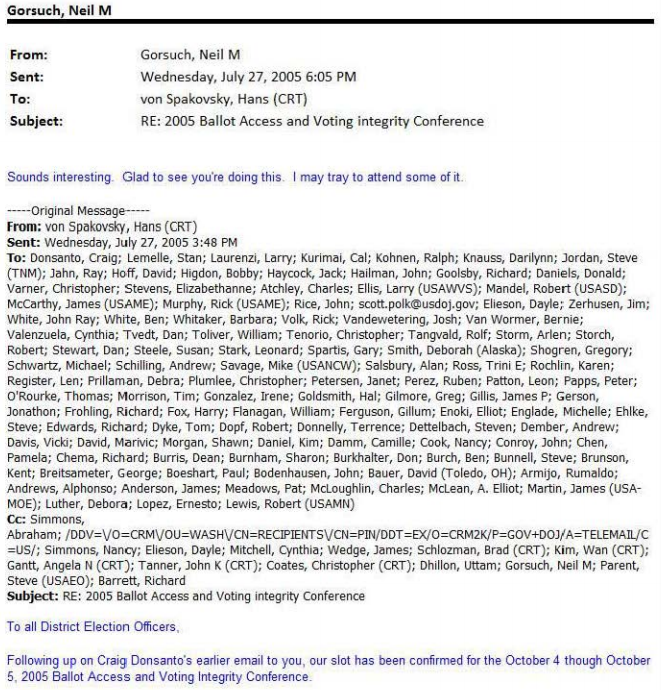 At very least, the e-mails suggest Gorsuch was friendly with von Spakovksy. But it's far more disturbing if Gorsuch shares Von Spakovsky's views on voting rights. Given that we know almost nothing about Gorsuch's views on the subject, this is something the Senate needs to press him on during confirmation hearings next week.
Though the e-mails sound mundane, they're much more important when you consider what was happening at the Justice Department during the time Gorsuch overlapped with von Spakovksy. In 2005–06 Gorsuch was principal deputy to the associate attorney general and von Spakosvky was special counsel to Brad Schlozman, the assistant attorney general for civil rights, who said he wanted to "gerrymander all of those crazy libs right out of the [voting] section." It was a time when longtime civil-rights lawyers were pushed out of the Justice Department and the likes of Schlozman and von Spakovsky reversed the Civil Rights Division's traditional role of safeguarding voting rights. When von Spakovsky was nominated to the FEC, six former lawyers in the voting section called him "the point person for undermining the Civil Rights Division's mandate to protect voting rights."