On a recent Tuesday afternoon, Aura Hernández drew a bath for her daughter in a makeshift bathroom tucked inside the boiler room of a Manhattan church. The water was warm, but the toddler still shivered as she stood inside her inflatable hot-pink tub. Hernández smiled at the girl, Camila Guadalupe, and chuckled.
"You know how it feels—the first time in a new place," she said. "Everything is different. It's an adjustment."
Indeed, everything was different, both for mother and daughter. One day earlier, the two of them had moved into the Fourth Universalist Society of New York, a 120-year-old English Gothic church across the street from Central Park. They had made the dramatic move in an attempt to find safety and to avoid Hernández's scheduled deportation to Guatemala. Both were adjusting to the novelty of their new home: the cavernous sanctuary, with its soaring arches and an altar designed by Louis Comfort Tiffany; the family's overheated bedroom, nestled into a corner of the church's second floor; and, of course, the bathroom, with its newly renovated shower only feet from the church's cast-iron boilers.
Hernández bent down to lather her daughter's hair with shampoo, moving gently but efficiently so as to shorten her daughter's discomfort. The 15-month-old's pudgy legs wobbled, but she kept her balance. At last, Hernández wrapped the shivering girl in a towel and navigated the trek from the basement to the second floor. There, she placed Camila gently in her crib and, satisfied that the child was resting, settled herself onto her the couch and began to explain why she had decided to go to extreme lengths to fight her deportation.
When she first came to the United States, she recounted, one of the supervisory agents in a Customs and Border Protection station in Texas had sexually abused her. She said that he first coerced her by threatening to indefinitely detain her 9-year-old nephew, with whom she'd traveled, unless she followed him into a barren, private office. And then, he vowed that he'd find her if she ever revealed what transpired inside.
For many years, she said, the experience had traumatized her and kept her silent. But now, she was determined to speak out. She was adamant that the same system that had allowed her to be sexually abused while she was fleeing for her life would not now separate her from her children. She was adamant that it would not send her back to danger. And she was resolved, above all else, to demand justice for herself and for other women—particularly the young girl sleeping in a crib just a few feet away.
"I'm here," she said, "because I'm never going to let anything like what happened to me happen to my daughter."
The story of how Hernández wound up in a Texas detention center begins thousands of miles away, in Guatemala. It was the summer of 2005, and over more than two weeks, she traveled by bus, by car, and by foot across parts of her own country and the length of Mexico. For the very last leg, she floated across the Rio Grande River in a red inflatable raft. She had decided to risk the lengthy and dangerous journey rather than continuing to endure life-threatening violence. "I never wanted to leave my country. I was forced to flee," she said.
But when she finally arrived in Texas, she barely made it half a mile before she was apprehended by the Border Patrol. According to Department of Homeland Security documents reviewed by The Nation, she was picked up by an agent outside of Roma, Texas, on August 5, 2005, and was then driven to the nearby Customs and Border Protection (CBP) station in Rio Grande City. This facility is part of a sprawling web of detention centers that have sprouted up along the US-Mexico border in recent years to hold immigrants and asylum seekers when the first arrive in the United States.
Today, the CBP Rio Grande City Station is a squat building with salmon-colored trim that could almost be mistaken for a suburban bank. But lawyers and advocates say these border-region facilities are among the most secretive and least regulated of all jails or detention centers in the nation. The National Immigration Law Center has spent years in litigation simply trying to access surveillance footage from inside some of these places. When video stills from one CBP center in Arizona were finally made public, the law center denounced the "deplorable and unconstitutional" conditions depicted in the images, which included a mother changing an infant's diaper on a filthy concrete floor.
In a series of interviews, Hernández has described her own experience as degrading and inhumane. It began in a cell that was completely bare, save for concrete benches, where Hernández waited for hours with her nephew and a few other women as CBP officers called the immigrants out one by one to record their personal information. There was no toilet, food, or water, and the whole facility was freezing. "It was so cold, it burned," Hernández recalled.
"They treated us like animals," she added. "They called us, 'illegals, illegals, illegals."
But the worst abuse began when Hernández and her nephew were called, at last, to a crescent-shaped desk to share their information. It was there, Hernández said, that they encountered a supervisory Border Patrol agent with dark hair and a medium build who eyed her up and down and began "saying obscenities" to her. "What beautiful breasts!" she recalled him telling her. "They're so big." As he leered, one of his colleagues—a fat white man, Hernández recalled—began to laugh.
As a woman who had survived gender-based violence, Hernández had an acute sense for when a situation was on the verge of going wrong. "I felt like my heart was going to jump out of my chest," she said. Yet she continued to answer the agent's questions, even as he derisively asked her whether she had a husband. In response, she told him she had fled domestic violence. (In a sworn affidavit to her recently filed asylum petition, which The Nation has reviewed, Hernández explained: "I decided to escape to the United States in 2005, where I hear[d] domestic violence was not tolerated.")
It was then, after a few more questions, that the supervisory agent told her he needed more information from her—in private.
Years later, Hernández says she still remembers what happened next "as if it were yesterday:" The fat officer laughing even harder than before, as if he knew what "in private" meant; the dark-haired officer denying her efforts to bring her nephew with her and instead shooing the boy back to their cell; the officer's implicit threat when he turned to Hernández and told her that he couldn't be sure that she was really the boy's aunt, that she wasn't actually engaging in trafficking children. "He told me, 'If you ever want the boy to get out of here, you'll cooperate with me,'" she recalled.
To Hernández, the threat carried weight: She said that during the hours in which she was detained, she'd seen him personally signing other immigrants' paperwork just before they were released. The agent then escorted Hernández into a small office with a desk and a filing cabinet. The window shades, she recalled, had been pulled low. It was there, she said, that the officer sexually abused her.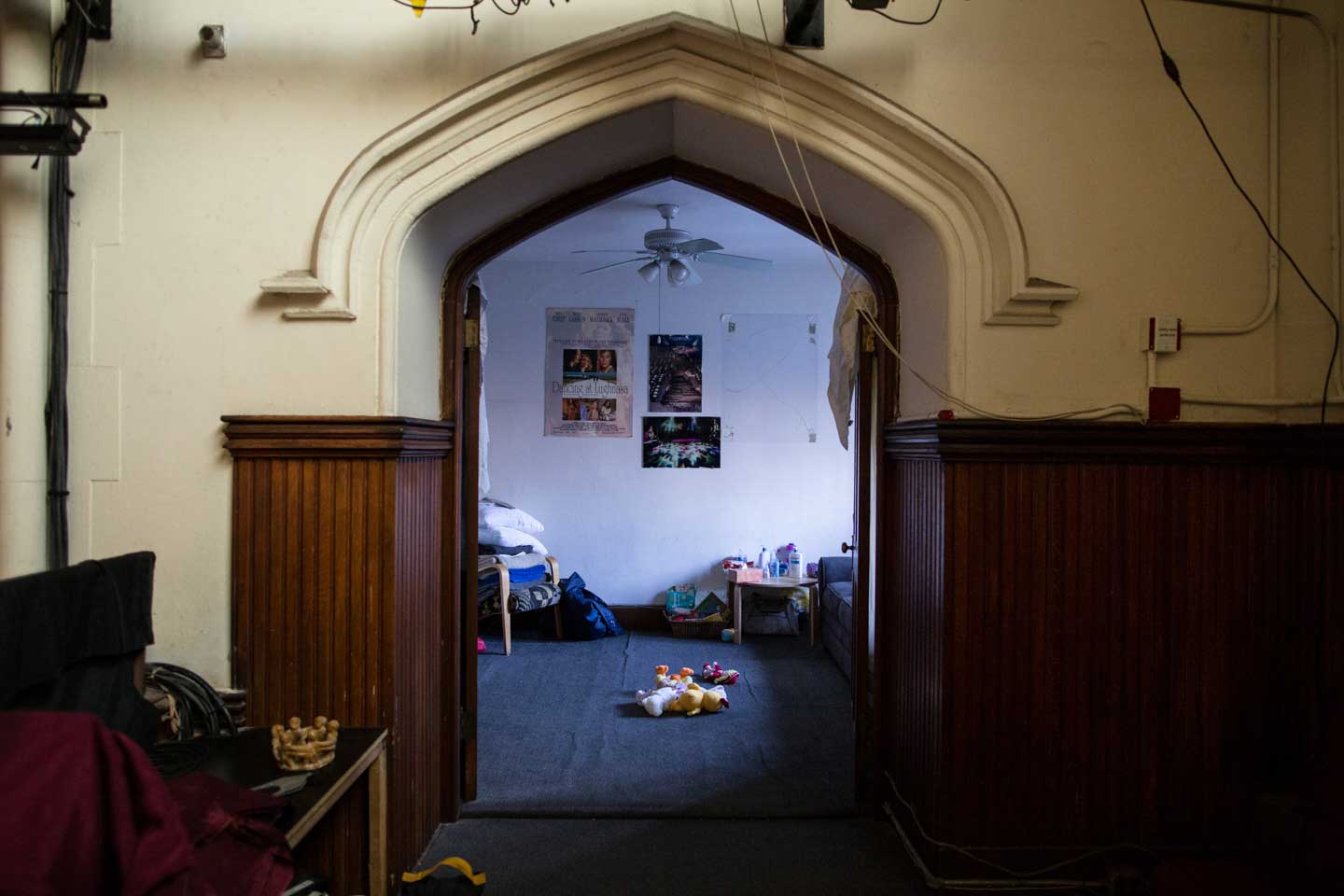 In a statement, a Customs and Border Protection spokesperson said, "A full investigation by US Immigration and Customs Enforcement Office of Professional Responsibility, the US Attorney's Office, and local law enforcement, was conducted and the allegations against the border patrol agent were found to be unsubstantiated." The agency refused a request to provide documentation of these investigations.
Lawyers and experts, meanwhile, say there is a widespread pattern of sexual abuse perpetrated against immigrants in the custody of Department of Homeland Security (DHS). Over a recent two-year period, immigrants filed on average more than one complaint every single day reporting they'd been the victims of sexual abuse or assault inside DHS facilities. According to this data, obtained by the group Community Initiatives for Visiting Immigrants in Confinement, less than 3 percent of these complaints were even investigated. (Meanwhile, under the new Trump administration, the Immigration and Customs Enforcement agency, or ICE, has gained provisional approval to begin destroying its sexual-assault records after 20 years.)
Denise Gilman, the director of the immigration clinic at the University of Texas School of Law says Border Patrol jails like the one where Hernández was held are among the most unaccountable of all DHS facilities. "These facilities are sort of a black hole," she said, highlighting how immigrants who dare to report abuse can face many forms of retaliation, including immediate deportation.
Still, the accusations abound. Last year, the American Civil Liberties Union filed claims on behalf of two teenage Guatemalan sisters who asked Border Patrol agents for help after crossing the border only to be taken to a CBP field office and then sexually assaulted one by one in a closet. In 2014, human-rights groups filed a complaint on behalf of more than 100 children who suffered abuse in CBP custody; a quarter of the children said they were the victims of physical or sexual assault.
That same year, a Border Patrol agent apprehended two girls and a woman traveling from Honduras. He sexually assaulted and attempted to kill the woman and her 14-year-old daughter, and then kidnapped the other girl and raped her in his apartment. Around the same time, then–Chief of Internal Affairs at US Customs and Border Protection James Tomsheck e-mailed the head of CBP to report a "disturbing" number of sexual abuse cases "in the agency's workforce."
Few of these reports ever result in prosecution. But a rare case that was successfully prosecuted in 2002 shows the risks and retaliation migrant women in the border region can face. In 2000, a Salvadoran woman named Blanca Amaya-Flores was apprehended by Border Patrol agents in Arizona, and then driven by one of the agents, named Dennis Johnson, out into the desert. His coworkers watched them leave. Once they were alone, Johnson forced her to perform oral sex on him while she was naked and restrained by handcuffs. He then dropped her off in the middle of the night a few blocks from the border and pointed her in the direction of Mexico.
To this day, Hernández has said that she does not like to discuss publicly the specific details of the sexual abuse she experienced in detention. But what she does say is that when it was all over, the CBP agent issued a barely veiled threat. "He said, 'I know I'll never hear anything about this because I have all of your information. And if you ever speak about this, I will find you,'" she recalled.
"This is why I didn't say anything, why I stayed silent," she explained.
Once back in her cell, Hernández said, she was so disgusted that she gagged and gagged. She was overwhelmed by the feeling she needed to vomit, but she had nothing in her stomach to throw up, as they'd been denied food and water for many hours. "My nephew kept asking me, 'What's wrong? What's wrong?'" she recalled.
But she didn't tell the boy anything. She remained silent even as the officer walked by the partial glass wall of their cell, and, seeing her dry heaving, laughed. Later, another woman in their cell was processed and also returned in distress. She too, however, refused to speak. When Hernández asked her what had happened, the woman lay down and said, "Nothing."
After that, Hernández recalled, she and her nephew were detained for what felt like forever. She watched as all the other members of her group were released. Finally, new Border Patrol agents arrived with another group of captured immigrants. One of the new men asked why Hernández and her nephew were still in the cell when their paperwork had already been processed. Hernández remembered another agent responding that her release was up to the supervisory agent—the very man, she said, who had sexually abused her. She said that, under pressure from the new agents, the supervisory agent signed some paperwork, and then one of the new agents loaded her and her nephew into a truck and drove away in the summer heat. Where is he taking me? she wondered. What is going to happen next?
After about 15 minutes, they arrived at a small bus station, where the agent handed her a few pieces of paper written in English. According to government documents reviewed by The Nation, one of those pieces of paper was a notice to appear in a Texas courtroom, and it was signed by the same supervisory agent who she said had sexually abused her.
Years later, Hernández's nephew recalled that his aunt seemed profoundly different after their detention. Before, he said, she had encouraged him throughout their long journey in Guatemala and Mexico, cheering him up when he cried and making him laugh by saying they were going to "the oooo-sah," her joking way of pronouncing the "USA."
He was only 9 years old, so he didn't understand what had changed. "I just knew something was wrong," he said. "I remember we were on the bus and she wouldn't talk…. She wasn't normal. She was quiet, and I don't think she slept. She would just stare out the window."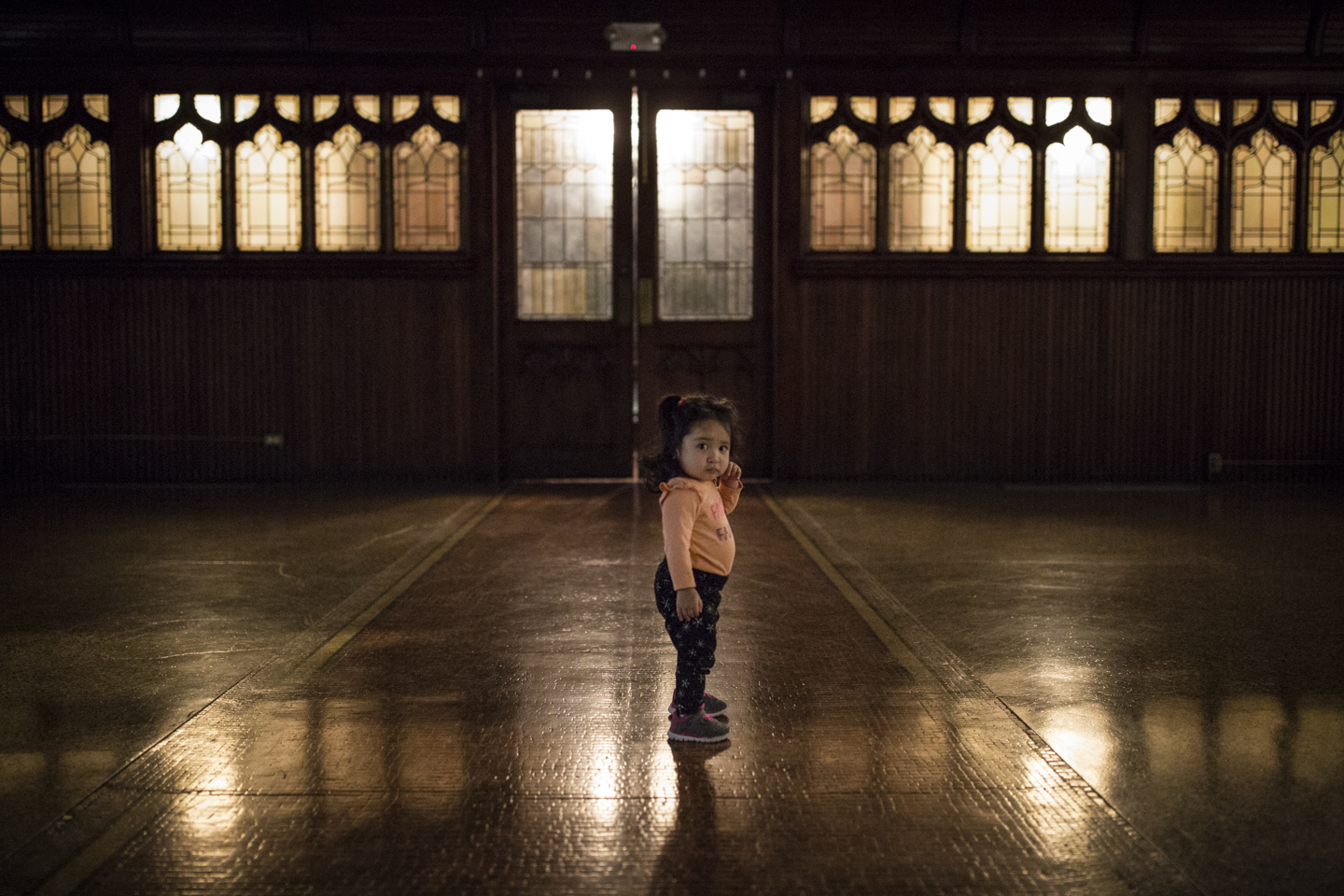 For nearly a decade, Hernández stayed silent about her experience with Customs and Border Protection. When she first arrived in New York State to join family members, she hid her paperwork away in a drawer—and tried to bury the memories of what had happened. She worked first in a restaurant, she said, and then as a housekeeper. She fell in love and gave birth to a son named Victor Daniel. She enjoyed the humor of adjusting to life in a new country, laughing with her family members when she confused olives for black beans at a party, or when she cooked bacon for the first time and was shocked by the cloud of smoke and the smell of burning fat. And although the mere sight of police provoked anxiety attacks, she began to construct a new life for herself.
Yet the trauma affected all aspects of her world. Hernández has described herself in this period as timid and unassertive, which she attributes to the violence she suffered in Guatemala and the abuse in custody in Texas. She said if someone told her to do something, she'd do it—even if she disagreed. On her first date with her husband, she recalled, she told the waiter she'd eat whatever he was eating. "I barely spoke," she said. "It was like I was delayed, almost like a child, because of all the trauma."
Then, in the autumn of 2012, on her way to church, she mistakenly drove down a street that was one way on Sundays and was stopped by a police officer who reported her to ICE. Suddenly, she faced the very real possibility of deportation. This would mean returning to Guatemala, from which she'd fled for her life nearly a decade earlier and which, over the ensuing years, had only gotten more dangerous. By 2012, violence was proliferating across the country. The femicide rate was among the highest in the world—and the conviction rate for the women's killers was between 1 and 2 percent.
But Hernández's first fear was closer to home: She was terrified of being sent back to a US detention facility, convinced she'd see the same agent who had abused her in Texas. Hernández was overcome with distress from the moment the police officer pulled her over, and she saw his blue uniform—the same color the agent's had been. "They wanted to send me to the place that was the nightmare of my entire life," she said. A therapist who treated her at the time diagnosed her with acute post-traumatic stress disorder, writing: "Because of the mistreatment at the hands of an American citizen, Aura is suffering from nightmares, flashbacks, body memories, extreme anxiety, and panic attacks."
Finally, Hernández worked up the courage to break her silence, sharing the story of the sexual abuse with her family. (The Nation has spoken with several members of Hernández's family, as well as the therapist, who all confirmed that shortly after the police stop she told them that she had been sexually abused while detained in Texas.)
Hernández also contacted a lawyer, who offered an unusual suggestion: He said that the abuse she had suffered in CBP custody could make her eligible for something called a U Visa. This is a special visa that is offered to victims of certain crimes who cooperate with law enforcement in the investigation or prosecution of the criminal activity. Hernández agreed to try and, shortly after, she found sitting in her lawyer's office in front of multiple Department of Homeland Security internal-affairs investigators. "I felt fear, terrible fear," she recalled. "I felt like they were going to tell me, 'I don't believe you. I don't believe you.'"
But she spoke out anyway, denouncing the agent by name and recounting what had transpired. And when the investigators left, she said, she felt a great sadness.
"They treat me like I'm a criminal, but they are the criminals," she said, of the immigration system that has been working to deport her. "After everything they've done to me, how can they say that I'm the criminal?"
For all the hope the lawyer had encouraged in the U Visa petition, the Department of Homeland Security declined to certify it—an all-too-common experience for immigrants pursuing U visas on the basis of sexual abuse in DHS custody, several immigration lawyers said. "It's very hard to get these certifications," explained Barbara Hines, the founder of the immigration clinic at the University of Texas Law School. In many sexual-abuse cases, she said, "the authorities say it was consensual, or pretend it didn't happen, or transfer the agent, or deport the woman as fast as they can."
Without the certification, the lawyer was unable to even file the U Visa petition. Nonetheless, Hernández was allowed to continue living in the United States by attending regular ICE check-ins; she also received a work permit and a driver's license. Months passed, then years, and along the way, she gave birth to her daughter, Camila. Her life began to take on new purpose, and thanks to professional counseling and family support, she grew more assertive and outspoken.
But her deportation proceedings accelerated rapidly after Donald Trump took office, and his administration made all immigrants without status a priority for deportation. First, Hernández was required to check-in with ICE more frequently. Then, at one of these meetings late last year, she was informed, as she held Camila in her arms, that she was going to be deported that very day. She was enraged: After five years of fighting her immigration case, after reliving her abuse and reporting her attacker to authorities, she was being told that some unnamed supervisor said it was time for her to go—immediately. "It's so easy for them just to say, 'Oh, the higher-ups are telling me its time to get rid of you," she said.
Rather than give in, Hernández mounted such a fierce protest that the immigration officer relented and set her final deportation date for March 1.
Hernández had only a few months to figure out what to do. She scrambled to find a new lawyer, who submitted an asylum petition based on the domestic violence she had suffered in Guatemala and resumed work on the U Visa route. But as the clock ticked, it became clear to Hernández that legal maneuvers would not resolve the situation in time. She'd seen news reports about immigrants taking sanctuary in churches across the country. Finally, she sat down with her family and proposed what she planned to do.
On March 29, Holy Thursday, Aura Hernández stood in the sanctuary of the Fourth Universalist Society and, in front of a throng of cameras, declared, "I am not going to keep silent any longer. I'm asking all of you not to keep quiet, to defend your rights, and the rights of our children."
Directly in front of her, resting on a table, was the Unitarian Universalism chalice: a burning flame inside a cup encircled by two metal rings. The church's senior minister Schuyler Vogel explained the symbol was used throughout World War II as a secret code showing the persecuted where they could find safety. Behind Hernández stood a poster sign, drawn the night before by her son, reading: "Please Don't Deport My Mommy."
Away from the limelight, Hernández and her daughter have been settling into their new life in the church, without any idea of when they can leave. Her 10-year-old son visits at every opportunity, and the two of them play basketball and soccer in the gymnasium in the basement of the church, carefully avoiding tripping over Camila as she crawls across the court. (Hernández played basketball in middle school, and still has a pretty good shot.) Last week, she celebrated her 37th birthday in the church, with a tres leches cake topped with a single votive candlestick.
The church's congregation and leadership have also begun adjusting to the family's stay. A year ago, two swastikas were carved into its heavy wood doors of the church after its members voted to become a sanctuary space. But rather than shrink from the responsibility, the church and its members have rallied to help Hernández. Many have volunteered to bring her food or keep her company.
For those who don't speak Spanish, some arrive with Google Translate already cued up on their phones to smooth the language barrier.
Hernández hopes her decision to finally speak publicly about the abuse will help both her own family and others. After all, despite the odds, a number of women have successfully denounced immigration authorities for perpetrating sexual abuse in recent years. Earlier this month, Salvadoran immigrant Laura Monterrosa was finally released from detention in Texas after publicly accusing a female guard of sexually assaulting her. In 2010, a Guatemalan woman reported surviving an attempted rape by a Corrections Corporation of America guard named Donald Dunn. (The company has been renamed CoreCivic.) The complaint spiraled into a massive sexual-abuse scandal as a slew of other women came forward, and Dunn was jailed after pleading guilty to assault charges. And, back in 2000, Blanca Amaya-Flores, the Salvadoran woman who was sexually assaulted by a Border Patrol agent in the Arizona desert, returned to the United States and reported him to US authorities. The agent, Dennis Johnson, was ultimately convicted of sexual assault and kidnapping and sentenced to seven years in prison.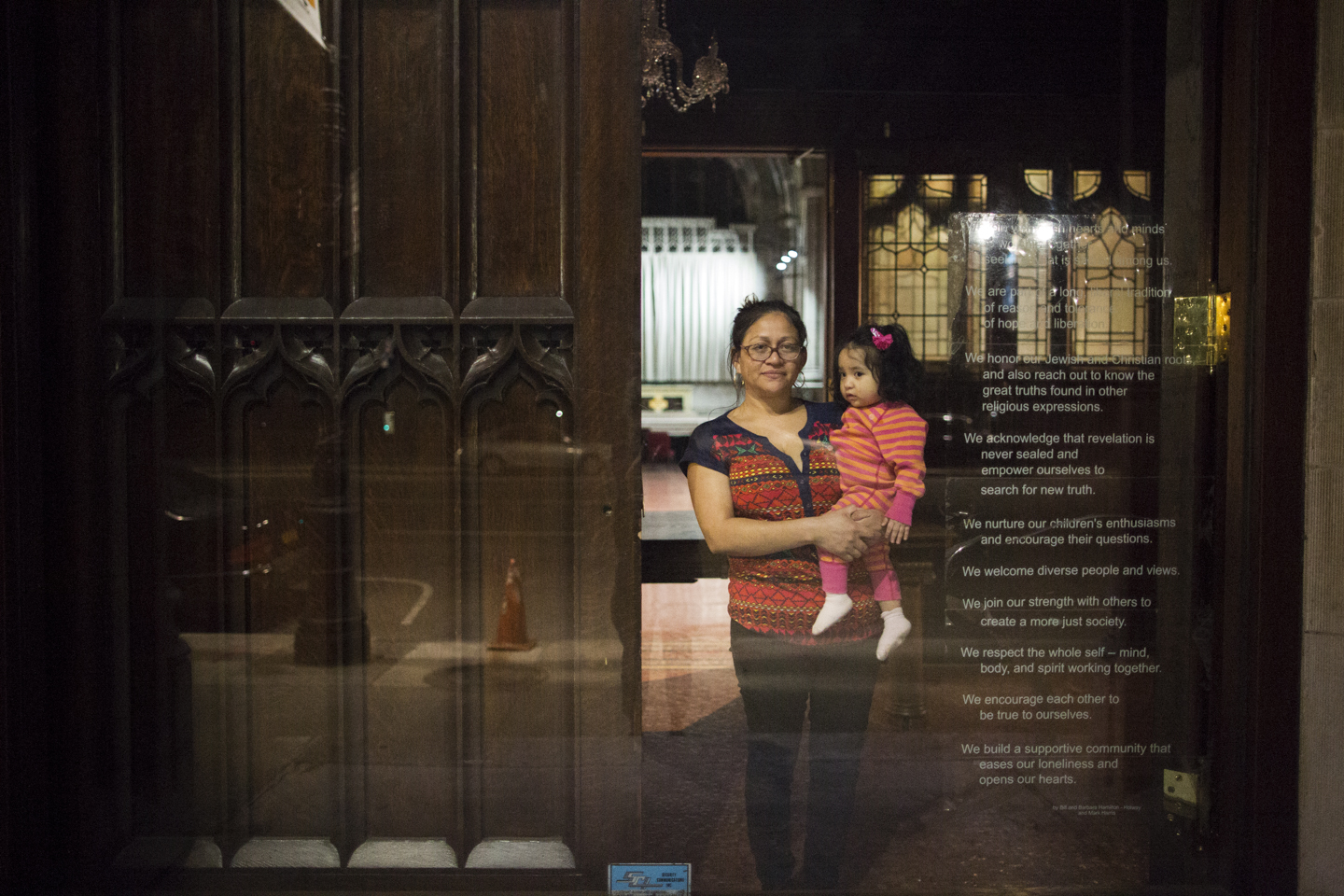 "It's not just me, there are so many women who have suffered this and stay silent because of fear, like I was afraid," Hernández said, a few days after she had taken sanctuary.
She was sitting on the bed as Camila toddled around the room. "In reality, in the past I wouldn't have said a single word about any of this to you. Not a single word of this," she continued. "But now, I say that if there's anything I can offer with my experience, I'll do it, anything—you understand—to put an end to so much evil and injustice."