Over the weekend, Kaniela Ing—the socialist candidate for Congress backed by Alexandria Ocasio-Cortez—-lost his primary bid to represent Hawaii's first district. Last week, Abdul El-Sayed lost in Michigan's gubernatorial primary and Brent Welder failed in Kansas's Third Congressional District primary. These losses have led many pundits to assert that a progressive agenda simply can't win in most of the country. In Politico, Bill Scher writes, "The Berniecrat left desperately wants to convince naysaying political veterans (and annoying political pundits) that a democratic socialist platform holds the ticket to victory in heartland districts like this one," but concludes that "It's the future of the Bronx—and Detroit" only.
To be clear, it is better for the left when its candidates win rather than lose. But focusing exclusively on the horse race runs the risk of overlooking what really matters: Do voters support the policies of the Democratic left? A good way to assess the ascendancy of the left would be to examine public opinion on specific issues in specific districts. And our analysis of Civis Analytics polling as part of our New Progressive Agenda Project finds strong national support for many parts of the progressive agenda.
Nationally, all of these issues have net support from likely voters: free college (+6 net support), statehood for Puerto Rico and DC (+24) government-funded public housing (+3) and a policy that mandates worker representation on corporate boards (+29).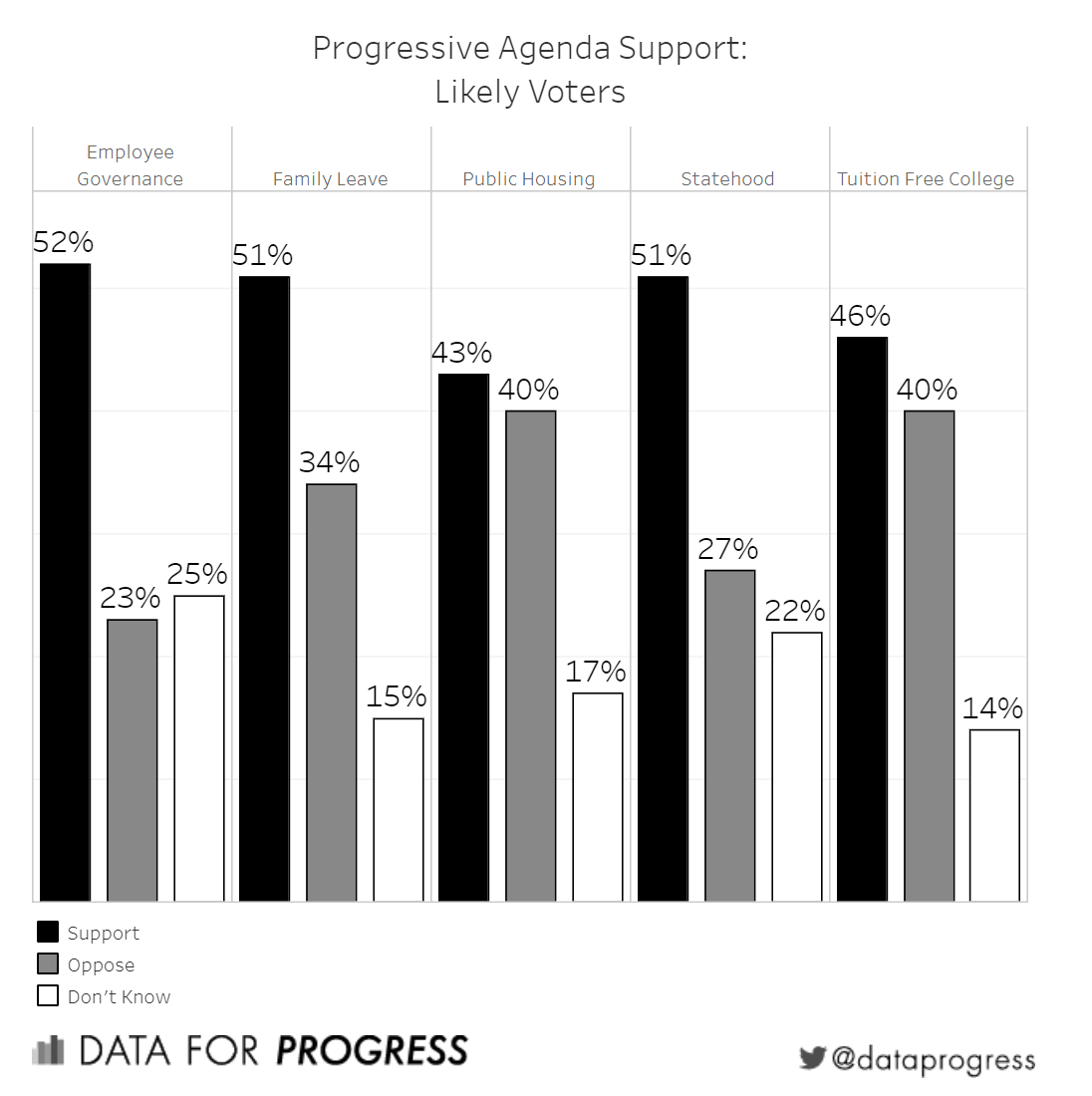 And what of a red district like Kansas's third? Our analysis of Civis Analytics data suggests that paid leave, employee governance, free tuition, and DC Statehood all have net support among likely voters in the district.
In some cases, progressive policies are even quite popular with Trump voters. The chart below shows the percentage of states and congressional districts where two-way support for the policies (excluding "don't knows") is greater than 50 percent (see more about our methodology here). You can see results for every district and state on our website, where our data was visualized by data scientist Jason Ganz.
We polled worker codetermination or employee governance, the idea that workers should have representation on company board of directors. The idea is radical in the United States context, but the practice is common in Europe. "Worker codetermination may well be the most popular policy that currently exists in American politics," David Shor, head of data science at Civis Analytics' political practice tell us, "This is the most popular policy we've tested for the New Progressive Agenda Project and one of the most popular policies we've ever seen, particularly relative to other labor issues."