Ever since Donald Trump was elected president, mainstream media outlets have been obsessed with the opinions of people who voted for him. Rarely does a week goes by without a journalistic effort to further "understand" these Trump voters, often with absurd results—like when The New York Times replaced its opinion page with nothing but letters from Trump supporters.
A much more worthwhile enterprise would be to examine non-voters—the people who don't show up to vote, but exist in such large numbers they could upend American politics instantly if they decided to get involved. There are persistent non-voters, who just never participate, and also a fascinating bloc of people who voted for Obama but stayed at home in 2016. These individuals, disproportionately young, low-income people of color, have important implications for the future. So what do they want, and what would it take for them to get involved?
To begin getting at that answer, I first examined the Cooperative Congressional Election Studies 2016 Survey to get a better sense of the people who voted for Obama in 2012 but didn't vote at all in the last election. I used self-reports, which admittedly are subject to some recall problems because individuals may misreport voting, and because people are also often likely to overstate support for the winning candidate. So my analysis should not be seen as definitive, but rather suggestive. It found that 38 percent of individuals who voted for Obama in 2012 but then didn't vote in 2016 were black, and 15 percent were black voters under 30. By comparison, 20 percent of Clinton's voters were black and 3 percent were black and under 30.
Using validated turnout data (which is available in the 2016 survey for 2016, but not 2012), I again found that people of color made up 20 percent of voters in 2016 (somewhat lower than what has been suggested by Census data), but minorities were 34 percent of non-voters.
It will obviously be critical for Democrats to mobilize these voters to their side, but what do these non-voting Americans want? Examining specifically black non-voters, I found strong support for progressive policies, with 88 percent of black non-voters saying they would have voted for Clinton, 93 percent in favor of a higher minimum wage, and 74 percent for ending mandatory minimum sentences.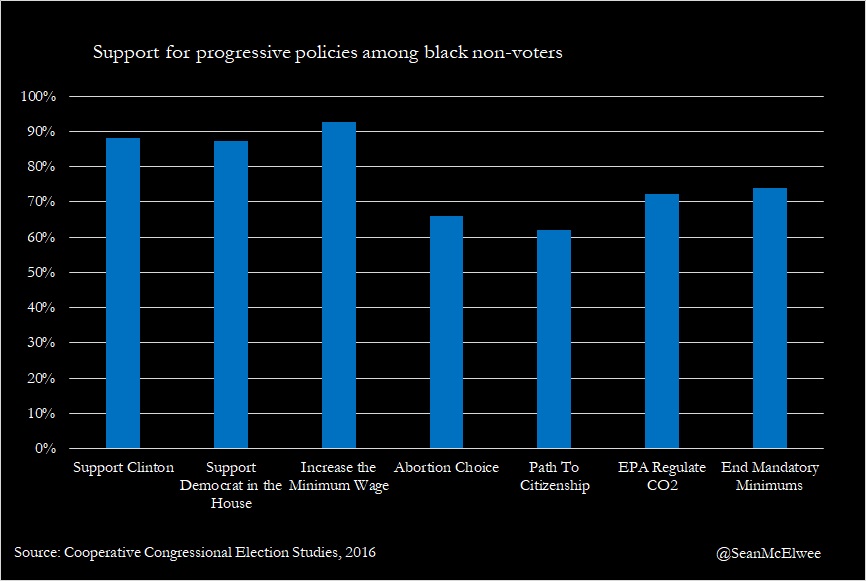 Next, I looked at two questions from the 2016 American National Elections Studies survey. The first asked respondents if they would support a government guarantee of jobs and income. Respondents placed themselves on a seven-point scale from "Government should see to jobs and a standard of living" to "Government should let each person get ahead on their own." I rescaled the variable so that the scale run from 0 (most conservative) to 1 (most liberal) and did the same with a variable that asked about government health care versus private health care. As the chart shows, black Americans are more supportive of socialist policies: